The Medical Letter on Drugs and Therapeutics
Genvoya - A New 4-Drug Combination for HIV
February 15, 2016 (Issue: 1488)
The FDA has approved Genvoya (Gilead), a fixed-dose combination of the integrase strand transfer inhibitor (INSTI) elvitegravir, the pharmacokinetic enhancer cobicistat, and the nucleoside/nucleotide reverse transcriptase inhibitors (NRTIs) emtricitabine and tenofovir alafenamide, for treatment of HIV-1 infection in patients ≥12 years old. This is the first approval for tenofovir alafenamide (TAF), a tenofovir prodrug. Stribild, a fixed-dose combination of elvitegravir, cobicistat, emtricitabine, and tenofovir disoproxil fumarate (TDF), was approved in 2012.1

STANDARD TREATMENT – Recently updated guidelines recommend that antiretroviral-naive patients infected with HIV-1 receive an INSTI-based regimen or a regimen including the protease inhibitor (PI) darunavir boosted with ritonavir (see Table 1). Because the non-nucleoside reverse transcriptase inhibitor (NNRTI) efavirenz and the PI atazanavir have been associated with higher rates of toxicity, combinations including these drugs are now considered alternative rather than recommended treatment options.2,3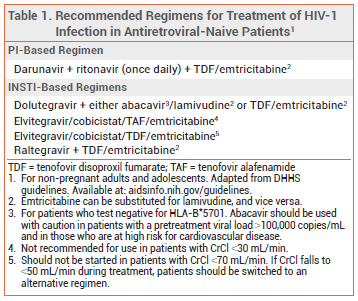 TENOFOVIR ALAFENAMIDE — Systemic exposure to tenofovir can cause nephrotoxicity and a decrease in bone mineral density (BMD).4 Unlike TDF, which is extensively converted to tenofovir in plasma, TAF activation occurs predominantly intracellularly. In a pharmacokinetic analysis, TAF 10 mg once daily produced circulating tenofovir levels that were 91% lower and intracellular tenofovir levels that were 4.1 times higher than those achieved with TDF 300 mg once daily.5
CLINICAL STUDIES – In two double-blind noninferiority trials, a total of 1733 treatment-naive adults with HIV-1 infection were randomized to receive Genvoya or Stribild. After 48 weeks, virologic suppression rates (viral load <50 copies/mL), the primary endpoint, were similar in the two groups (92% with Genvoya vs 90% with Stribild). Compared to patients taking Stribild, those taking Genvoya had significantly smaller mean increases in serum creatinine (0.08 vs 0.12 mg/dL), significantly less proteinuria (-3% vs +20% from baseline), and significantly smaller mean decreases in BMD at the spine (-1.30% vs -2.86%) and hip (-0.66% vs -2.95%).5 These differences persisted through 96 weeks of treatment. Renal dysfunction was reported in six patients taking Stribild and in none of those taking Genvoya.6
In an open-label trial, 1436 virologically-suppressed adults with HIV-1 infection receiving a TDF-containing antiretroviral regimen were randomized to switch to Genvoya or continue their current treatment. The virologic suppression rate at week 48 was 97% among patients taking Genvoya and 93% among those who continued to take TDF. Compared to patients who continued taking TDF, those who switched to Genvoya had significant improvements in BMD at the spine (+1.56% vs -0.44%) and hip (+1.47% vs -0.34%).7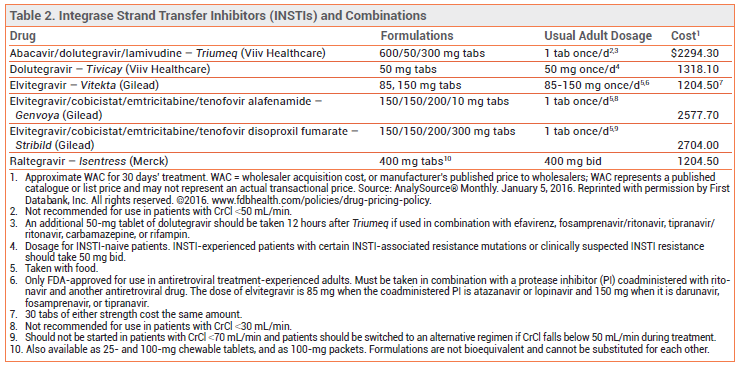 ADVERSE EFFECTS – In the two double-blind trials, the most common adverse effects with Genvoya were similar to those with Stribild, and included nausea, diarrhea, headache, and fatigue. LDL-cholesterol levels >190 mg/dL were recorded in 5% of patients taking Genvoya and in 2% of those taking Stribild.
Immune reconstitution syndrome can occur with use of any antiretroviral regimen. Cobicistat inhibits creatinine secretion, resulting in an increase in serum creatinine and a corresponding decrease in estimated GFR and CrCl, but actual GFR is not affected. Since both emtricitabine and tenofovir are active against the hepatitis B virus (HBV), patients co-infected with HIV and HBV may experience a flare of hepatitis if Genvoya is discontinued.
PREGNANCY — Genvoya is classified as category B (no evidence of risk in animals; no adequate studies in women) for use during pregnancy.
DRUG INTERACTIONS — Antacids can interfere with the absorption of elvitegravir and should not be taken within 2 hours of Genvoya.
Cobicistat is an inhibitor of CYP3A and CYP2D6 and of the transporters P-glycoprotein (P-gp), breast cancer resistance protein (BCRP), and organic anion transporting peptide (OATP) 1B1 and 1B3. Coadministration of Genvoya with substrates of these pathways may increase serum concentrations of those drugs; Genvoya is contraindicated for use with drugs such as simvastatin (Zocor, and generics) and oral midazolam (Versed, and generics) that are highly dependent on CYP3A for clearance and can cause serious or life-threatening adverse effects at high serum concentrations.
Elvitegravir is an inducer of CYP2C9 and may decrease serum concentrations of CYP2C9 substrates such as warfarin (Coumadin, and others).
Both elvitegravir and cobicistat are substrates of CYP3A; concomitant use with the strong CYP3A inhibitor ketoconazole (Nizoral, and others) increased their serum concentrations and coadministration with the CYP3A inducer rifabutin (Mycobutin) decreased them. Genvoya is contraindicated for use with strong inducers of CYP3A because of the potential for loss of efficacy and development of resistance.8
RESISTANCE — In the two trials in treatment-naive adults, resistance to Genvoya and Stribild developed at similar rates (both <1%).5
In a cross-resistance study, only 21 of 194 cases (11%) of raltegravir-resistant HIV infection were considered genotypically susceptible to elvitegravir; 124 of 194 (64%) were considered susceptible to dolutegravir.9
DOSAGE AND ADMINISTRATION — The recommended dosage of Genvoya in patients ≥12 years old who weigh ≥35 kg is one tablet taken once daily with food. The combination should not be used in patients with a CrCl <30 mL/min.
CONCLUSION — Genvoya, an INSTI-based fixed-dose combination of elvitegravir, cobicistat, emtricitabine, and tenofovir alafenamide, is an effective first-line treatment for HIV-1 infection. It appears to be safer than Stribild because tenofovir alafenamide is less likely than tenofovir disoproxil fumarate to cause renal dysfunction or decrease bone mineral density.
© The Medical Letter, Inc. All Rights Reserved.
This article has been freely provided.