The Medical Letter on Drugs and Therapeutics
Dupilumab (Dupixent) for Asthma
January 14, 2019 (Issue: 1563)
The FDA has approved the subcutaneously injected monoclonal antibody dupilumab (Dupixent – Sanofi/Regeneron) for add-on maintenance treatment of patients ≥12 years old with moderate to severe asthma with an eosinophilic phenotype or with oral corticosteroid-dependent asthma. Dupilumab was approved earlier to treat adults with moderate to severe atopic dermatitis inadequately controlled with topical therapies.1

MECHANISM OF ACTION — Dupilumab, a fully human IgG4 monoclonal antibody, binds to the interleukin (IL)-4 receptor alpha subunit shared by IL-4 and IL-13 receptors, inhibiting the signaling of these cytokines, which are thought to be the drivers of inflammation in atopic dermatitis, asthma, and possibly other allergic diseases.2
MONOCLONAL ANTIBODIES FOR ASTHMA — Asthma patients who do not respond to high doses of inhaled corticosteroids plus a second asthma-controller medication may benefit from a phenotype-targeted approach to treatment. Three monoclonal antibodies that target the IL-5 cytokine — benralizumab (Fasenra),3 mepolizumab (Nucala),4 and reslizumab (Cinqair)5 — are FDA-approved for add-on maintenance treatment of severe eosinophilic asthma. Omalizumab (Xolair), a subcutaneously injected anti-IgE monoclonal antibody, is approved for use in patients ≥6 years old with moderate to severe persistent allergic asthma not well controlled on an inhaled corticosteroid.6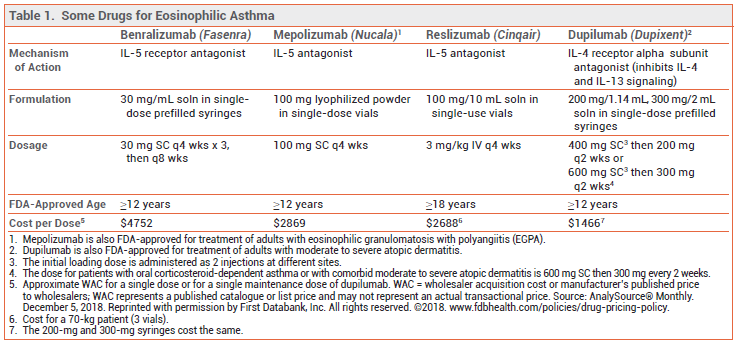 CLINICAL STUDIES — FDA approval of dupilumab for the new indication was based on the results of 3 randomized, double-blind, placebo-controlled trials in about 2800 patients >12 years old with uncontrolled persistent asthma.
Trials 1 and 2 enrolled patients who were receiving medium to high doses of inhaled corticosteroids plus 1 or 2 additional asthma-controller medications. Addition of dupilumab was associated with statistically significant increases in FEV1 and decreases in severe asthma exacerbations compared to placebo. Dupilumab was effective irrespective of baseline blood eosinophil counts, but patients with higher eosinophil counts at baseline improved more.7,8 The results are summarized in Table 2.
In trial 3, 210 patients with severe asthma who were being treated with daily oral corticosteroids, high doses of inhaled corticosteroids, and 1 or 2 additional asthma-controller medications were randomized to receive add-on treatment with dupilumab 300 mg (following a loading dose of 600 mg) or placebo every 2 weeks for 24 weeks. Oral corticosteroid doses were reduced every 4 weeks from week 4 to week 20 as long as asthma control was maintained. The mean percentage reduction in the oral corticosteroid dose from baseline to week 24, the primary endpoint, was 70.1% with dupilumab versus 41.9% with placebo, a statistically significant difference. At week 24, 48% of patients in the active treatment group had completely discontinued oral corticosteroids, compared to 25% of those in the placebo group, also a statistically significant difference. Use of dupilumab also decreased severe asthma exacerbations and improved lung function compared to placebo. The benefits were greatest in patients with higher baseline blood eosinophil counts.9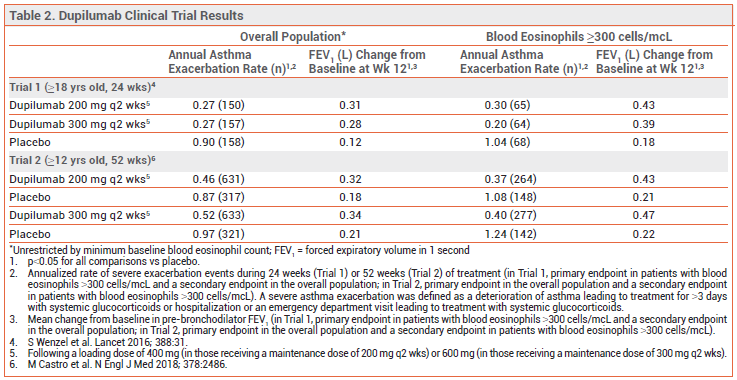 ADVERSE EFFECTS – In asthma clinical trials, the most common adverse effect of either dose of dupilumab was injection-site reactions (14-18%). Transient eosinophilia can occur during treatment; blood eosinophil counts ≥3,000 cells/mcL were reported in 2% of patients treated with dupilumab in trials 1 and 2 and in 13% of those treated with the drug in trial 3 (the higher rate in trial 3 may have been related to oral corticosteroid dose reductions). Eosinophilic pneumonia and vasculitis consistent with eosinophilic granulomatosis with polyangiitis have been reported in adults receiving dupilumab; a causal relationship has not been established. Conjunctivitis has been reported in patients treated with dupilumab for atopic dermatitis. Anaphylaxis occurred in one patient treated with dupilumab for asthma.
DRUG INTERACTIONS — Use of live vaccines should be avoided in patients being treated with dupilumab.
PREGNANCY AND LACTATION — Available data from case reports of dupilumab use in pregnant women have not shown a drug-associated risk of major birth defects or adverse maternal or fetal outcomes. No adverse developmental effects were observed in the offspring of pregnant monkeys who received up to 10 times the maximum recommended human dose of another antibody against the IL-4 receptor alpha subunit.
Whether dupilumab is present in human breast milk is unknown, but human IgG is secreted in breast milk. There are no data on the effects of the drug on the breastfed infant or milk production.
ADMINISTRATION — Dupilumab is injected subcutaneously into the thigh, abdomen, or upper arm. Patients or caregivers can be trained to administer the drug at home.
CONCLUSION — Add-on maintenance treatment with dupilumab (Dupixent) can improve lung function and reduce severe exacerbations and oral corticosteroid use in patients >12 years old with moderate to severe asthma, particularly those with an eosinophilic phenotype. How dupilumab compares to the other monoclonal antibodies that are approved for treatment of eosinophilic asthma remains to be determined, and its long-term safety is unknown.
© The Medical Letter, Inc. All Rights Reserved.
This article has been freely provided.