Gastroesophageal reflux disease (GERD) is the most frequent GI condition encountered in the outpatient setting; it affects about 20% of the US population. Heartburn and regurgitation are the classic symptoms of GERD....
Continue reading
More from Issue 1538
Previous Issue: 1537 January 1, 2018
Coming Soon
A Two-Dose Hepatitis B Vaccine for Adults (Heplisav-B)
Semaglutide (Ozempic) for Diabetes
L-Glutamine (Endari) for Sickle Cell Disease
Olmesartan and Sprue-Like Enteropathy
Search
Subscribe
Reader Testimonials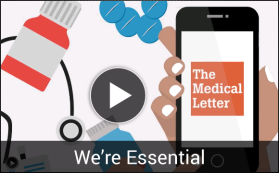 Conversation
Follow us
Email Alerts
Tweets
Featured Article
Antiviral drugs can be used for treatment and prophylaxis of influenza. Frequently updated information on influenza activity, testing for influenza, and antiviral resistance is available from the CDC at www.cdc.gov/flu.
RECOMMENDATIONS FOR TREATMENT — The CDC recommends starting antiviral treatment as soon as possible after illness onset, without waiting for the results of influenza testing.
Antiviral treatment is recommended for all persons with suspected or confirmed influenza who have severe, complicated, or progressive illness, require ... Continue reading