The FDA has approved delafloxacin (Baxdela – Melinta), an anionic fluoroquinolone antibiotic, for oral and parenteral treatment of adults with acute bacterial skin and skin structure infections (ABSSSIs), including those caused by methicillin-resistant Staphylococcus aureus (MRSA). It is the first fluoroquinolone to be approved for treatment of MRSA.
ABSSSIs — The FDA's definition of an ABSSSI includes cellulitis/erysipelas, major cutaneous abscess, wound infection, or burn infection, with a minimum lesion size of 75 cm2 and symptoms of systemic infection. Patients with chronic infections such as diabetic foot and decubitus ulcer infections, human and animal bites, and necrotizing fasciitis are excluded from ABSSSI trials.1
STANDARD TREATMENT — In many parts of the US, purulent skin and soft-tissue infections are now caused predominantly by MRSA. Patients hospitalized for skin... Continue reading
More from Issue 1543
Previous Issue: 1542 March 12, 2018
Coming Soon
Opioid Drugs for Pain
Ertugliflozin for Type 2 Diabetes
Copanlisib (Aliqopa) for Relapsed Follicular Lymphoma
Search
Subscribe
Reader Testimonials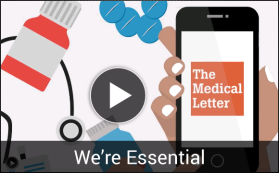 Conversation
Follow us
Email Alerts
Tweets
The FDA has approved secnidazole oral granules (Solosec – Symbiomix/Lupin) for single-dose treatment of bacterial vaginosis (BV) in adult women.
THE NEW DRUG — Secnidazole is a nitroimidazole antimicrobial with a longer half-life than metronidazole (17 vs 8 hours). It has been available for decades in many other countries for treatment of BV, trichomoniasis, and other infections.1
BACTERIAL VAGINOSIS — In patients with BV, hydrogen peroxide-producing lactobacilli in ... Continue reading