The motor symptoms of Parkinson's disease (PD) are caused primarily by degeneration of dopaminergic neurons in the substantia nigra. The nonmotor symptoms of the disease are thought to be caused by degeneration of other neurotransmitter systems....
Continue reading
More from Issue 1534
Previous Issue: 1533 November 6, 2017
Coming Soon
Drugs for Postmenopausal Osteoporosis
PARP Inhibitors for Ovarian Cancer
Naldemedine (Symproic) for Opioid-Induced Constipation
A New Herpes Zoster Vaccine (Shingrix)
Search
Subscribe
Reader Testimonials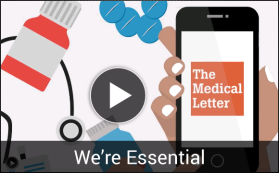 Conversation
Follow us
Email Alerts
Tweets
Advance Release
ADVANCE
RELEASE
The FDA has approved an extended-release (ER) capsule formulation of amantadine (Gocovri – Adamas) for once-daily treatment of levodopa-induced dyskinesia in patients with Parkinson's disease (PD). It is the first product to be approved in the US for this indication. Immediate-release (IR) amantadine has been used off-label for years to manage levodopa-induced dyskinesia.
LEVODOPA-INDUCED DYSKINESIA — Levodopa combined with carbidopa is still the most effective treatment for symptoms of PD, but motor fluctuations and dyskinesia can be problematic as the disease progresses and higher levodopa ... Continue reading