Bacterial infections in adults are generally treated empirically, with the antibiotic covering most, but not all, of the potential causative pathogens. For some infections, culture and sensitivity testing can guide treatment, allowing for use of narrower-spectrum antibiotics. The recommended dosages and durations of antibiotic treatment for common respiratory, skin, and urinary tract infections are listed in Tables 1-3. Infectious disease experts now recommend shorter treatment durations for many infections to reduce the development of antimicrobial resistance and minimize adverse effects....
Continue reading
More from Issue 1532
Previous Issue: 1531 October 9, 2017
Coming Soon
Lesinurad/Allopurinol (Duzallo) for Gout-Associated Hyperuricemia
Guselkumab (Tremfya) for Psoriasis
Edaravone (Radicava) for ALS
Abemaciclib (Verzenio) for Breast Cancer
Search
Subscribe
Reader Testimonials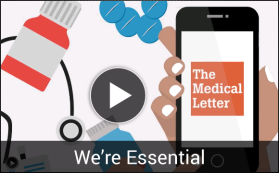 Conversation
Follow us
Email Alerts
Tweets
The FDA has approved tisagenlecleucel (Kymriah — Novartis), an individualized, genetically-modified cellular product, for treatment of relapsed or refractory B-cell precursor acute lymphoblastic leukemia (ALL) in patients ≤25 years old. The patient's own T cells are genetically modified to express chimeric antigen receptors (CAR) and then reinfused. Kymriah is the first CAR T-cell immunotherapy to become available in the US. A CAR T-cell product for B-cell non-Hodgkin's lymphoma is expected to be approved soon.
TREATMENT OF ALL — ALL is ... Continue reading