Drugs of Choice Handbooks
Recommendations you can trust, at your fingertips.
These invaluable handbooks provide up-to-date information on the preferred and alternative treatments for the conditions you see every day, with particular attention to clinical efficacy, adverse effects, drug interactions, and cost. Much of the information is presented in easy-to-read tables for quick reference.
Drugs of Choice 2022 Handbook
Drugs of Choice 2022 – 23rd Edition includes the latest information on drugs for treating: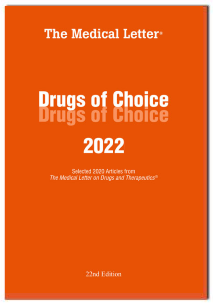 Alcohol Use Disorder
Allergic Rhinitis and Allergic Conjunctivitis
Clostridioides difficile (C. diff) Infection
Community-Acquired Pneumonia
Corticosteroids in Community-Acquired Pneumonia
Heart Failure
Insect Repellents
Lyme Disease
Multiple Sclerosis
Onychomycosis
Parkinson's Disease
Rheumatoid Arthritis
Sunscreens
See complete
Table of Contents | Index
for all conditions covered
Includes selected articles published in The Medical Letter on Drugs and Therapeutics in 2021
Product Details: Softcover handbook or downloadable PDF/EPUB
Page Count: 193
ISBN 978-0-9846522-3-5

Drugs of Choice 2021 Handbook
Drugs of Choice 2021 – 22nd Edition includes the latest information on drugs for treating: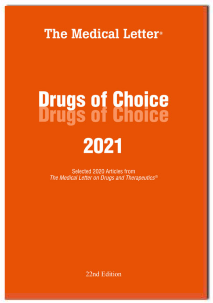 ADHD
Asthma
Atopic Dermatitis
COPD
Corticosteroids in Community-Acquired Pneumonia
Depression
Drugs Past Their Expiration Date
Hypertension
Irritable Bowel Syndrome
Menopausal Symptoms
Migraine
Osteoarthritis
Postmenopausal Osteoporosis
See complete
Table of Contents | Index
for all conditions covered
Includes selected articles published in The Medical Letter on Drugs and Therapeutics in 2020
Product Details: Softcover handbook or downloadable PDF/EPUB
Page Count: 254
ISBN: 978-0-9846522-2-8

Drugs of Choice 2020 Handbook
Drugs of Choice 2020 – 21st Edition includes the latest information on drugs for treating: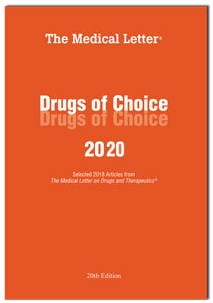 Anxiety
Atrial Fibrillation
Type 2 Diabetes
Eye Disorders
Gout
Heart Failure
Insect Repellents
Lipids
Psoriasis and Psoriatic Arthritis
Seasonal Allergies
Smoking Cessation
Advice for Travelers
See complete
Table of Contents | Index
for all conditions covered
Includes selected articles published in The Medical Letter on Drugs and Therapeutics in 2019
Product Details: Softcover handbook (sold out) or downloadable PDF/EPUB
Page Count: 272
ISBN: 978-0-9846522-1-1

Purchase
Other Medical Letter Products: