The Medical Letter on Drugs and Therapeutics
In Brief: Vitamin B12 Nasal Spray
Med Lett Drugs Ther. 2005 Aug 1;47(1214):64
A nasal spray formulation of cyanocobalamin (Nascobal – Questcor) has been approved by the FDA for maintenance treatment of vitamin B12 deficiency. Nascobal is already available as an intranasal gel. Vitamin B12 deficiency, diagnosed by elevated serum concentrations of methylmalonic acid with or without elevated serum homocysteine and low serum B12 concentrations (<200 pg/mL), is common in older patients.1
Since intestinal absorption of B12 may be impaired, the usual maintenance treatment of deficiency is intramuscular injection of the vitamin in doses of 1 mg every 4 weeks (after more frequent doses have restored serum concentrations to normal levels). However, in patients with atrophic gastritis and even in those with pernicious anemia, some oral cyanocobalamin (about 1%) is absorbed by diffusion.2 A randomized, controlled trial comparing oral to parenteral cyanocobalamin therapy in deficient patients found daily oral 2-mg doses of the vitamin as effective as monthly injections.3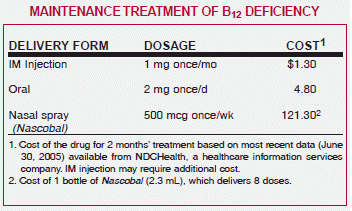 No studies have been reported with the expensive new formulation. Medical surveillance is recommended, no matter what treatment is used, to document normalization of hematologic indices.
1. R Clarke et al. Prevention of vitamin B-12 deficiency in old age. Am J Clin Nutr 2001; 73:151.
2. FA Lederle. Oral cobalamin for pernicious anemia. Medicine's best kept secret? JAMA 1991; 265:94.
3. AM Kuzminski et al. Effective treatment of cobalamin deficiency with oral cobalamin. Blood 1998; 4:1191.
© The Medical Letter, Inc. All Rights Reserved.
The Medical Letter, Inc. does not warrant that all the material in this publication is accurate and complete in every respect. The Medical Letter, Inc. and its editors shall not be held responsible for any damage resulting from any error, inaccuracy, or omission.