Naloxone (Narcan) Nasal Spray for Opioid Overdose
Med Lett Drugs Ther. 2016 Jan 4;58(1485):1-2
The recent increase in deaths due to overdose of heroin and prescription opioids in the US has renewed interest in the opioid antagonist naloxone, particularly in making it available to first responders and to relatives and close friends of persons using heroin or taking prescription opioids. IV or IM administration by healthcare professionals is preferred, but peripheral venous access may be difficult to obtain in IV drug abusers, and exposure to their blood may be hazardous.

The FDA has now approved an intranasal formulation of naloxone (Narcan nasal spray – Adapt) for emergency treatment of opioid overdose. It is the first nasal spray to be approved for this indication, but naloxone solution has been administered intranasally off-label, using a mucosal atomizer device.1 The drug also recently became available in an auto-injector formulation (Evzio) for IM or SC administration.2
PHARMACOLOGY — Naloxone is a competitive mu-opioid receptor antagonist in the brain and has no opioid agonist effects. In opioid overdose, naloxone begins to reverse sedation, respiratory depression, and hypotension within 1-2 minutes after IV administration, 2-5 minutes after IM or SC administration, and 8-13 minutes after intranasal administration.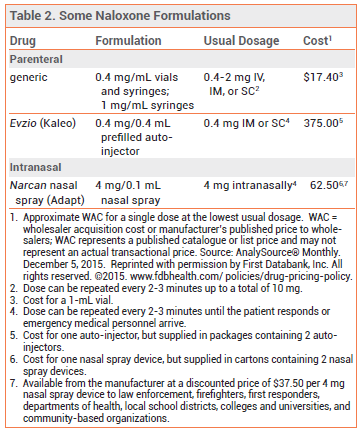 The half-life of naloxone is much shorter than that of most opioids and repeated administration may be necessary, especially for overdose with a long-acting opioid agonist such as methadone or a sustained-release formulation of a short-acting agonist such as oxycodone.3 Pure heroin is an exception, with a half-life of only 2-6 minutes, but other drugs used to "cut" heroin may have longer half-lives.
CLINICAL STUDIES — No new clinical trials were required for FDA approval of Narcan nasal spray. An unpublished pharmacokinetic study (summarized in the package insert) in 30 healthy adults compared intranasal naloxone 4 mg (one dose) and 8 mg (two doses) with 0.4 mg of naloxone given intramuscularly. Intranasal administration of either 1 or 2 doses resulted in serum concentrations higher than those achieved with a single dose of the IM formulation. The time to reach peak serum concentrations was similar with intranasal administration and IM injection (20 minutes with 2 doses of the intranasal formulation, 23 minutes with IM administration, and 30 minutes with a single intranasal dose).
ADVERSE EFFECTS — Whether naloxone itself has any toxicity is unclear, but it can precipitate acute withdrawal symptoms in opioid-dependent patients. Acute opioid withdrawal is associated with anxiety, piloerection, yawning, sneezing, rhinorrhea, nausea, vomiting, diarrhea, and abdominal or muscle cramps, which are uncomfortable but generally not life-threatening, except in neonates.
In the pharmacokinetic study, the most common adverse effects of intranasal naloxone were increased blood pressure, musculoskeletal pain, headache, and intranasal effects including dryness, edema, congestion, and inflammation.
PREGNANCY — No embryotoxic or teratogenic effects were observed in mice and rats treated with large doses of naloxone. Naloxone does cross the placenta, however, and may cause fetal opioid withdrawal.
DOSAGE AND ADMINISTRATION — Narcan nasal spray is supplied in cartons containing two 4 mg/0.1 mL single-use nasal spray devices. The recommended dosage for adults and children is 4 mg administered as a single spray into one nostril. Additional doses can be given every 2 to 3 minutes in alternating nostrils using a new nasal spray device for each dose.
No assembly or priming of the device is required. Caregivers should be instructed to call emergency medical personnel immediately after the first dose of Narcan nasal spray is given.
CONCLUSION — Naloxone (Narcan) nasal spray is a needle-free alternative to injectable formulations of the drug that can be administered by first responders or family members for emergency treatment of life-threatening opioid overdose.
Important Copyright Message:
The Medical Letter® publications are protected by US and international copyright laws. Forwarding, copying or any distribution of this material is prohibited.
Sharing a password with a non-subscriber or otherwise making the contents of this site available to third parties is strictly prohibited. By accessing and reading the attached content I agree to comply with US and international copyright law and these terms and conditions of The Medical Letter, Inc.