The Medical Letter on Drugs and Therapeutics
In Brief: Auvi-Q Epinephrine Auto-Injector for Infants and Toddlers
Med Lett Drugs Ther. 2018 May 21;60(1547):83
The FDA has approved a lower-dose epinephrine auto-injector (Auvi-Q 0.1 mg – Kaléo) for emergency treatment of anaphylaxis in children weighing 7.5-15 kg (16.5-33 lbs). It is the first epinephrine auto-injector to be approved for use in infants and toddlers weighing less than 15 kg. Previously, Auvi-Q and other epinephrine auto-injectors were only available in 0.15- and 0.3-mg strengths for patients weighing 15-30 kg or ≥30 kg, respectively.1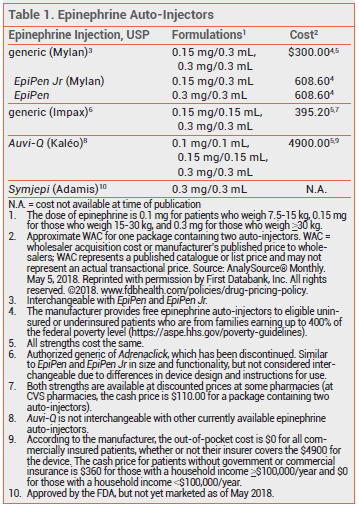 The recommended dose of epinephrine for intramuscular (IM) or subcutaneous (SC) administration is 0.01 mg/kg. None of the previously available epinephrine auto-injectors provided a weight-appropriate dose for infants, so many physicians prescribed a 0.15-mg auto-injector off-label for this age group.2
The Auvi-Q device is about the length and width of a credit card and as thick as a cell phone. It has an automatic needle retraction system and a red safety guard at the needle-end of the device. Removal of the outer case initiates visual signals and an audio recording that provides step-by-step instructions and a 2-second countdown during the injection process.
Auvi-Q should be injected IM into the anterolateral aspect of the thigh (through clothing, if necessary). After treatment with epinephrine, the patient should be taken to the nearest emergency department; anaphylaxis symptoms recur in up to 15% of patients hours after resolution of the initial symptoms.3
The needle length in the new 0.1-mg auto-injector is shorter than in other epinephrine auto-injectors. Use of a shorter needle decreases the risk of striking bone when administering a dose to a small child, but may result in SC rather than IM injection.4,5 Higher levels of epinephrine are obtained with IM injection than with SC injection.6
Auvi-Q 0.1 mg is supplied in a carton containing two single-use auto-injectors and a training device without a needle. The outer case protects the epinephrine solution from light; exposure to excessive heat or cold should be avoided. The shelf-life of the epinephrine in the auto-injector is 18 months. All three strengths of Auvi-Q are priced the same.
© The Medical Letter, Inc. All Rights Reserved.
The Medical Letter, Inc. does not warrant that all the material in this publication is accurate and complete in every respect. The Medical Letter, Inc. and its editors shall not be held responsible for any damage resulting from any error, inaccuracy, or omission.