The Medical Letter on Drugs and Therapeutics
In Brief: OTC Alcaftadine (Lastacaft Once Daily Relief) for Allergic Conjunctivitis
Med Lett Drugs Ther. 2022 May 16;64(1650):78
Disclosures
Principal Faculty
Mark Abramowicz, M.D., President: no disclosure or potential conflict of interest to report
Jean-Marie Pflomm, Pharm.D., Editor in Chief: no disclosure or potential conflict of interest to report
Brinda M. Shah, Pharm.D., Consulting Editor: no disclosure or potential conflict of interest to report
Additional Contributor(s)
Amy Faucard, MLS, Associate Editor: no disclosure or potential conflict of interest to report
Objective(s)
Upon completion of this activity, the participant will be able to:
Discuss the use of ophthalmic H1-antihistamines for treatment of allergic conjunctivitis.
The ophthalmic H1-antihistamine alcaftadine 0.25%, which has been available by prescription since 2011 for use in patients with allergic conjunctivitis, is now available without a prescription as Lastacaft Once Daily Relief (Allergan) for temporary relief of itchy eyes due to pollen, ragweed, grass, animal hair, and dander in adults and children ≥2 years old. It is the third ophthalmic antihistamine to be approved for over-the-counter (OTC) use (see Table 1).
Ophthalmic H1-antihistamines are at least as effective as oral second-generation H1-antihistamines for prevention of ocular itching due to allergic conjunctivitis, and they take effect within a few minutes.1 They are generally not effective in relieving erythema. Alcaftadine, azelastine, bepotastine, epinastine, ketotifen, and olopatadine also have mast cell-stabilizing effects. Ophthalmic vasoconstrictors such as naphazoline reduce erythema, but they should generally be avoided because they can cause rebound hyperemia.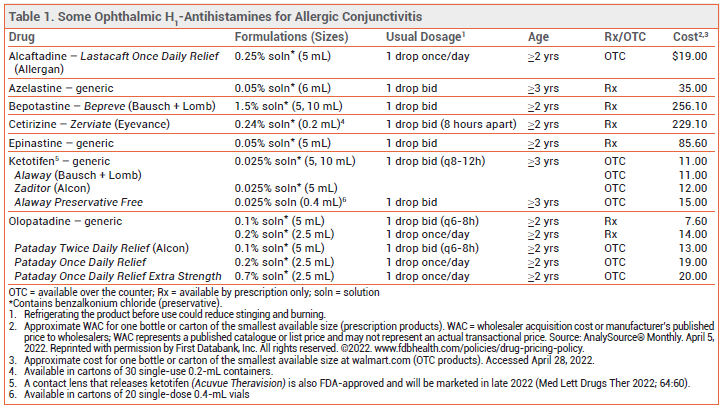 EFFICACY — Once-daily use of alcaftadine has been shown to prevent ocular itching due to allergic conjunctivitis for up to 16 hours.2 In a pooled analysis of two double-masked conjunctival allergen challenge (CAC) trials in patients with a history of ocular allergies, alcaftadine 0.25% was significantly more effective than olopatadine 0.2% in preventing CAC-induced ocular itching 16 hours after instillation.3
ADVERSE EFFECTS — Alcaftadine ophthalmic solution is generally well tolerated. Like most ophthalmic antihistamine products, it contains the preservative benzalkonium chloride, which can cause burning and stinging. Refrigerating the drug before use may mitigate this effect.
DOSAGE AND ADMINISTRATION — Lastacaft Once Daily Relief is available in a 5-mL bottle and in a twin pack containing two 5-mL bottles. The recommended dosage is one drop in each affected eye once daily. Other ophthalmic products should not be used for at least 5 minutes after instillation of alcaftadine. Contact lenses should be removed before use of the drug; they can be reinserted after 10 minutes.
© The Medical Letter, Inc. All Rights Reserved.
The Medical Letter, Inc. does not warrant that all the material in this publication is accurate and complete in every respect. The Medical Letter, Inc. and its editors shall not be held responsible for any damage resulting from any error, inaccuracy, or omission.