The Medical Letter on Drugs and Therapeutics
ONLINE
ONLY
ARTICLE
In Brief: A New Indication for Abemaciclib (Verzenio) (online only)
Med Lett Drugs Ther. 2023 Apr 3;65(1673):e62-3 doi:10.58347/tml.2023.1673g
The oral cyclin-dependent kinase (CDK) 4/6 inhibitor abemaciclib (Verzenio – Lilly) has been approved by the FDA for use in combination with endocrine therapy (tamoxifen or an aromatase inhibitor) for adjuvant treatment of patients with hormone receptor (HR)-positive, human epidermal growth factor receptor 2 (HER2)-negative, node-positive, early breast cancer at high risk of recurrence.1 It was previously approved for the same indication, but patients were also required to have a Ki-67 score ≥20%. About 70% of all breast cancers are HR-positive and HER2-negative. Ki-67 is a prognostic biomarker for tumor proliferation; a score ≥20% is associated with early recurrence and poor prognosis.2,3
MECHANISM OF ACTION — CDKs 4 and 6 regulate the G1/S phase transition within the cell cycle; they are often overexpressed in HR-positive breast cancer, leading to cell cycle progression and cell proliferation. Inhibition of CDK 4/6 results in cell cycle arrest, senescence, and apoptosis.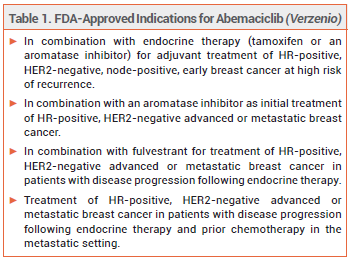 CLINICAL STUDIES — FDA approval of abemaciclib for the new indication was based on the results of an open-label trial (monarchE) in 5637 women and men with HR-positive, HER2-negative, node-positive, resected, early breast cancer at high risk of recurrence (≥4 positive pathologic axillary lymph nodes or 1-3 positive axillary lymph nodes and at least one of the following: tumor size ≥5 cm, histologic grade 3, or Ki-67 score ≥20%). Patients were randomized to receive abemaciclib 150 mg twice daily for 2 years plus investigator-selected endocrine therapy or endocrine therapy alone for up to 10 years. At a median of 42 months, median invasive disease-free survival (IDFS) was not reached in either group. At 4 years, IDFS with abemaciclib plus endocrine therapy was 85.8% compared to 79.4% with endocrine therapy alone.4
ADVERSE EFFECTS — Abemaciclib can cause diarrhea, neutropenia, fatigue, leukopenia, nausea, anemia, and headache. In the monarchE trial, there were two treatment-related deaths in the abemaciclib plus endocrine therapy group and none in the endocrine therapy alone group.
DOSAGE, ADMINISTRATION, AND COST — The recommended starting dosage of abemaciclib for the new indication is 150 mg taken twice daily in combination with tamoxifen or an aromatase inhibitor. The drug should be taken for a total of 2 years or until disease recurrence or unacceptable toxicity occurs. A 30-day supply of Verzenio costs $15,571.80.5
© The Medical Letter, Inc. All Rights Reserved.
The Medical Letter, Inc. does not warrant that all the material in this publication is accurate and complete in every respect. The Medical Letter, Inc. and its editors shall not be held responsible for any damage resulting from any error, inaccuracy, or omission.