Auvi-Q Epinephrine Auto-Injector Returns
Auvi-Q Epinephrine Auto-Injector Returns
Med Lett Drugs Ther. 2017 Feb 27;59(1515):33
February 27, 2017 (Issue: 1515)
Auvi-Q (Kaléo; previously manufactured and marketed by Sanofi), the epinephrine auto-injector approved by the FDA in 2012 for emergency treatment of anaphylaxis and voluntarily withdrawn in 2015 due to potential inaccurate dosage delivery,1 has become available once more. According to Kaléo, improvements in the manufacturing process have addressed the concerns that led to its recall.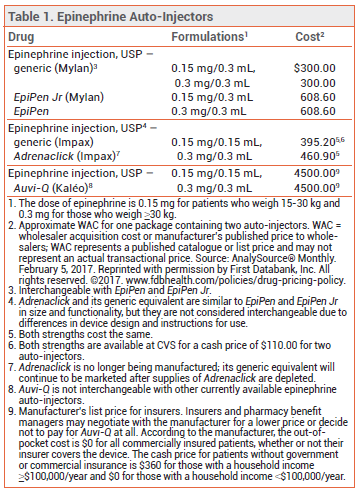 THE DEVICE — No changes were made to the device itself, which is about the length and width of a credit card and as thick as a smartphone. It has an automatic needle retraction system and a red safety guard at the needle-end of the device. Removal of the outer case initiates visual signals and an audio recording that provides step-by-step instructions and a 5-second countdown during the injection process. The shelf-life of the epinephrine in the auto-injector is 18 months; the shelf-life of the battery is longer.
Auvi-Q's needle length, gauge, and injection force are similar to those of EpiPen. In a randomized, crossover, bioavailability study, injection of epinephrine 0.3 mg from Auvi-Q and EpiPen resulted in similar peak epinephrine levels and total epinephrine exposure.2 In one study, patients and caregivers found Auvi-Q easier to use than other epinephrine auto-injectors.3,4
CONCLUSION — Auvi-Q, which is being reintroduced after having been voluntarily withdrawn from the market in 2015, is a smaller epinephrine auto-injector that provides visual signals and audio instructions as it is being used. It appears to be more convenient to carry and easier to use than EpiPen.
© The Medical Letter, Inc. All Rights Reserved.
This article has been freely provided.