Lumateperone (Caplyta) for Schizophrenia
Lumateperone (Caplyta) for Schizophrenia
Med Lett Drugs Ther. 2020 Jul 27;62(1603):113-6
July 27, 2020 (Issue: 1603)
Summary: Lumateperone (Caplyta)
FDA-approved for once-daily oral treatment of schizophrenia in adults.
Improved schizophrenia symptoms compared to placebo in two 4-week clinical trials, but not in one 6-week trial.
Somnolence/sedation, nausea, and dry mouth were the most common adverse effects.
No demonstrated advantage over other second-generation antipsychotics in efficacy or tolerability, but direct comparisons are lacking.
The FDA has approved lumateperone (Caplyta — Intracellular Therapies), an oral second-generation antipsychotic, for once-daily treatment of schizophrenia in adults. It is the 13th second-generation antipsychotic drug to be approved by the FDA for this indication.

STANDARD TREATMENT — Antipsychotic drugs are more effective in treating the positive symptoms of schizophrenia (agitation, hallucinations, delusions) than the negative symptoms (apathy, social withdrawal, blunted affect).1 Second-generation antipsychotic drugs are generally used for initial treatment of schizophrenia, even though controlled trials have generally failed to demonstrate a clear advantage in efficacy over first-generation drugs, except for clozapine (Clozaril, and others) for treatment-resistant disease. Second-generation antipsychotic drugs have a lower risk of extrapyramidal symptoms and tardive dyskinesia than first-generation drugs, but a higher risk of metabolic adverse effects.
Patients who do not respond to one antipsychotic drug may respond to another. Long-acting injectable formulations are often used to improve adherence.2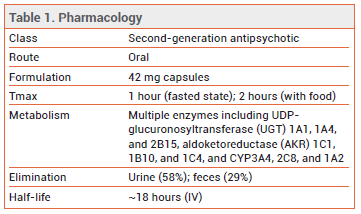 MECHANISM OF ACTION — The mechanism of action of lumateperone in schizophrenia is thought to be related to the drug's antagonist activity at serotonin 5-HT2A and postsynaptic dopamine D2 receptors. Lumateperone does not interact with off-target (e.g., alpha1, histaminergic) receptors that may contribute to adverse effects observed with some other secondgeneration antipsychotic drugs.3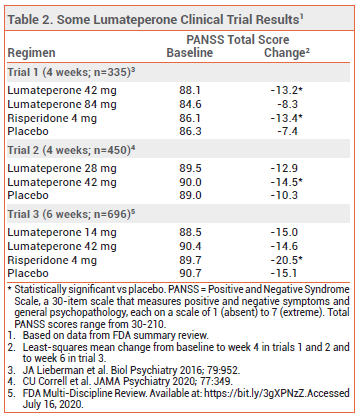 CLINICAL STUDIES — FDA approval of lumateperone was based on the results of two 4-week, double-blind trials. Patients with schizophrenia were randomized to receive lumateperone 42 mg or 84 mg, risperidone 4 mg, or placebo once daily (Trial 1), or lumateperone 28 mg or 42 mg or placebo once daily (Trial 2). In both trials, patients taking lumateperone 42 mg (but not 28 mg or 84 mg) had statistically significantly greater improvements from baseline in the Positive and Negative Syndrome Scale (PANSS) score, the primary endpoint, than those taking placebo (see Table 2). Trial 1 was not designed to compare the efficacy of lumateperone with risperidone.4,5
In a 6-week, double-blind trial, 696 patients with schizophrenia were randomized to receive lumateperone 14 mg or 42 mg, risperidone 4 mg, or placebo once daily; only risperidone, the active control, was significantly more effective than placebo.6
ADVERSE EFFECTS — The most common adverse effects of lumateperone, occurring in ≥5% of patients and at more than twice the rate of placebo in the clinical trials, were somnolence/sedation and dry mouth. Headache, nausea, dizziness, fatigue, and increased creatine phosphokinase and hepatic transaminase levels also occurred. The rates of extrapyramidal symptoms with lumateperone were similar to those with placebo. As with other antipsychotics, neuroleptic malignant syndrome, tardive dyskinesia, metabolic adverse effects (weight gain, diabetes), dysphagia, leukopenia, severe neutropenia, orthostatic hypotension, and falls presumably could occur, but it may take longer than 4-6 weeks for these to become apparent. Seizures have been reported in patients taking antipsychotics; the risk is greatest in those with a history of seizures or with conditions that lower seizure threshold.
The labels of all first- and second-generation antipsychotic drugs include a boxed warning about an increased risk of death in elderly patients with dementia-related psychosis.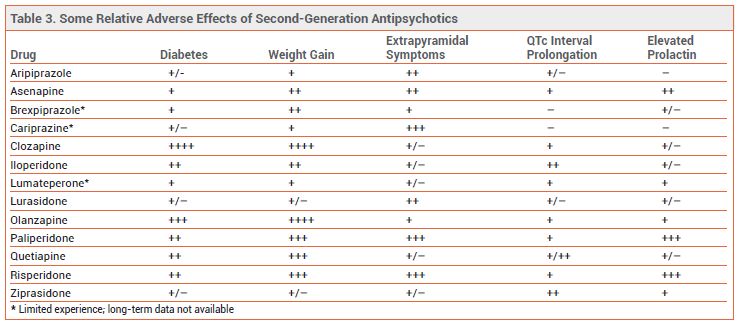 DRUG INTERACTIONS — Lumateperone is metabolized by UDP glucuronosyltransferase (UGT) 1A1, 1A4, and 2B15, aldoketoreductase (AKR) 1C1, 1B10, and 1C4, and CYP3A4, 2C8, and 1A2. Concomitant use of lumateperone with UGT inhibitors such as valproic acid can increase lumateperone serum concentrations and is not recommended. Coadministration of moderate or strong CYP3A4 inhibitors can increase lumateperone serum concentrations and should be avoided. Coadministration of CYP3A4 inducers such as carbamazepine can decrease lumateperone serum concentrations and its efficacy and should also be avoided.7
PREGNANCY AND LACTATION — No studies of lumateperone use in pregnant women are available. Visceral and skeletal variations, decreased pup weight, and postnatal death were observed in animal studies with the drug.
Pregnancy outcomes of patients using antipsychotic drugs, including lumateperone, are monitored through a pregnancy exposure registry. Neonates exposed to antipsychotics during the third trimester of pregnancy are at increased risk of extrapyramidal symptoms and/or withdrawal symptoms such as agitation, tremor, respiratory distress, and feeding disorder.
There are no data on the presence of lumateperone in human breast milk or on its effects on the breastfed infant or milk production. Sedation, failure to thrive, jitteriness, and extrapyramidal symptoms have been reported in breastfed infants exposed to other antipsychotic drugs; the manufacturer recommends that women not breastfeed while taking lumateperone.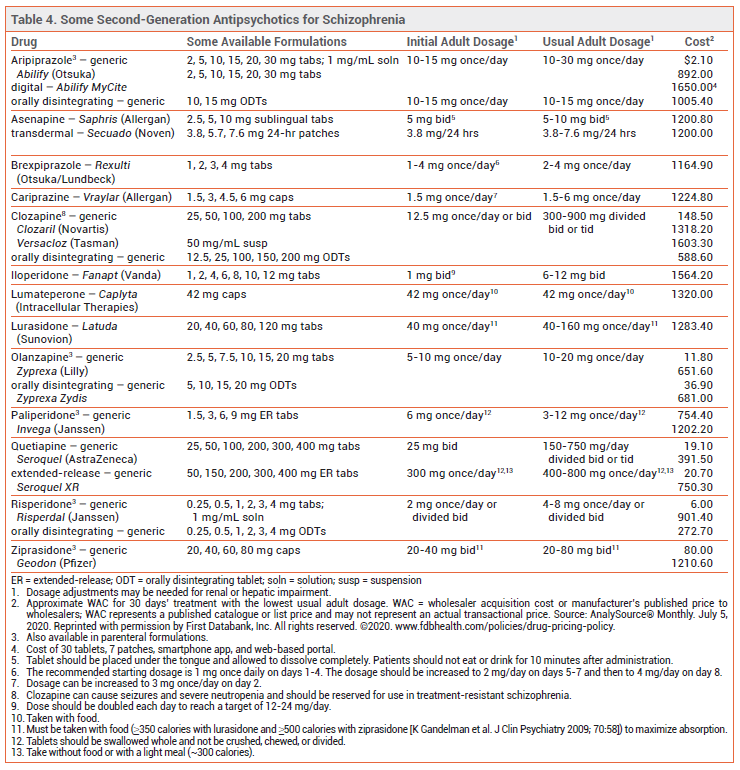 DOSAGE AND ADMINISTRATION — The recommended dosage of lumateperone is 42 mg once daily with food. It should not be used in patients with moderate or severe hepatic impairment (Child-Pugh B or C).
CONCLUSION — The second-generation antipsychotic drug lumateperone (Caplyta) modestly improved symptoms of schizophrenia in 2 of 3 short-term clinical trials. Whether it offers any advantage over other second-generation antipsychotics remains to be established. Until long-term data or results of head-to-head trials become available, there is no good reason to use it.
© The Medical Letter, Inc. All Rights Reserved.
This article has been freely provided.