Subscribe and Access
Drug Interactions from The Medical Letter
Prevent potentially life-threatening interactions between drugs.
Drug Interactions from The Medical Letter is continuously updated and optimized for convenient access from your tablet or smartphone.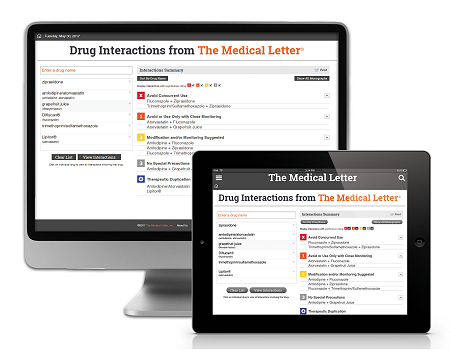 The Drug Interactions database includes:
Over 50,000 detailed drug-drug and drug-herb interaction monographs
Significance ratings – all interactions are ranked by seriousness and need for intervention
A detailed discussion of the evidence supporting the potential interaction and an explanation of the mechanism by which the interaction occurs
Detailed recommendations about how best to avoid or manage potential interactions
Information about related drugs – easily find out whether or not other drugs in the same class, or drugs used for the same indication, would interact in a similar way
References that support the evidence are provided within each monograph
The Medical Letter, Inc. is committed to providing objective, practical, and timely information on drugs and treatments of common diseases to help our readers make the best decisions for their patients – without the influence of the pharmaceutical industry.

Many of our readers know that pharmaceutical companies and their representatives often exaggerate the therapeutic effects and understate the adverse effects of their products, but busy practitioners have neither the time nor the resources to check the accuracy of the manufacturers' claims. Our publication is intended specifically to meet the needs of busy healthcare professionals who want unbiased, reliable, and timely drug information. Our editorial process is designed to ensure that the information we provide represents an unbiased consensus of medical experts.