The Medical Letter on Drugs and Therapeutics
Drugs for Urinary Tract Infections
July 23, 2012 (Issue: 1395)
The most recent guidelines from the Infectious Diseases Society of America (IDSA) and its European counterpart on the choice of antimicrobials for treatment of uncomplicated urinary tract infections (UTIs) in non-pregnant women focus on the unnecessary use of fluoroquinolones to treat uropathogens that are increasingly becoming resistant to them.1 Resistance of Escherichia coli to ciprofloxacin in the US has increased from 3% in 2000 to 17.1% in 2010.2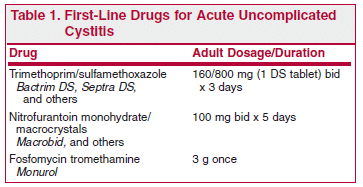 ACUTE UNCOMPLICATED CYSTITIS — Fluoroquinolones such as ciprofloxacin or levofloxacin should not be used as first-line agents for empiric treatment of uncomplicated cystitis. Before the infecting organism is known, the drug of choice for non-pregnant women is trimethoprim/sulfamethoxazole (TMP/SMX) for 3 days, as long as the local rate of resistance to TMP/SMX among urinary pathogens is <20%. An equally effective alternative with a low rate of resistance among E. coli is nitrofurantoin for 5 days.3 A single dose of fosfomycin, which has a broad spectrum of activity against the usual uropathogens, is another alternative.4,5 Beta-lactams such as amoxicillin/clavulanate (Augmentin, and others), cefdinir (Omnicef, and others), cefpodoxime (Vantin, and others) or ceftibuten (Cedax) could also be considered, but are less likely to be effective.6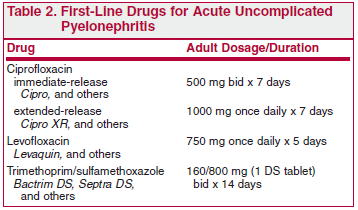 ACUTE UNCOMPLICATED PYELONEPHRITIS — In areas where the prevalence of resistance to fluoroquinolones among uropathogens is <10%, a 7-day course of ciprofloxacin or 5 days of levofloxacin would be a reasonable first choice for empiric outpatient treatment of non-pregnant women with acute uncomplicated pyelonephritis. TMP/SMX for 14 days is an alternative for treatment of susceptible uropathogens. Another alternative is a single IV dose of a long-acting parenteral third-generation cephalosporin, such as 1 g of ceftriaxone (Rocephin, and others), followed by 10-14 days of an oral cephalosporin to which the pathogen is susceptible. Oral beta-lactam agents are generally considered less effective for treatment of pyelonephritis than fluoroquinolones or TMP/SMX.
COMPLICATED URINARY TRACT INFECTIONS — The recent IDSA Guidelines did not include any recommendations for treatment of complicated UTIs. Urinary tract infections that recur after treatment, are associated with indwelling urinary catheters, urologic surgery or obstructive uropathy, or are acquired in hospitals or nursing homes are more likely to be due to antibiotic-resistant gram-negative bacilli, enterococci or Staphylococcus aureus.
An oral fluoroquinolone, such as ciprofloxacin or levofloxacin, can be useful in treating such infections in outpatients. Oral amoxicillin/clavulanate, an oral third-generation cephalosporin such as cefdinir or ceftibuten, or oral TMP/SMX can be used if the infecting organism is found to be susceptible.
In hospitalized patients with complicated UTIs, parenteral treatment with cefepime (Maxipime), a third generation cephalosporin such as ceftriaxone, a fluoroquinolone, ticarcillin/clavulanate (Timentin), piperacillin/tazobactam (Zosyn, and others), or a carbapenem is generally recommended.7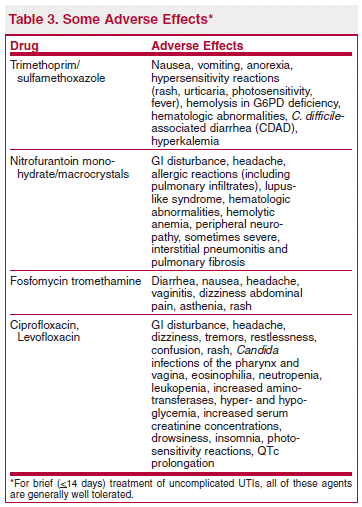 CONCLUSION — Fluoroquinolones should not be used empirically for treatment of acute uncomplicated cystitis. Effective alternatives are available and should be used instead. Use of a fluoroquinolone is still recommended for empiric treatment of acute uncomplicated pyelonephritis and for outpatients with complicated urinary tract infections.
© The Medical Letter, Inc. All Rights Reserved.
This article has been freely provided.