The Medical Letter on Drugs and Therapeutics
Two Drugs for Weight Loss
September 3, 2012 (Issue: 1398)
Updated August 12, 2014
In 2013 the FDA approved one new drug and a new combination of 2 old drugs as adjuncts to lifestyle changes for chronic weight management. Lorcaserin (lor-ca-SER-in; Belviq – Arena/Esai) is a selective serotonin 2C receptor agonist. Qsymia (Vivus) is a fixed-dose combination of the weight-loss drug phentermine and an extended-release (ER) formulation of topiramate. The new products are approved for use in obese patients (body mass index [BMI] of ≥30 kg/m2) and for patients who are overweight (BMI ≥27 kg/m2) and have one weight-related risk factor such as hypertension, dyslipidemia or type 2 diabetes.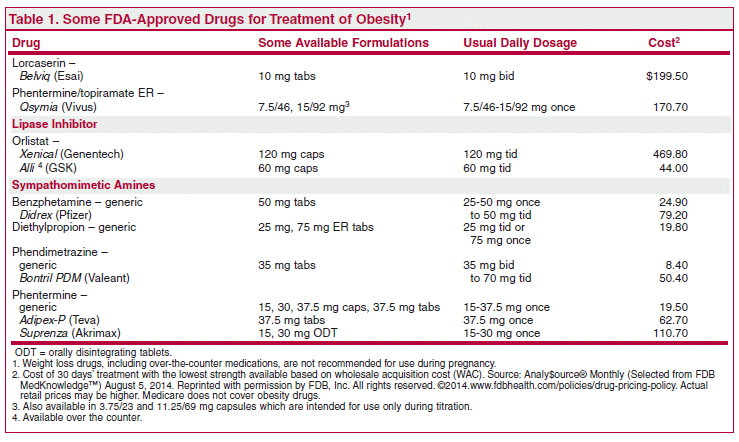 OLDER DRUGS FOR WEIGHT LOSS1 — The lipase inhibitor orlistat is modestly effective (patients have lost 2.5-3.2 kg more than with placebo over 1-4 years), but it causes unpleasant adverse effects such as flatulence with discharge, oily spotting and fecal urgency.
The sympathomimetic amines, which are approved by the FDA only for short-term use to initiate diet-induced weight loss, are all controlled substances; methamphetamine has a high abuse potential and probably should not be used. All sympathomimetics can increase heart rate, raise blood pressure, and cause nervousness and insomnia.
LORCASERIN (Belviq) — Activation of the serotonin 2C receptor, which is found mainly in the central nervous system, is thought to suppress appetite and is considered unlikely to cause the hallucinations, cardiac valvulopathy, and pulmonary hypertension that have been associated with activation of other serotonin receptor subtypes.2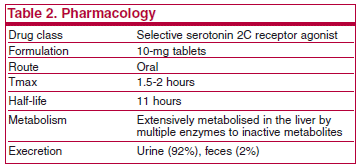 Clinical Studies – Approval of lorcaserin was based on 3 randomized double-blind trials in obese or overweight adults; the first-year results are listed in Table 3.3-5 In the first trial (BLOOM), patients who lost ≥5% of their body weight after one year on lorcaserin were randomized to continue the drug or switch to placebo for a second year. By the end of the second year, patients who continued on lorcaserin had regained about 25% of the initial weight loss, and those who took lorcaserin during the first year and placebo during year 2 had lost an average of only 1.2 kg more than those who had taken placebo for both years.3
The BLOOM-DM trial was conducted in patients with type 2 diabetes who were also being treated with metformin, a sulfonylurea or both. HbA1c decreased by 0.9% with lorcaserin twice daily, by 1.0% with lorcaserin once daily, and by 0.4% with placebo.5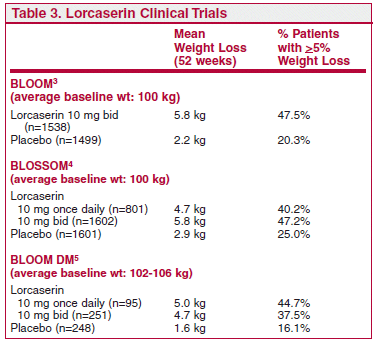 Adverse Effects – Headache, nausea, and dizziness were the most frequent adverse effects reported with lorcaserin in clinical trials. The discontinuation rates were 50%, 45% and 36% in the 3 studies. Cardiac valvulopathy did not occur more frequently with lorcaserin than with placebo. Euphoria has been reported with doses ≥40 mg. Belviq is a schedule IV controlled substance.
Drug Interactions – Lorcaserin inhibits CYP2D6; it has increased peak serum concentrations of dextromethorphan, a 2D6 substrate, by 76%. Serotonin syndrome occurred in 2 patients during the clinical trials; one of these patients was also taking dextromethorphan.
Dosage and Administration – The dosage of lorcaserin recommended by the manufacturer is 10 mg twice daily. If the patient has not lost at least 5% of baseline weight by 12 weeks, the drug should be discontinued. Lorcaserin is contraindicated for use during pregnancy.
PHENTERMINE/TOPIRAMATE (Qsymia) — Phentermine is a sympathomimetic amine that has been available in the US for many years for short-term (weeks) treatment of obesity. When it was used with fenfluramine ("phen-fen"), the combination was associated with heart valve abnormalities; fenfluramine has since been withdrawn from the market. There have been only rare reports of valvular disease occurring in patients taking phentermine alone.
Topiramate (Topamax, and others) is approved for use in epilepsy and migraine, but not for weight control. It has produced significant weight loss in some clinical trials; the mechanism is unclear.
Clinical Studies – Approval of Qsymia was based on two 56-week trials in which patients were randomized to placebo or to one of 2 doses of phentermine/topiramate; the 1-year results are listed in Table 4.6,7
In an extension of the CONQUER trial, patients who volunteered to continue their study regimens for an additional 52 weeks lost (in total after 2 years) an average of 9.3% (9.6 kg) and 10.5% (10.9 kg) of their body weight, compared to a loss of 1.8% (2.1 kg) in the placebo group.8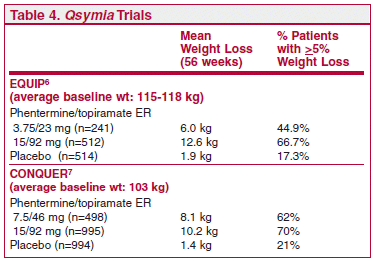 Adverse Effects – Adverse effects that occurred in >5% of patients taking phentermine/topiramate ER and were significantly more frequent than with placebo included dry mouth, paresthesia, constipation, dysgeusia and, with the higher dose, insomnia. Cognitive difficulties affecting attention, concentration and memory were reported. The discontinuation rate of the combination was about 40% in the one-year trials. Topiramate is a carbonic anhydrase inhibitor; metabolic acidosis and kidney stones can occur. Antiepileptic drugs, including topiramate, have been reported to increase the risk of suicidal ideation and behavior. Qsymia is a schedule IV controlled substance.
Drug Interactions – Topiramate is a mild inducer of CYP3A4 and a mild inhibitor of CYP2C19. Serum potassium concentrations were lower in patients who took both topiramate and hydrochlorothiazide than in those who took either drug alone. Topiramate taken with valproic acid has been associated with hyperammonemia, with and without encephalopathy. Serum concentrations of topiramate decreased about 40% when the drug was taken with phenytoin or carbamazapine. Phentermine is contraindicated while taking, and for 14 days after stopping, a monoamine oxidase (MAO) inhibitor because of the risk of hypertensive crisis.
Pregnancy – Topiramate has been associated with a 2- to 5-fold increased risk of oral clefts when taken in the first trimester of pregnancy. Qsymia is contraindicated for use during pregnancy and is available only through a restricted access program (Qsymia REMS) designed to prevent fetal exposure to the drug.
Dosage and Administration – Phentermine/topiramate ER is taken once daily, preferably in the morning to prevent insomnia. The recommended dosage is 3.75/23 mg for 14 days followed by 7.5/46 mg. If a 3% weight loss is not achieved after 12 weeks on the 7.5/46 mg dose, the dosage may be increased to 11.25/69 mg for 14 days, and then to 15/92 mg. If the patient does not achieve at least a 5% decrease in weight after 12 weeks on the highest dose, the drug should be discontinued gradually; abrupt withdrawal of topiramate can cause seizures even in patients with no history of epilepsy.
CONCLUSION — Both lorcaserin (Belviq) and the phentermine/topiramate ER combination (Qsymia) taken as adjuncts to diet and exercise may be effective in increasing weight loss in the first year of use, but much less so in the second year. Qsymia appears to be more effective than lorcaserin, but may cause more troublesome adverse effects.
© The Medical Letter, Inc. All Rights Reserved.
This article has been freely provided.