The Medical Letter on Drugs and Therapeutics
Dolutegravir (Tivicay) for HIV
September 30, 2013 (Issue: 1426)
The FDA has approved dolutegravir (doll-you-TEG-rah-veer; Tivicay – Viiv Healthcare), an integrase strand transfer inhibitor (INSTI), for treatment of HIV-1 infection in adults and in children ≥12 years old who weigh at least 40 kg. It is the third INSTI to be approved by the FDA; raltegravir and elvitegravir were approved earlier.1,2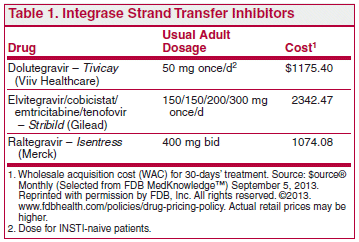 TREATMENT OF HIV — Preferred first-line therapy of HIV infection includes either the non-nucleoside reverse transcriptase inhibitor (NNRTI) efavirenz (Sustiva), a ritonavir-boosted protease inhibitor (atazanavir [Reyataz] or darunavir [Prezista]), or the INSTI raltegravir, plus the 2 nucleoside/nucleotide reverse transcriptase inhibitors (NRTIs) emtricitabine (Emtriva) and tenofovir (Viread).3,4
INSTIs — INSTIs block the activity of HIV-1 integrase, preventing viral DNA from integrating with cellular DNA.
Raltegravir is generally well tolerated and is not metabolized by CYP3A, but must be taken twice daily and is not available in a fixed-dose combination with NRTIs. Elvitegravir is only available in combination (Stribild) with the NRTIs emtricitabine and tenofovir and the CYP3A inhibitor cobicistat, which permits once-daily dosing of elvitegravir, but interacts with many other drugs. Stribild must be taken with food and should not be used in patients with renal insufficiency. HIV strains that become resistant to raltegravir are often cross-resistant to elvitegravir, and vice versa.
CLINICAL STUDIES — The results of three 48-week trials comparing dolutegravir-based therapy to first-line HIV regimens in antiretroviral-naive patients, and one comparing dolutegravir-based therapy to raltegravir-based therapy in patients resistant to ≥2 classes of antiretrovirals but naive to INSTIs, are summarized in table 2.5-8 Patients receiving dolutegravir were less likely than those receiving raltegravir to develop treatment-emergent INSTI resistance.8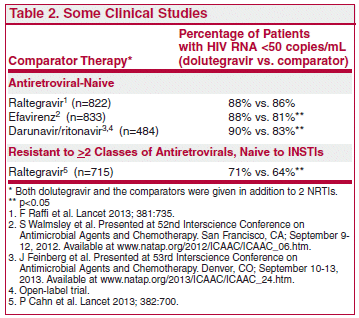 In an open-label single-arm trial (VIKING-3), available only as an abstract, 183 patients with virologic failure and current or historical resistance to raltegravir or elvitegravir received dolutegravir 50 mg twice daily, with optimized background therapy added after one week. By day 8, mean viral load had decreased by 1.4 log10 copies/mL. At 24 weeks, 69% of all patients, but only 25% of patients with ≥3 INSTI-resistance substitutions, had HIV RNA <50 copies/mL.9
ADVERSE EFFECTS — Dolutegravir was generally well tolerated in clinical trials. Hypersensitivity reactions have been reported in <1% of patients treated with the drug in clinical trials; it should be discontinued permanently if hypersensitivity occurs. Elevations in liver transaminases were reported in patients co-infected with hepatitis B or C. Dolutegravir is classified as category B (no evidence of risk in animals) for use during pregnancy.
DRUG INTERACTIONS — Drugs containing polyvalent cations (such as sucralfate, buffered medications, and calcium, magnesium, or iron supplements) can decrease the absorption of dolutegravir; it should be taken 2 hours before or 6 hours after any of these agents. Dolutegravir inhibits the renal organic cation transporter OCT2 and can inhibit tubular secretion of serum creatinine and drugs eliminated by OCT2, such as metformin and the antiarrhythmic drug dofetilide; concurrent use of dolutegravir and dofetilide is contraindicated. Drugs that induce UGT1A1 or CYP3A, such as rifampin, efavirenz, and etravirine, can reduce dolutegravir's serum concentrations and decrease its effectiveness.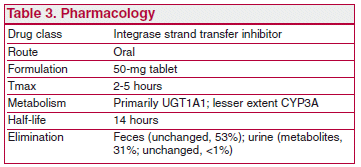 DOSAGE AND ADMINISTRATION — The recommended dosage of dolutegravir in INSTI-naive patients is 50 mg taken once daily with or without food. INSTI-naive patients concomitantly taking efavirenz, rifampin, or ritonavir-boosted fosamprenavir (Lexiva) or tipranavir (Aptivus) should take 50 mg twice daily. INSTI-experienced patients with documented or clinically suspected INSTI-associated resistance substitutions should also take 50 mg twice daily10; in such patients, alternatives to rifampin, efavirenz, and ritonavir-boosted fosamprenavir or tipranavir should be used if possible. Dolutegravir has not been studied in INSTI-experienced children or in patients with severe hepatic impairment.
CONCLUSION — Dolutegravir (Tivicay), an integrase strand transfer inhibitor (INSTI) used in combination with other antiretroviral drugs for treatment of HIV-1 infection, is generally effective and well tolerated, and appears to be effective in some patients who have developed resistance to other INSTIs. Whether dolutegravir should be used before or after other INSTIs remains to be determined.
© The Medical Letter, Inc. All Rights Reserved.
This article has been freely provided.