The Medical Letter on Drugs and Therapeutics
A 4-Drug Combination (Viekira Pak) for Hepatitis C
February 2, 2015 (Issue: 1461)
The FDA has approved Viekira Pak (Abbvie), a fixed-dose combination of two new direct-acting antiviral agents (ombitasvir, paritaprevir) with the pharmacologic enhancer ritonavir in one tablet, co-packaged with a third new direct-acting antiviral agent (dasabuvir) in a second tablet, for oral treatment of chronic hepatitis C virus (HCV) genotype 1 infection. Genotype 1 is responsible for 70-80% of HCV infections in the US.
Viekira Pak is the second all-oral, interferon-free, fixed-dose combination for treatment of chronic HCV genotype 1 infection to be approved in the US; it will compete with the fixed-dose combination of sofosbuvir and ledipasvir (Harvoni) for inclusion in the formularies of third-party payers. Neither Harvoni nor Viekira Pak is approved for treatment of infections caused by HCV genotypes 2-6.
DRUGS FOR HCV GENOTYPE 1 INFECTION — Harvoni has produced sustained virologic response (SVR) rates exceeding 90% in various patient populations with minimal adverse effects.1 Sofosbuvir (Sovaldi) plus simeprevir (Olysio) is an alternative, but double-blind trials documenting the efficacy of this combination are lacking.2 Current guidelines recommend that patients with chronic HCV genotype 1 infection receive either Harvoni, sofosbuvir plus simeprevir with or without ribavirin, or Viekira Pak with or without ribavirin. The level of evidence supporting these recommendations is lower for sofosbuvir plus simeprevir than for either Harvoni or Viekira Pak.3
MECHANISM OF ACTION — Each of the three direct-acting antiviral drugs in Viekira Pak inhibits an HCV protein that is essential for viral replication. Ombitasvir, like ledipasvir, inhibits the HCV NS5A protein. Dasabuvir is a non-nucleoside inhibitor of the HCV NS5B RNA-dependent RNA polymerase, the same enzyme that sofosbuvir inhibits. Paritaprevir, like telaprevir (Incivek), boceprevir (Victrelis), and simeprevir,4,5 inhibits the HCV NS3/4A protease. Ritonavir, a CYP3A4 inhibitor, is included in the regimen to increase exposure to paritaprevir, a CYP3A4 substrate.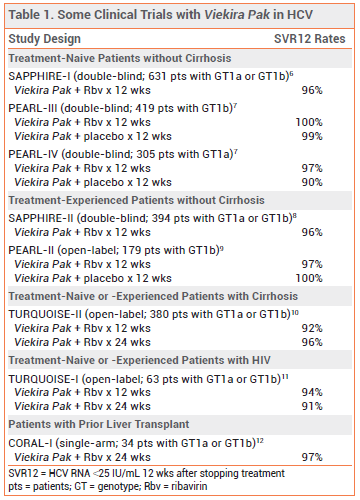 ADVERSE EFFECTS — The most common adverse effects observed in patients taking Viekira Pak and ribavirin have been fatigue, nausea, pruritus, skin reactions, insomnia, and asthenia. Without ribavirin, adverse effects occur less frequently, but still include nausea, pruritus, and insomnia. Serum alanine aminotransferase (ALT) elevations occurred in 1-4% of patients taking Viekira Pak in clinical trials and sometimes required early discontinuation; the labeling for Viekira Pak recommends ALT monitoring for the first 4 weeks of treatment. The rate of permanent discontinuation due to adverse effects with Viekira Pak was <1%, both with and without ribavirin.
PREGNANCY — Viekira Pak is classified as category B (no evidence of harm in animals; no adequate studies in women) for use during pregnancy, but ribavirin is embryotoxic and teratogenic, and is contraindicated for use in pregnant women (category X) and in men whose female partners are pregnant.
DRUG INTERACTIONS — Unlike ledipasvir or sofosbuvir, which are not CYP substrates, dasabuvir is metabolized by CYP2C8 and paritaprevir by CYP3A4. Coadministration of Viekira Pak with inducers of CYP2C8 or CYP3A4 or with strong CYP3A4 inhibitors is contraindicated.13
Ritonavir is included in Viekira Pak because it is a strong CYP3A4 inhibitor. Drugs that are highly dependent on CYP3A4 for metabolism and may cause serious toxicity at elevated concentrations, including alfuzosin, sildenafil (when used for treatment of pulmonary arterial hypertension), ergot alkaloids, lovastatin, simvastatin, pimozide, triazolam, and midazolam, are contraindicated for use with Viekira Pak. Use of inhaled fluticasone or salmeterol (both CYP3A4 substrates) with Viekira Pak is not recommended. Dosage reductions of cyclosporine and tacrolimus are required.
Ombitasvir, paritaprevir, and dasabuvir inhibit UGT1A1. Paritaprevir inhibits the drug transporters OATP1B1/1B3, which may lead to an increase in indirect bilirubin. Paritaprevir, ritonavir, and dasabuvir inhibit breast cancer resistance protein (BCRP). Drug interaction studies have found that Viekira Pak increases exposure to ketoconazole, rosuvastatin, pravastatin, furosemide, amlodipine, alprazolam, and buprenorphine, and decreases exposure to omeprazole and voriconazole. Serum concentrations of some antiarrhythmic drugs, such as amiodarone and flecainide, may increase. Coadministration of Viekira Pak with voriconazole, rilpivirine, or ritonavir-boosted darunavir or lopinavir is not recommended; atazanavir 300 mg (without ritonavir) may be used if taken in the morning. Use of Viekira Pak with drugs containing ethinyl estradiol (such as oral or intravaginal contraceptives) or with efavirenz was associated with a high risk of liver enzyme elevations and is contraindicated (ethinyl estradiol is also contraindicated for 2 weeks after stopping antiviral therapy).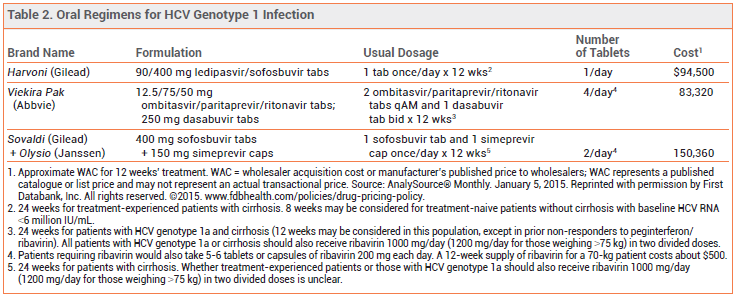 DOSAGE AND ADMINISTRATION — Viekira Pak includes 250-mg dasabuvir tablets and fixed-dose tablets containing 12.5 mg of ombitasvir, 75 mg of paritaprevir, and 50 mg of ritonavir. Two combination tablets should be taken each morning, and one dasabuvir tablet should be taken each morning and evening. Morning and evening doses should both be taken with a meal. For patients without cirrhosis, the duration of treatment is 12 weeks. Patients with cirrhosis and genotype 1a infection should take Viekira Pak for 24 weeks, but 12 weeks could be considered for some of these patients as well; in clinical trials, 12 weeks of treatment was highly effective in this population, except for prior null responders to peginterferon and ribavirin. Patients with genotype 1a infection or cirrhosis should also receive ribavirin 1000 mg/day (or 1200 mg/day if weighing >75 kg). Viekira Pak is not recommended for patients who have a history of treatment failure with an HCV protease inhibitor (telaprevir, boceprevir, simeprevir).
CONCLUSION — The fixed-dose combination of ombitasvir/paritaprevir/ritonavir plus dasabuvir (Viekira Pak) taken orally with or without ribavirin for 12 or 24 weeks appears to be similar in efficacy to the fixed-dose combination of ledipasvir and sofosbuvir (Harvoni), which does not require addition of ribavirin, for treatment of chronic hepatitis C genotype 1 infection. Use of Viekira Pak requires taking more tablets per day and has a greater potential for causing adverse drug interactions.
© The Medical Letter, Inc. All Rights Reserved.
This article has been freely provided.