The Medical Letter on Drugs and Therapeutics
Treatment of Lyme Disease
May 9, 2016 (Issue: 1494)
Most cases of Lyme disease in the US occur between May and September in the Northeastern, Mid-Atlantic, and North Central states.
THE DISEASE — Lyme disease in the US is caused by the spirochete Borrelia burgdorferi, which is transmitted to humans by Ixodes scapularis or I. pacificus ticks.1 The characteristic skin lesion, erythema migrans, develops at the site of the tick bite 1-2 weeks after the tick has detached (range 3-30 days) and expands over days to weeks. The classic skin lesion has central clearing with a bull's-eye appearance, but more often the rash is homogeneously erythematous and, rarely, necrotic or vesicular. Erythema migrans may go unnoticed because it often occurs in areas not readily visible to the patient, such as the back, buttocks, axillae or popliteal fossa, is often asymptomatic, and resolves spontaneously within weeks.
Fever, headache, malaise, arthralgia, or myalgia may accompany erythema migrans. A newly discovered species of Borrelia, B. mayonii (found in the upper Midwest), may cause nausea and vomiting as well.2,3 Weeks to months after initial infection, patients with untreated Lyme disease may develop early disseminated disease that can include migratory musculoskeletal pain, carditis, facial nerve palsy, ocular manifestations, or meningitis. Months to a few years after initial infection (late disease), arthritis may develop, typically of the knee.
PROPHYLAXIS — Avoidance of ticks and use of tick repellents can reduce the risk of being bitten.4 Ticks found on the skin should be removed promptly; ticks must be attached for ≥36 hours to transmit the disease. Within 72 hours after tick removal, antibiotic prophylaxis with a single dose of doxycycline should be considered; the strongest indication is when an I. scapularis tick from a highly endemic area is partially engorged or attached for ≥36 hours, but prophylaxis would also be reasonable when the duration of tick attachment or degree of engorgement is uncertain.5
ERYTHEMA MIGRANS — In patients with early Lyme disease, treatment with oral doxycycline for 10 days shortens the duration of the skin lesion and generally prevents development of late sequelae. Doxycycline is not recommended for children <8 years old or for pregnant or lactating women; amoxicillin and cefuroxime axetil (Ceftin, and generics) are effective alternatives.
NEUROLOGIC DISEASE — Facial nerve palsy, which may be bilateral, can be a presenting feature of early disseminated Lyme disease. For patients with isolated facial nerve palsy, oral doxycycline is effective. Patients with other neurologic involvement such as meningitis, other cranial nerve palsies, radiculopathy, or cognitive deficits are usually treated with IV ceftriaxone (Rocephin, and generics).
CARDIAC DISEASE — Cardiac conduction abnormalities associated with Lyme disease are generally self-limited. Patients with minor cardiac involvement (first-degree atrioventricular [AV] block with a PR interval of <300 milliseconds) can be treated with oral doxycycline, amoxicillin, or cefuroxime axetil. Those with more severe cardiac involvement, such as first-degree AV block with symptoms or a PR interval ≥300 milliseconds, or second- or third-degree AV block, should be hospitalized and treated with IV ceftriaxone.
ARTHRITIS — Oral treatment with doxycycline, amoxicillin, or cefuroxime axetil for 28 days is usually effective for treatment of Lyme arthritis. Arthritis that has only partially responded to oral treatment may respond fully to a second month of oral therapy. Refractory arthritis can be treated with IV ceftriaxone.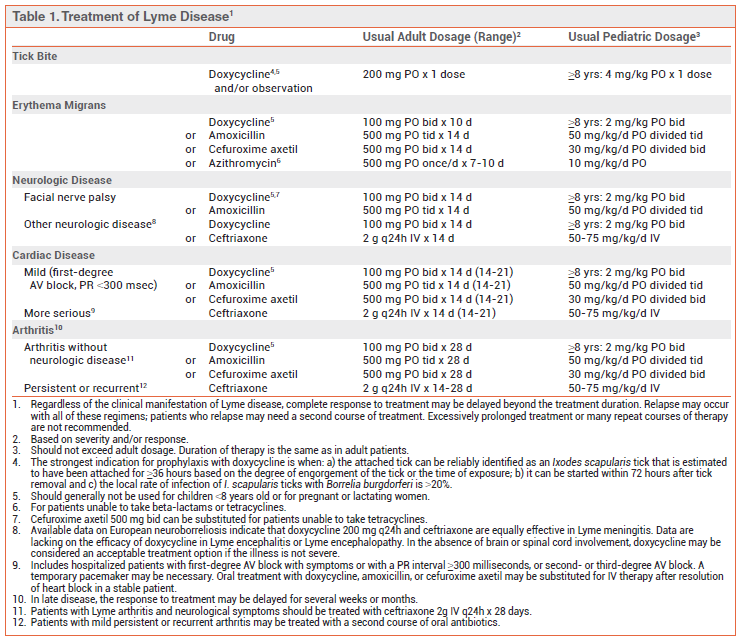 POST-TREATMENT LYME DISEASE SYMPTOMS — Some patients whose objective manifestations of Lyme disease resolved with antibiotic treatment report persistent subjective symptoms such as fatigue, musculoskeletal pain, or cognitive difficulties. These long-standing symptoms have not been associated with active infection and have not responded to antibiotics.6-8 Recurrent symptoms in previously treated patients may be due to new tick bites and reinfection.9
CONCLUSION — Use of tick repellents and early removal of ticks are the first steps in preventing Lyme disease. After an I. scapularis tick bite in a highly endemic area, prophylaxis with a single dose of doxycycline would be reasonable for nonpregnant adults and children ≥8 years old. Recommended doses of antibiotics cure almost all patients with erythema migrans and can prevent more serious manifestations of Lyme disease.
© The Medical Letter, Inc. All Rights Reserved.
This article has been freely provided.