The Medical Letter on Drugs and Therapeutics
July 4, 2016 (Issue: 1498)
Use of insect repellents is strongly recommended by the CDC and the EPA to prevent Zika virus infection1,2 and other mosquito- and tickborne diseases.3 Mosquitoes can transmit chikungunya, dengue, West Nile, and yellow fever viruses, and malaria. Ticks can transmit Lyme disease and rickettsial diseases such as Rocky Mountain spotted fever.
DEET — The topical insect repellent with the best documented effectiveness against mosquitoes is N,N-diethyl-m-toluamide (DEET).4,5 Applied on exposed skin, DEET also repels ticks, chiggers, fleas, gnats, and some flies. DEET is available in concentrations of 5-100%. In general, higher concentrations provide longer-lasting protection,6 but increasing the concentration above 50% has not been shown to improve efficacy. Long-acting polymer-based or liposomal DEET formulations containing concentrations of 30-34% have been shown to protect against mosquitoes for up to 12 hours. The CDC recommends using concentrations ≥20% for protection against ticks.
Adverse Effects – Toxic and allergic reactions to DEET have been uncommon, and serious adverse effects are rare. Rashes ranging from mild irritation to urticaria and bullous eruptions have been reported. Patients find that some DEET formulations feel uncomfortably oily or sticky on their skin. DEET can damage clothes made from synthetic fibers and plastics on eyeglass frames and watch crystals.
Children – According to the CDC, DEET is safe for children and infants >2 months old; the American Academy of Pediatrics recommends using formulations containing concentrations of 10-30% in children. Toxic encephalopathy has occurred, usually with prolonged or excessive use in infants and children that sometimes included ingestion of the product.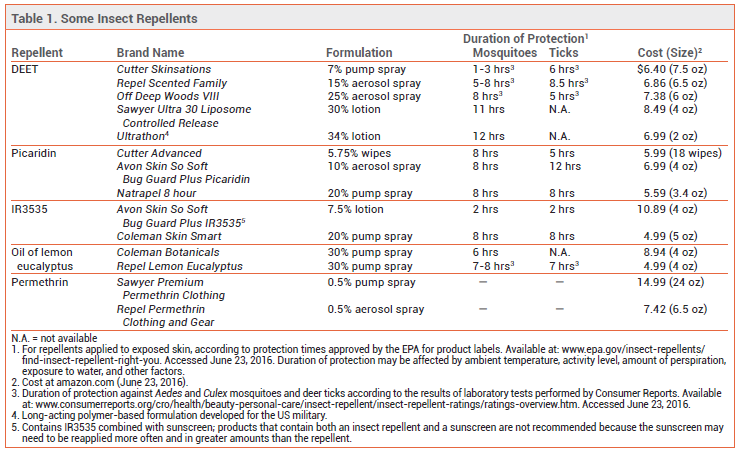 PICARIDIN — Picaridin provides protection against mosquitoes, ticks, flies, fleas, and chiggers. It is available in concentrations of 5-20%; higher concentrations typically provide longer durations of protection.7 In a controlled field trial, picaridin 19.2% prevented mosquito bites as effectively as a long-acting 33% DEET formulation used by the US military.8 Picaridin 20% can provide 8-10 hours of protection against tick bites.9
Adverse Effects – Picaridin can cause skin and eye irritation, but it appears to be better tolerated on the skin than DEET. It is odorless, non-greasy, and does not damage fabric or plastic; it can discolor leather and vinyl.
Children – According to the American Academy of Pediatrics, formulations of picaridin containing concentrations of 5-10% can be used on children as an alternative to DEET.
IR3535 — IR3535 repels mosquitoes, deer ticks, and flies. It is available in concentrations of 7.5% and 20% in the US. Concentrations ≥10% have been found to be effective against mosquito bites for several hours.10 Two studies found the 7.5% concentration to be ineffective.6,11
OIL OF LEMON EUCALYPTUS (OLE) — OLE (p-menthane-3,8-diol [PMD]), which repels mosquitoes, flies, and gnats, occurs naturally in the lemon eucalyptus plant. It is chemically synthesized for commercial use. In field studies against malaria-transmitting mosquitoes, OLE provided up to 6 hours of protection against mosquito bites.10 It is less effective than DEET or picaridin against ticks.9 OLE can be irritating to the eyes.
Children – OLE products should not be used on children <3 years old.
CITRONELLA — Citronella oil-based insect repellents provide short-term protection against mosquitoes, but they are probably not effective against ticks. In laboratory studies, various concentrations of citronella oil were much less effective than DEET against mosquito bites; the protection times for citronella oil ranged from 1.5 to 5 hours.12
ESSENTIAL OILS — Essential oils obtained from raw botanical material, including clove, geraniol, and patchouli, provide limited and variable protection against mosquitoes. High concentrations may be more effective, but can be irritating to the skin.13
SUNSCREEN AND INSECT REPELLENTS — Insect repellents can be used with sunscreens; the repellent should be applied after the sunscreen. Applying DEET after sunscreen has been shown to reduce the SPF of the sunscreen, but applying sunscreen second may increase absorption of DEET. The CDC does not recommend use of products that combine a sunscreen with an insect repellent because the sunscreen may need to be reapplied more often and in greater amounts than the repellent.
PERMETHRIN — A synthetic pyrethroid contact insecticide, permethrin is used on clothing, mosquito nets, tents, and sleeping bags to repel and kill mosquitoes and ticks. Sprayed on clothing, it remains active for several weeks through multiple launderings with minimal transfer to the skin. An indoor laboratory study found that subjects wearing permethrin-treated sneakers and socks were 73.6 times less likely to be bitten by a tick than those wearing untreated foot wear.14 Studies in outdoor workers in North Carolina wearing commercially available permethrin-impregnated uniforms found that the clothing protected against mosquito and tick bites for at least 1 year.15,16
PREGNANCY — The CDC considers EPA-registered formulations of DEET, picaridin, IR3535, and OLE safe for use during pregnancy.3 According to the EPA, there is no evidence that exposure to permethrin results in reproductive effects in pregnant or nursing women or developmental adverse effects in their children.17
CONCLUSION — DEET-containing insect repellents can prevent mosquito and tick bites and are generally safe. Picaridin appears to be as effective as equivalent concentrations of DEET and may be better tolerated. Wearing protective clothing treated with the insecticide permethrin in addition to using DEET or picaridin on exposed skin may provide the best protection.
© The Medical Letter, Inc. All Rights Reserved.
This article has been freely provided.