The Medical Letter on Drugs and Therapeutics
Sofosbuvir/Velpatasvir (Epclusa) for Hepatitis C
August 15, 2016 (Issue: 1501)
The FDA has approved Epclusa (Gilead), a fixed-dose combination of sofosbuvir (Sovaldi) and velpatasvir, a new direct-acting antiviral agent, for oral treatment of chronic hepatitis C virus (HCV) infection. Epclusa is the first oral combination to be approved for treatment of all six major HCV genotypes.

HCV GENOTYPES — The prevalence of HCV genotypes in the US is about 75% for genotype 1, 20-25% for genotypes 2 and 3, and <2% for genotypes 4, 5, and 6 combined. Genotype testing is recommended to determine the optimal treatment regimen.1
MECHANISM OF ACTION — Sofosbuvir inhibits HCV NS5B RNA-dependent RNA polymerase, which is essential for viral replication. Velpatasvir inhibits viral replication by binding to the NS5A protein. In vitro, both sofosbuvir and velpatasvir have potent activity against all major HCV genotypes (1-6), including strains resistant to protease inhibitors.2-4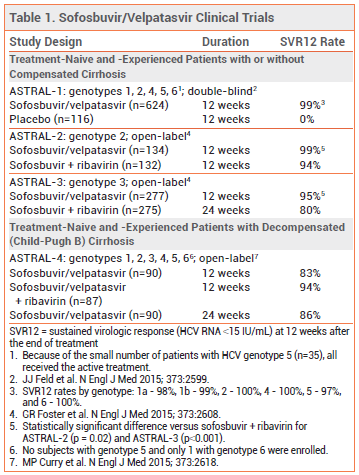 CLINICAL STUDIES — Approval of sofosbuvir/velpatasvir was based on the results of four randomized trials in treatment-naive and -experienced patients with HCV infection. ASTRAL-1, -2, and -3 enrolled patients with or without cirrhosis, but excluded those with decompensated cirrhosis.5,6 ASTRAL-4 enrolled only patients with moderate (Child-Pugh B) decompensated cirrhosis.7 The results for the rate of sustained virologic response at 12 weeks after the end of treatment (SVR12), the primary endpoint, are summarized in Table 1.
In an open-label trial (ASTRAL-5), available only as an abstract, 106 treatment-naive and -experienced patients coinfected with HCV (genotypes 1-4) and HIV were treated with sofosbuvir/velpatasvir for 12 weeks. The overall SVR12 rate was 95%.8
ADVERSE EFFECTS — Sofosbuvir/velpatasvir was generally well tolerated in clinical trials. The most common adverse effects, occurring in ≥10% of patients, were headache and fatigue.
PREGNANCY — No adequate studies of sofosbuvir/velpatasvir in pregnant women are available. In animal studies, no adverse effects on fetal development occurred at exposures greater than those achieved in humans at the recommended dose. Ribavirin is teratogenic and embryotoxic; it is contraindicated for use in pregnant women and in men whose partners are pregnant.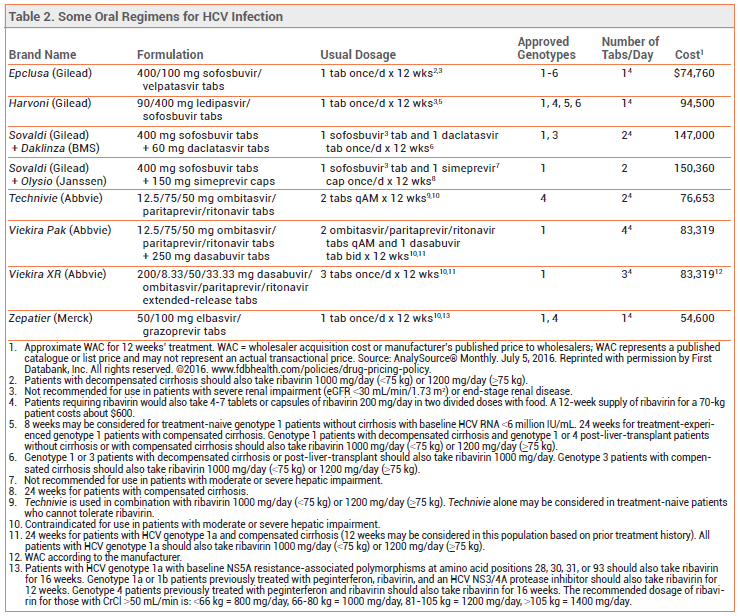 DRUG INTERACTIONS — Sofosbuvir/velpatasvir and amiodarone should not be taken concurrently; serious symptomatic bradycardia has been reported in patients taking sofosbuvir with amiodarone.9
Both sofosbuvir and velpatasvir are substrates of P-glycoprotein (P-gp) and breast cancer resistance protein (BCRP). Velpatasvir is minimally metabolized by CYP2B6, 2C8, and 3A4. Inducers of these pathways, such as efavirenz and carbamazepine, may decrease serum concentrations of either or both components of the combination; concurrent use is not recommended.10
Velpatasvir is an inhibitor of P-gp, BCRP, and organic anion transporting polypeptide (OATP) 1B1, 1B3, and 2B1, and may increase intestinal absorption of drugs that are substrates of these transporters. Sofosbuvir/velpatasvir has been shown to increase serum concentrations of digoxin, rosuvastatin, and tenofovir and is expected to increase concentrations of atorvastatin.
Absorption of velpatasvir decreases as gastric pH increases. Coadministration of Epclusa and a proton pump inhibitor is not recommended. Antacids should be taken 4 hours before or after Epclusa; H2-receptor antagonists and Epclusa can be taken at the same time or 12 hours apart.
DOSAGE — The recommended dosage of Epclusa is one tablet once daily for 12 weeks. Patients with decompensated cirrhosis (Child-Pugh B or C) should also take ribavirin.
CONCLUSION — Sofosbuvir/velpatasvir (Epclusa), taken as one tablet daily for 12 weeks, is effective for treatment of chronic hepatitis C virus (HCV) infection caused by any of the six major HCV genotypes. Addition of ribavirin is recommended in patients with decompensated cirrhosis.
© The Medical Letter, Inc. All Rights Reserved.
This article has been freely provided.