The Medical Letter on Drugs and Therapeutics
In Brief: Repatha Pushtronex - A New Evolocumab Injection Device
September 12, 2016 (Issue: 1503)
The PCSK9 inhibitor evolocumab (Repatha – Amgen) is now available in a single-dose, hands-free device (Repatha Pushtronex) for once-monthly subcutaneous infusion. Evolocumab is FDA-approved as an adjunct to diet and maximally tolerated statin therapy for patients with heterozygous familial hypercholesterolemia (HeFH) or clinical atherosclerotic cardiovascular disease who require additional lowering of low-density lipoprotein cholesterol (LDL-C), and as an adjunct to diet and other LDL-lowering therapies for patients with homozygous familial hypercholesterolemia (HoFH).
Evolocumab is also available in 140-mg single-use prefilled syringes and autoinjectors (Repatha Sureclick).1 Use of these formulations to administer the once-monthly dose (420 mg) requires patients to inject themselves three consecutive times within 30 minutes. Another PCSK9 inhibitor, alirocumab (Praluent), is injected every 2 weeks; it is available in single-dose prefilled syringes and pens.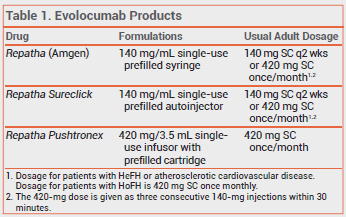 The Repatha Pushtronex system consists of a single-use, battery-powered infusor and a prefilled cartridge containing a 420-mg dose of evolocumab. Once assembled, the patient adheres the device to the skin of the abdomen, thigh, or upper arm and presses a button to begin the subcutaneous injection; infusion of the dose takes about 9 minutes. One Repatha Pushtronex device costs $1175. Three 140-mg Repatha Sureclick autoinjectors or Repatha prefilled syringes cost $1627.2
© The Medical Letter, Inc. All Rights Reserved.
This article has been freely provided.