The Medical Letter on Drugs and Therapeutics
Lesinurad/Allopurinol (Duzallo) for Gout-Associated Hyperuricemia
November 6, 2017 (Issue: 1533)
The FDA has approved Duzallo (Ironwood), a fixed-dose combination of the uric acid transporter 1 (URAT1) inhibitor lesinurad (Zurampic)1 and the xanthine oxidase inhibitor allopurinol (Zyloprim, and generics), for once-daily treatment of gout-associated hyperuricemia in patients who have not achieved target serum uric acid levels with allopurinol alone.

STANDARD TREATMENT — Recent guidelines offer conflicting views on the benefits of monitoring serum uric acid levels and the appropriate use of urate-lowering therapy in patients with gout,2-4 but most expert clinicians still treat gout-associated hyperuricemia initially with a xanthine oxidase inhibitor such as allopurinol or febuxostat (Uloric) with the goal of reducing the serum uric acid level to <6.0 mg/dL (and preferably to <5.0 mg/dL). The uricosuric drug probenecid can be used as add-on therapy if target serum uric acid levels are not reached with a xanthine oxidase inhibitor alone or as initial therapy in patients who cannot tolerate a xanthine oxidase inhibitor. Probenecid is less effective in patients with renal insufficiency (eGFR ≤30 mL/min). Pegloticase (Krystexxa), a pegylated urate oxidase administered intravenously, is highly effective, but it is very expensive and can cause serious adverse effects, including anaphylaxis; it should be reserved for patients with severe tophaceous gout that has not responded to treatment with both a xanthine oxidase inhibitor and a uricosuric drug.5
CLINICAL STUDIES — No new clinical trials were required for approval of Duzallo, which was based on pharmacokinetic data and the results of two earlier trials in a total of 1213 patients with serum uric acid levels ≥6.5 mg/dL and ≥2 gout flares in the prior year despite treatment with allopurinol. In both trials, addition of lesinurad 200 mg once daily to allopurinol significantly increased the likelihood of a reduction in serum uric acid levels to <6 mg/dL at 6 months, compared to addition of placebo (54.2% vs 27.9%; 55.4% vs 23.3%).6,7 Addition of lesinurad to allopurinol has not been shown to decrease gout flares or resolve tophi.
ADVERSE EFFECTS — The most common adverse effects reported with use of lesinurad and allopurinol in clinical trials were increases in serum creatinine levels, headache, influenza, and gastroesophageal reflux disease. Most cases of serum creatinine elevation were reversible. Nephrolithiasis and acute renal failure have occurred with use of lesinurad. Major cardiovascular events have also been associated with lesinurad use; a causal relationship has not been established. Hepatotoxicity, bone marrow suppression, and skin rash and hypersensitivity have occurred with use of allopurinol.
PREGNANCY AND LACTATION — Duzallo has not been studied in pregnant or lactating women. Supratherapeutic oral doses of lesinurad and allopurinol did not adversely affect fetal development in animals. Allopurinol and its metabolite can be found in breast milk.
DRUG INTERACTIONS — Lesinurad is metabolized by CYP2C9; its serum concentrations are increased when it is taken with a CYP2C9 inhibitor, such as fluconazole, or used in patients who are CYP2C9 poor metabolizers. CYP2C9 inducers, such as carbamazepine, can decrease lesinurad serum concentrations and its efficacy.8 Epoxide hydrolase inhibitors, such as valproic acid, could interfere with the metabolism of lesinurad and should not be taken concurrently. Aspirin doses >325 mg/day can decrease the efficacy of lesinurad.
Lesinurad may decrease serum concentrations of sensitive CYP3A substrates, such as sildenafil or amlodipine. It may also decrease the efficacy of hormonal contraceptives.
Allopurinol increases serum concentrations of the xanthine oxidase substrates mercaptopurine and azathioprine; reductions in the dosage of these drugs are required with concurrent allopurinol use. Allopurinol may also increase serum concentrations of cyclosporine and can prolong the half-life of the sulfonylurea chlorpropamide. It may increase the frequency of skin rash in patients taking ampicillin or amoxicillin. Concurrent use of thiazide diuretics may increase the likelihood of allopurinol toxicity.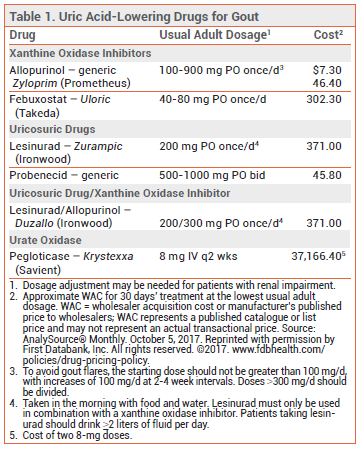 DOSAGE AND ADMINISTRATION — Duzallo is available in tablets containing 200 mg of lesinurad with either 200 or 300 mg of allopurinol. The recommended starting dosage of Duzallo is 200 mg/300 mg once daily with food and water. For patients with a creatinine clearance (CrCl) ≥45 and <60 mL/min, the recommended daily dose is 200 mg/200 mg. Patients should drink at least 2 liters of fluid per day while taking Duzallo. Gout flare prophylaxis (e.g., colchicine 0.6 mg once or twice daily) is recommended for patients initiating treatment with lesinurad.3,4
Renal function should be assessed at baseline and periodically during treatment with Duzallo. The combination is contraindicated in kidney transplant recipients and patients with a CrCl <30 mL/min. It should not be used in those with a CrCl persistently <45 mL/min or with severe hepatic impairment. More frequent monitoring is recommended in patients with a CrCl <60 mL/min and in those whose serum creatinine level has increased 1.5- to 2-fold from baseline. Duzallo should be stopped at least temporarily in patients with a >2-fold increase from baseline in their serum creatinine level.
CONCLUSION – Adding lesinurad (Zurampic) to allopurinol (Zyloprim, and generics), either separately or in the fixed-dose combination Duzallo, can reduce serum uric acid levels in patients with gout who remain hyperuricemic on allopurinol alone, but it has not been shown to decrease gout flares or resolve tophi. Lesinurad can cause serious renal adverse effects and it is expensive. Adding probenecid, which has been used for many years and is available generically, or increasing the dose of allopurinol might be a better choice.
© The Medical Letter, Inc. All Rights Reserved.
This article has been freely provided.