The Medical Letter on Drugs and Therapeutics
Ciprofloxacin Otic Suspension (Otiprio) for Acute Otitis Externa
August 13, 2018 (Issue: 1553)
The FDA has approved a 6% otic suspension formulation of the fluoroquinolone antibiotic ciprofloxacin (Otiprio – Otonomy) for single-dose treatment of acute otitis externa (swimmer's ear) caused by Pseudomonas aeruginosa or Staphylococcus aureus in patients ≥6 months old. Otiprio was approved earlier for prophylaxis in children with bilateral otitis media with effusion who are undergoing tympanostomy tube placement.1

ACUTE OTITIS EXTERNA – S. aureus or P. aeruginosa infection is the most common cause of acute otitis externa.2 In a meta-analysis of 19 trials, topical antibiotics, antiseptics, glucocorticoids, and acidifying agents were equally effective.3 Topical antibiotic therapy is the treatment of choice. Cure rates with topical antibiotics administered for 7-10 days have ranged from 65% to 90%.4
Otic formulations of fluoroquinolone antibiotics, with and without corticosteroids, have been available for years. Resistance of S. aureus to fluoroquinolones has been increasing, but can generally be overcome by the high antimicrobial concentrations achieved with topical therapy.5 Other topical antimicrobials that are active against both S. aureus and P. aeruginosa are potentially ototoxic (polymixin/neomycin, other aminoglycosides).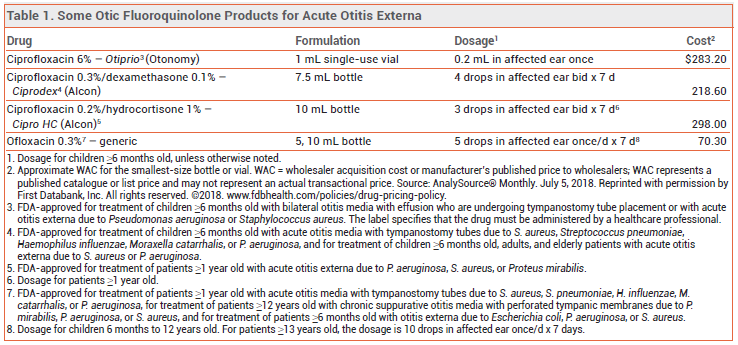 CLINICAL STUDIES – FDA approval of Otiprio was based on the results of an unpublished, randomized, sham-controlled trial, summarized in the package insert, in 262 patients ≥3 years old with unilateral or bilateral acute otitis externa. Significantly more patients achieved a clinical response (no signs or symptoms) at day 8, the primary endpoint, with the active drug than with sham treatment (69% vs 46%).
ADVERSE EFFECTS – Adverse effects reported with Otiprio in the clinical trial included ear pruritus, ear discomfort, headache, and otitis media, but none occurred significantly more often with active treatment than with sham treatment. Treatment of otitis externa with topical antibiotics may result in overgrowth of antimicrobial-resistant bacteria or fungi.
DOSAGE AND ADMINISTRATION – Otiprio is supplied in single-use vials containing 1 mL of 6% ciprofloxacin suspension. The vials must be stored in the refrigerator and kept cold during preparation to prevent thickening of the suspension. The recommended dosage for treatment of acute otitis externa is a single 0.2-mL dose, administered in the affected ear(s) by a healthcare professional using a syringe and a blunt, flexible catheter. The head should be turned so that the affected ear is upright for several minutes after instillation.
CONCLUSION – A single dose of ciprofloxacin 6% otic suspension (Otiprio) administered by a healthcare professional into each ear affected with acute otitis externa can cure about two thirds of infected ears with no significant adverse effects. Other topical antibiotics self-administered for 7-10 days may have higher cure rates, but no direct comparisons are available.
© The Medical Letter, Inc. All Rights Reserved.
This article has been freely provided.