The Medical Letter on Drugs and Therapeutics
Two New Intra-Articular Injections for Knee Osteoarthritis
August 27, 2018 (Issue: 1554)
The FDA has approved a single-injection hyaluronic acid gel (Durolane – Bioventus) and an extended-release (ER) formulation of the synthetic corticosteroid triamcinolone acetonide (Zilretta – Flexion) for intra-articular (IA) treatment of osteoarthritic knee pain.

STANDARD TREATMENT – Non-drug treatments such as exercise, weight loss, and physical therapy can relieve the pain of knee osteoarthritis (OA) in some patients. Oral acetaminophen has generally been the first drug used. It is less effective than full oral doses of nonsteroidal anti-inflammatory drugs (NSAIDs), but it has fewer adverse effects. Topical gel and solution formulations of the NSAID diclofenac (Voltaren Gel, Pennsaid, and others) appear to be modestly effective in reducing pain, with a low risk of systemic adverse effects. For patients who have inadequate responses or contraindications to systemic anti-inflammatory or analgesic drugs, IA corticosteroid and hyaluronic acid injections have been used as alternatives.
HYALURONIC ACID
In OA, the viscoelasticity of synovial fluid is reduced, in part due to decreases in the molecular weight and concentration of endogenous hyaluronic acid. Commercially available hyaluronic acid preparations injected into the joint space are claimed to increase the viscoelasticity of synovial fluid and possibly prevent degradation of articular cartilage. However, a meta-analysis of 14 double-blind, sham-controlled trials with at least 60 patients in each trial did not show clinically relevant differences in outcomes between hyaluronic acid treatment and placebo.1
CLINICAL STUDIES — Approval of Durolane was based on the results of a randomized, double-blind, 26-week trial in 349 patients with mild to moderate knee OA. A single Durolane injection was compared to a 5-injection regimen of Supartz, another hyaluronic acid product. The trial did not include a placebo arm. The primary assessment tool was the pain subscale of the Likert-type Western Ontario and McMaster Universities Osteoarthritis Index (WOMAC; scores range from 0-20, with higher scores indicating more pain). Durolane was noninferior to Supartz at all time points assessed over 26 weeks. The least squares mean change in the WOMAC pain score over 18 weeks (from a baseline score of 7-17) was -5.97 with Durolane versus -5.87 with Supartz.2
In two randomized, double-blind trials, a total of 564 patients with knee OA received an IA injection of Durolane or saline placebo. Patients were followed for 6 weeks in one trial and for 26 weeks in the other. In both trials, Durolane did not significantly increase the rate of clinical response (≥40% reduction in the WOMAC pain score with an improvement of ≥5 points) compared to saline at any time point.3,4
In a double-blind, 26-week trial, 442 patients with pain due to OA in one knee without clinical effusion (WOMAC pain score 7-17) were randomized to receive an IA injection of Durolane or methylprednisolone acetate (MPA) 40 mg. Durolane was noninferior, but not superior, to MPA in eliciting a clinical response at 12 weeks, the primary endpoint.5
In an open-label study in the United Kingdom, 182 patients with mild to moderate knee OA were randomized to receive a single injection of Durolane or Synvisc-One, another hyaluronic acid product. There was no placebo control. Durolane significantly reduced knee pain and analgesia use compared to Synvisc-One at 3 and 6 months.6
ADVERSE EFFECTS — Common adverse effects reported with use of Durolane in clinical trials were arthralgia and injection-site pain.
PREGNANCY AND LACTATION — Durolane has not been studied in pregnant or lactating women. IA administration of hyaluronic acid has not been associated with fetal toxicity in animal studies.
DOSAGE AND ADMINISTRATION — Durolane gel is supplied in 3-mL single-use glass syringes containing 60 mg of hyaluronic acid. An 18- to 22-gauge needle should be used to inject the contents of one vial into each affected knee. Administration of a second dose 26 weeks after the first appears to be safe. Disinfectants containing ammonium salts should not be used during administration of Durolane because they can cause precipitation of sodium hyaluronate. Any strenuous activities or prolonged weight-bearing activities should be avoided for 48 hours after injection.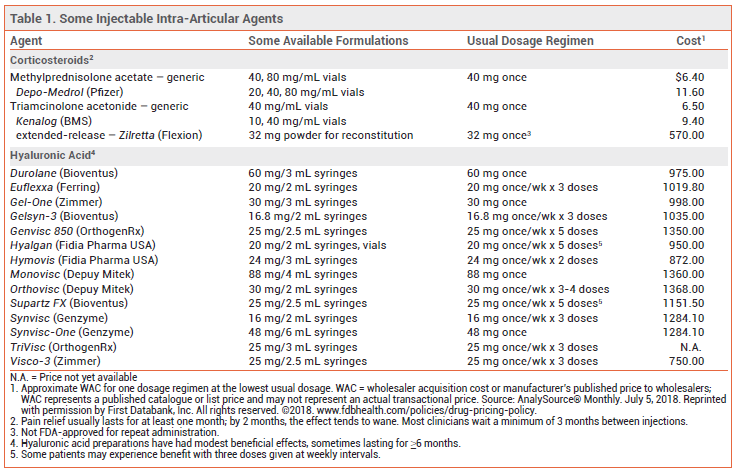 TRIAMCINOLONE
About 80% of patients with symptomatic knee OA have a therapeutic response to IA injections of a corticosteroid. Pain relief usually lasts for at least one month; by two months, the effect tends to wane.7,8
PHARMACOLOGY — Zilretta is an ER formulation consisting of microspheres of poly(lactic-co-glycolic acid) (PLGA) containing triamcinolone acetonide. It is not interchangeable with other formulations of injectable triamcinolone acetonide.
In a pharmacokinetic study, patients with knee OA received a single IA injection of triamcinolone aceto nide ER 32 mg or a standard crystalline suspension of immediate-release triamcinolone acetonide 40 mg. Use of the ER formulation prolonged the drug's IA residence time; synovial-fluid concentrations of the ER formulation were measurable for 12 weeks, whereas those of the standard formulation were either very low or not quantifiable at week 6. Peak plasma concentrations were much lower with the ER formulation than with the standard formulation. The median plasma half-life was 347 hours with the ER formulation versus 72.5 hours with the standard formulation.9
CLINICAL STUDIES — Approval of Zilretta was based on the results of a double-blind, 24-week trial in 484 patients 40-85 years old with moderate to severe knee OA pain who were randomized to receive triamcinolone acetonide ER 32 mg, saline placebo, or a standard crystalline suspension of triamcinolone acetonide 40 mg (active control). The primary endpoint was the change from baseline to week 12 in the weekly mean of the average daily pain (ADP) intensity scores with triamcinolone acetonide ER compared to placebo. Mean ADP intensity score at baseline (on a 0-10 numeric rating scale) was 6.3 in all groups. Triamcinolone acetonide ER significantly reduced the ADP intensity score at week 12 compared to placebo (-3.12 vs -2.14), but not compared to the active control (-3.12 vs -2.86).10
Approximately 30% of patients with type 2 diabetes also have knee OA. Use of IA corticosteroids can elevate blood glucose levels in these patients. In a randomized, double-blind, phase 2 study in 33 patients with knee OA and type 2 diabetes (A1C 6.5-9.0%), the increase in serum glucose levels in the 3 days following a single IA injection was statistically significantly smaller with triamcinolone acetonide ER 32 mg than with standard triamcinolone acetonide 40 mg (14.7 vs 33.9 mg/dL).11
There are no head-to-head trials comparing IA triamcinolone ER with other long-acting corticosteroids, such as methylprednisolone acetate (Depo-Medrol, and generics).
ADVERSE EFFECTS — In clinical trials, the incidence and severity of adverse reactions were generally similar with triamcinolone acetonide ER and placebo. In one randomized, double-blind trial, however, in 140 patients with knee OA, administration of a standard formulation of IA triamcinolone acetonide 40 mg every 3 months for 2 years was associated with significantly greater cartilage volume loss than administration of IA saline placebo.12 Local post-injection inflammatory reactions have occurred in some patients treated with an IA corticosteroid. Septic arthritis is rare. Other uncommon local adverse effects include bleeding, tendinopathy, tendon rupture, lipoatrophy, skin atrophy, and avascular necrosis. Systemic adverse effects are also rare. Flushing can occur several hours after injection. Adverse effects commonly associated with systemic steroid use such as osteoporosis and gastric ulcers have not been reported with IA injection of corticosteroids.
PREGNANCY AND LACTATION — Zilretta has not been studied in pregnant or lactating women. In animal studies, IM or SC injection of triamcinolone acetonide during organogenesis caused developmental abnormalities in the fetus and fetal mortality. Corticosteroids have been detected in human breast milk and may suppress milk production; it is not known whether use of Zilretta could result in detectable quantities of triamcinolone acetonide in human breast milk.
DOSAGE AND ADMINISTRATION — Zilretta is supplied as a single-dose kit containing a vial of triamcinolone acetonide ER microsphere powder, a vial of sterile diluent, and a sterile vial adapter. After reconstitution, Zilretta delivers 32 mg of triamcinolone in 5 mL of diluent. The drug should be stored in a refrigerator before use; the reconstituted suspension can be stored in the vial for up to 4 hours at ambient conditions.
CONCLUSION — Like other intra-articular hyaluronic acid products, single-injection Durolane gel appears to be safe for use in patients with mild to moderate osteoarthritic knee pain, but data supporting its efficacy are unconvincing. The efficacy of hyaluronic acid products in general continues to be controversial, and they are expensive.
A single intra-articular injection of extended-release triamcinolone acetonide (Zilretta) can relieve moderate to severe osteoarthritic knee pain and appears to be well tolerated, but one clinical trial found that the new extended-release formulation was not significantly more effective in reducing pain after 12 weeks than a standard triamcinolone acetonide injectable suspension, which costs much less. Until more data become available, there is no good reason to use Zilretta.
© The Medical Letter, Inc. All Rights Reserved.
This article has been freely provided.