The Medical Letter on Drugs and Therapeutics
Addendum: Statins for Primary Prevention of Cardiovascular Disease
Med Lett Drugs Ther. 2016 Dec 5;58(1509):158
In our recent article on Lipid-Lowering Drugs,1 we said that statins can reduce the risk of first cardiovascular events and death (primary prevention) in patients at high risk for atherosclerotic cardiovascular disease (CVD) and significantly reduce the incidence of cardiovascular events in patients at lower risk for CVD. Now the United States Preventive Services Task Force (USPSTF) has issued new recommendations on the appropriate use of statins for primary prevention of CVD.2
The USPSTF states that clinicians should periodically screen all persons 40-75 years old for cardiovascular risk factors and evaluate their 10-year risk of CVD using the ACC/AHA Pooled Cohort Equation.3 It recommends starting low- to moderate-intensity statin therapy (low-intensity statin therapy lowers LDL-cholesterol <30%; moderate-intensity statin therapy lowers it 30-<50%) in adults 40-75 years old without CVD who have one or more CVD risk factors (dyslipidemia, diabetes, hypertension, or smoking) and a calculated 10-year CVD event risk of >10%. For patients with the same characteristics but a 7.5-10% 10-year risk, the USPSTF recommends that clinicians "selectively offer" the same treatment.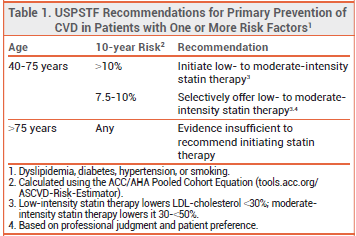 The new recommendations do not apply to patients with familial hypercholesterolemia or LDL-cholesterol levels ≥190 mg/dL, who should take a statin regardless of calculated risk. The USPSTF found the evidence insufficient to recommend starting a statin for primary prevention in persons >75 years old.
© The Medical Letter, Inc. All Rights Reserved.
The Medical Letter, Inc. does not warrant that all the material in this publication is accurate and complete in every respect. The Medical Letter, Inc. and its editors shall not be held responsible for any damage resulting from any error, inaccuracy, or omission.