The Medical Letter on Drugs and Therapeutics
Two New Doses of Dulaglutide (Trulicity) for Diabetes
Med Lett Drugs Ther. 2020 Oct 19;62(1609):168
Disclosures
Principal Faculty
Mark Abramowicz, M.D., President: no disclosure or potential conflict of interest to report
Jean-Marie Pflomm, Pharm.D., Editor in Chief: no disclosure or potential conflict of interest to report
Brinda M. Shah, Pharm.D., Consulting Editor: no disclosure or potential conflict of interest to report
F. Peter Swanson, M.D., Consulting Editor: no disclosure or potential conflict of interest to report
Objective(s)
Upon completion of this activity, the participant will be able to:
Discuss the data supporting the approval of the two higher strengths of dulaglutide (Trulicity) for treatment of type 2 diabetes.
The FDA has approved two additional doses (3 mg and 4.5 mg) of the glucagon-like peptide-1 (GLP-1) receptor agonist dulaglutide (Trulicity – Lilly) for treatment of type 2 diabetes in adults. Dulaglutide has been available in 0.75- and 1.5-mg doses for years.1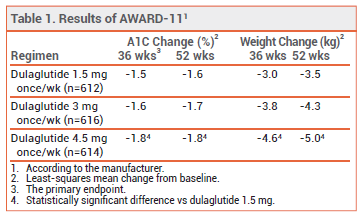 CLINICAL STUDIES — Approval of the two new doses was based on the results of a double-blind trial (AWARD-11; summarized in the package insert) that randomized 1842 patients with type 2 diabetes inadequately controlled on metformin monotherapy to receive dulaglutide 1.5, 3, or 4.5 mg SC once weekly. Reductions from baseline in A1C and weight at 36 weeks were statistically significantly greater with dulaglutide 4.5 mg (but not with 3 mg) than with the 1.5-mg dose.
ADVERSE EFFECTS — The most common adverse effects of dulaglutide in AWARD-11 were nausea, diarrhea, and vomiting; the incidences of these adverse effects were similar with all three doses.
DOSAGE AND COST — Dulaglutide is available in 0.75-, 1.5-, 3-, and 4.5-mg single-dose pens. The recommended starting dosage in the US is 0.75 mg SC once weekly. The weekly dose can be increased by 1.5 mg every 4 weeks as needed to a maximum of 4.5 mg. The 3- and 4.5-mg single-dose pens cost the same as the 0.75- and 1.5-mg pens. The cost of 4 weeks' treatment with dulaglutide is about $800.2
© The Medical Letter, Inc. All Rights Reserved.
This article has been freely provided.