The Medical Letter on Drugs and Therapeutics
In Brief: Third Dose of mRNA-based COVID-19 Vaccines for Immunocompromised Persons
Med Lett Drugs Ther. 2021 Sep 20;63(1633):145-6
Disclosures
Principal Faculty
Mark Abramowicz, M.D., President: no disclosure or potential conflict of interest to report
Jean-Marie Pflomm, Pharm.D., Editor in Chief: no disclosure or potential conflict of interest to report
Brinda M. Shah, Pharm.D., Consulting Editor: no disclosure or potential conflict of interest to report
Additional Contributor(s)
Michael Viscusi, Pharm.D., Associate Editor: no disclosure or potential conflict of interest to report
Objective(s)
Upon completion of this activity, the participant will be able to:
Discuss the FDA's recommendation for a third dose of the mRNA COVID-19 vaccines in immunocompromised persons.
The FDA has expanded the Emergency Use Authorizations (EUAs) for the mRNA-based COVID-19 vaccines manufactured by Pfizer/BioNTech (Comirnaty) and Moderna (Spikevax) to include administration of a third dose in persons ≥12 years old (Pfizer/BioNTech) or ≥18 years old (Moderna) who have undergone solid organ transplantation or have a condition that compromises the immune system to a similar extent (see Table 1).1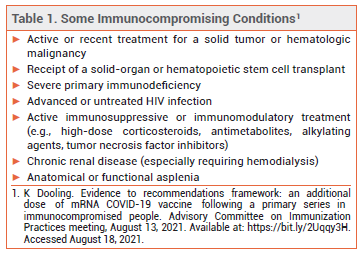 Immunocompromised persons are more likely than healthy individuals to have an inadequate antibody response to COVID-19 vaccination, breakthrough SARS-CoV-2 infection, and severe COVID-19 requiring hospitalization. About 2.7% of adults in the US are considered immunocompromised, but 40-44% of hospitalizations for breakthrough COVID-19 cases have occurred in such persons.2 In a study in 658 solid organ transplant recipients who received 2 doses of an mRNA-based vaccine, anti-SARS-CoV-2 antibodies were detectable in only 54% of persons 28-31 days after the second dose.3
Several clinical studies have demonstrated that the immunogenicity of mRNA-based COVID-19 vaccines in immunocompromised persons is increased with administration of a third dose. In a double-blind trial in 120 organ transplant recipients, median antibody, T-cell, and virus neutralization levels were significantly higher in persons who received 3 doses of the Moderna vaccine (at 0, 1, and 3 months) than in those who received 2 doses.4 In 5 cohort studies, administration of a third dose of an mRNA-based vaccine to a total of 112 organ transplant recipients or hemodialysis patients who tested negative for anti-SARS-CoV-2 antibodies following their second dose resulted in seroconversion rates ranging from 33% to 50%.2 Adverse effects with a third vaccine dose in immunocompromised persons have been similar to those observed with the first two doses.5
Immunocompromised persons who have received two doses of the Pfizer/BioNTech or Moderna vaccine can now receive a third dose of the same vaccine at least ≥28 days after their second dose.6,7 The FDA has not authorized to date the use of additional doses of any COVID-19 vaccine in immunocompromised persons who received the Johnson & Johnson (Janssen) adenovirus-based vaccine.
ADDITIONAL NOTE:
On August 18, 2021, the US Department of Health and Human Services announced plans to offer a third dose of the Pfizer/BioNTech and Moderna COVID-19 vaccines to all persons in whom their use is authorized beginning the week of September 20, 2021, pending FDA and CDC review. The third dose would be administered ≥8 months after the second. More information can be found at: https://bit.ly/3yTxZPX.
© The Medical Letter, Inc. All Rights Reserved.
The Medical Letter, Inc. does not warrant that all the material in this publication is accurate and complete in every respect. The Medical Letter, Inc. and its editors shall not be held responsible for any damage resulting from any error, inaccuracy, or omission.