The Medical Letter on Drugs and Therapeutics
Prevention and Treatment of Monkeypox
Med Lett Drugs Ther. 2022 Sep 5;64(1658):137-9
Disclosures
Principal Faculty
Mark Abramowicz, M.D., President: no disclosure or potential conflict of interest to report
Jean-Marie Pflomm, Pharm.D., Editor in Chief: no disclosure or potential conflict of interest to report
Brinda M. Shah, Pharm.D., Consulting Editor: no disclosure or potential conflict of interest to report
Objective(s)
Upon completion of this activity, the participant will be able to:
Review the vaccines and treatments available in the US for monkeypox and compare them based on their efficacy, dosage and administration, and adverse effects.
Revised 9/6/22: In the Prevention section, "smallpox" was removed in the first paragraph, last sentence of The Vaccines section when describing the vaccinia virus; it was also removed in Table 2, 3rd column of Vaccine virus.
Revised 12/2/22: On December 2, 2022, the CDC adopted the use of mpox to refer to monkeypox disease.
MONKEYPOX ― Monkeypox is caused by infection with an orthopoxvirus historically transmitted by wild animals such as rodents and primates. Unlike previous outbreaks, human-to-human transmission is responsible for the current outbreak; most cases have occurred in men who have sex with men. Clinical manifestations of monkeypox infection are similar to but generally milder than those of smallpox; they include fever, headache, myalgia, chills, fatigue, lymphadenopathy, and characteristic skin lesions. Skin lesions can be present without systemic symptoms.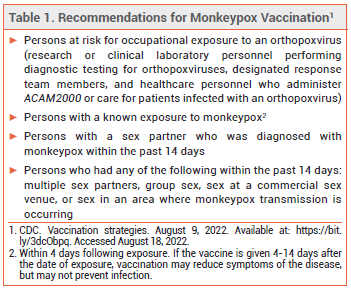 PREVENTION — The CDC recommends pre-exposure prophylaxis for persons at high risk of infection and post-exposure prophylaxis for recently exposed persons to prevent monkeypox infection or reduce its severity. Two vaccines, ACAM2000 and Jynneos, are authorized in the US for such use. Persons at risk for occupational exposure to an orthopoxvirus should receive pre-exposure prophylaxis with either Jynneos or ACAM2000.3 During the current outbreak, the CDC also recommends that either vaccine be given for post-exposure prophylaxis within 4 days after a known or presumed exposure (see Table 1). If the vaccine is given 4-14 days after the date of exposure, vaccination may reduce symptoms of the disease, but may not prevent infection.4
The Vaccines – ACAM2000 has been licensed in the US for years for prevention of smallpox and is now available for prevention of monkeypox infection under an expanded-access investigational new drug (IND) protocol. It contains a live, replication-competent vaccinia virus that can be transmitted to close contacts of the vaccinee.4
Jynneos, a two-dose ortho-poxvirus vaccine, was licensed by the FDA in 2019 for prevention of smallpox or monkeypox infection in adults who are at high risk for infection.4 Jynneos contains a live, replication-deficient modified form of the vaccinia virus Ankara (modified vaccinia Ankara [MVA]), which is closely related to the variola and monkeypox viruses; MVA does not cause disease in humans. Immunocompromised persons, including those receiving immunosuppressive therapy, may have a diminished response to the vaccine. At the time of publication, Jynneos was in short supply in the US.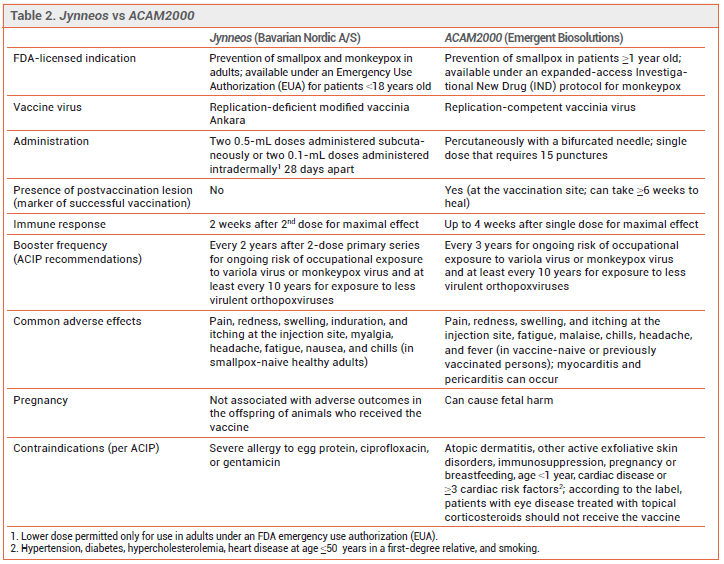 Clinical Studies ― No data are available on the effectiveness of Jynneos or ACAM2000 in the current outbreak.
FDA licensure of Jynneos was based on the results of a noninferiority clinical trial in 433 healthy adults 18-42 years old that compared immune responses with two subcutaneous doses of Jynneos to one dose of ACAM2000; none of the participants had been previously vaccinated against smallpox. Jynneos was noninferior to ACAM2000 in producing a neutralizing antibody response against vaccinia virus (geometric mean titer of neutralizing antibodies was 153.5 at week 6 with Jynneos and 79.3 at week 4 with ACAM2000).5 Vaccine effectiveness for prevention of monkeypox was inferred from comparable antibody responses to ACAM2000 in healthy persons and from animal studies that showed prior vaccination with Jynneos protected nonhuman primates that were exposed to monkeypox virus.
Emergency Use Authorization (EUA) of Jynneos for intradermal administration was based on the results of a trial that evaluated a two-dose series given intradermally compared to subcutaneously. The intradermal dose was one-fifth the subcutaneous dose. Immune responses were similar with both routes of administration.6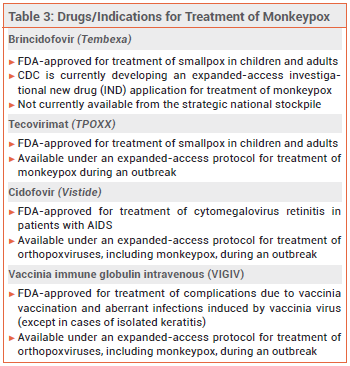 TREATMENT — Most patients with monkeypox have relatively mild, self-limiting disease. Treatment should be considered for patients with severe disease, those at risk of severe disease (immunocompromised persons, children [particularly those <8 years old], persons with atopic dermatitis or other active exfoliative skin disorders, pregnant or breastfeeding women, persons with one or more complications [e.g., secondary bacterial skin infection, gastroenteritis with severe nausea, vomiting, diarrhea, or dehydration]), and those with monkeypox infections that involve the eyes, mouth, genitals, or anus.
Tecovirimat (TPOXX) and brincidofovir (Tembexa), a prodrug of cidofovir (Vistide, and generics), are FDA-approved for treatment of smallpox; tecovirimat and cidofovir are available under an expanded-access protocol for treatment of monkeypox. No data are available on the effectiveness of these drugs in treating human cases of monkeypox, but they have been shown to be effective against orthopoxvirus infections in animal studies.7 Intravenous vaccinia immune globulin (VIGIV) may also be considered for patients with severe monkeypox infection, but data on its efficacy for this indication are lacking.8
CONCLUSION ― Vaccination against monkeypox with either Jynneos or ACAM2000 is recommended by the CDC for all persons at risk for occupational exposure to orthopoxviruses. It is also recommended within 4 days after a known or presumed exposure to monkeypox. Use of ACAM2000, a live virus vaccine, should be limited to nonpregnant, nonimmunosuppressed persons; viral transmission to close contacts of the vaccinee can occur. Most patients with monkeypox have self-limiting disease, but treatment can be considered for persons with or at risk of severe disease.
© The Medical Letter, Inc. All Rights Reserved.
The Medical Letter, Inc. does not warrant that all the material in this publication is accurate and complete in every respect. The Medical Letter, Inc. and its editors shall not be held responsible for any damage resulting from any error, inaccuracy, or omission.