The Medical Letter on Drugs and Therapeutics
In Brief: Alternatives to Mifepristone for Medication Abortion
Med Lett Drugs Ther. 2023 Jun 26;65(1679):102-3 doi:10.58347/tml.2023.1679d
Disclosures
Principal Faculty
Mark Abramowicz, M.D., President has disclosed no relevant financial relationships.
Jean-Marie Pflomm, Pharm.D., Editor in Chief has disclosed no relevant financial relationships.
Brinda M. Shah, Pharm.D., Consulting Editor has disclosed no relevant financial relationships.
Objective(s)
Upon completion of this activity, the participant will be able to:
Discuss the alternatives to mifepristone (Mifeprex) for medication abortion.
The possibility that use of mifepristone (Mifeprex, and generics) may be restricted has led to questions about alternatives for medication abortion.
MIFEPRISTONE PLUS MISOPROSTOL ― The antiprogestin mifepristone is FDA-approved for termination of intrauterine pregnancy of up to 70 days' gestation in a regimen with the E1 prostaglandin analog misoprostol (Cytotec, and generics). The regimen, which consists of a single oral 200-mg dose of mifepristone followed 24 to 48 hours later by buccal administration of 800 mcg of misoprostol, has had a success rate (expulsion of the gestational sac without surgical intervention) of 97% in pregnancies of up to 70 days' gestation.1
MISOPROSTOL ALONE ― In a meta-analysis of 38 studies in 12,829 women with viable pregnancies in the first trimester, treatment with various routes of administration and dosages of misoprostol alone induced a complete abortion in 78% of women. In a subgroup analysis of 20 studies in 5338 women who received ≥3 doses of misoprostol (with a first dose of 800 mcg buccally, sublingually, or intravaginally), a complete abortion occurred in 87%. If misoprostol is used intravaginally, moistening the tablets before insertion has been reported to improve effectiveness.2
Common adverse effects of misoprostol include uterine cramping, nausea, and vomiting. Fever, chills, and diarrhea are also common and may occur more frequently when taken without mifepristone. The rate of hospitalization or transfusion reported in the meta-analysis was <1%.2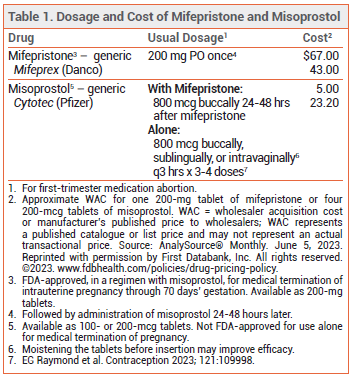 METHOTREXATE PLUS MISOPROSTOL ― Methotrexate is toxic to trophoblastic tissue and has been used to treat unruptured ectopic pregnancies. In an uncontrolled trial in 178 women with a pregnancy duration of ≤63 days' gestation, a regimen consisting of a single intramuscular injection of methotrexate (50 mg/m2), followed 5 to 7 days later by misoprostol 800 mcg intravaginally (a second dose of misoprostol could be given if termination did not occur after 7 days), resulted in a successful medical abortion in 171 women (96%); a second dose of misoprostol was required in 25 women (14%).3 In an uncontrolled trial of oral methotrexate 50 mg plus intravaginal misoprostol 800 mcg, 233 of 299 women (78%) with pregnancies of up to 49 days' gestation had complete abortions within 8 days of taking methotrexate.4 No serious adverse events or complications were reported in either trial.3,4
Methotrexate can cause anorexia, nausea, vomiting, abdominal cramps, fatigue, stomatitis, and aminotransferase elevations.
LETROZOLE PLUS MISOPROSTOL ― The aromatase inhibitor letrozole inhibits production of estrogen, which has a critical role in early pregnancy. Randomized trials in which letrozole was given for 3-7 days before misoprostol for termination of early pregnancy have produced mixed results with some showing an increased rate of completed abortions with the addition of letrozole to misoprostol and others showing no increase. Addition of letrozole to misoprostol was not associated with an increase in adverse events or complications.5,6
Letrozole can cause hot flashes, fatigue, dizziness, nausea, and musculoskeletal adverse effects.
CONCLUSION ― Use of buccal, sublingual, or intravaginal misoprostol alone is well established as a safe and effective method for first-trimester abortion. If mifepristone becomes unavailable for medication abortion, misoprostol alone appears to be the best alternative.
MJ Chen and MD Creinin. Mifepristone with buccal misoprostol for medical abortion: a systematic review. Obstet Gynecol 2015; 126:12. doi:10.1097/aog.0000000000000897
EG Raymond et al. Medication abortion with misoprostol-only: a sample protocol. Contraception 2023; 121:109998. doi:10.1016/j.contraception.2023.109998
R Hausknecht. Methotrexate and misoprostol to terminate early pregnancy. N Engl J Med 1995; 333:537. doi:10.1056/nejm199508313330901
MD Creinin et al. Medical abortion with oral methotrexate and vaginal misoprostol. Obstet Gynecol 1997; 90:611. doi:10.1016/s0029-7844(97)00266-4
CM Nash et al. Letrozole pretreatment prior to medical termination of pregnancy: a systematic review. Contraception 2018; 97:504. doi:10.1016/j.contraception.2017.11.003
Y Zhuo et al. The efficacy of letrozole supplementation for medical abortion: a meta-analysis of randomized controlled trials. J Matern Fetal Neonatal Med 2021; 34:1501. doi:10.1 080/14767058.2019.1638899
© The Medical Letter, Inc. All Rights Reserved.
The Medical Letter, Inc. does not warrant that all the material in this publication is accurate and complete in every respect. The Medical Letter, Inc. and its editors shall not be held responsible for any damage resulting from any error, inaccuracy, or omission.