The Medical Letter on Drugs and Therapeutics
In Brief: OTC Ivermectin for Head Lice
Med Lett Drugs Ther. 2023 Jun 26;65(1679):103-4 doi:10.58347/tml.2023.1679e
Disclosures
Principal Faculty
Mark Abramowicz, M.D., President has disclosed no relevant financial relationships.
Jean-Marie Pflomm, Pharm.D., Editor in Chief has disclosed no relevant financial relationships.
Brinda M. Shah, Pharm.D., Consulting Editor has disclosed no relevant financial relationships.
Additional Contributor(s)
Amy Faucard, MLS, Associate Editor has disclosed no relevant financial relationships.
Objective(s)
Upon completion of this activity, the participant will be able to:
Review the efficacy and safety of ivermectin lotion (Sklice) for treatment o
Topical ivermectin lotion 0.5% (Sklice, and generics), which has been available by prescription since 2012,1 is now FDA-approved for sale over the counter (OTC) for treatment of head lice in patients ≥6 months old. Ivermectin is also available by prescription as a 1% cream (Soolantra) approved for topical treatment of inflammatory lesions of rosacea and in oral tablets (Stromectol, and generics) for treatment of various parasitic infections.
DRUGS FOR HEAD LICE — Since most available pediculicides are not ovicidal, retreatment is usually necessary 7-10 days after the first treatment to kill newly hatched lice before they lay eggs (nits).
Topical permethrin 1% and pyrethrins (see Table 1) are available OTC, but resistance to these products is widespread.2 Topical formulations of benzyl alcohol (Ulesfia), malathion (Ovide), and spinosad (Natroba) are available by prescription and have been effective for treatment of head lice, but they are expensive.3 Off-label use of oral ivermectin is an inexpensive option that has been effective for treatment of head lice resistant to topical drugs.4
MECHANISM OF ACTION — Ivermectin is a fermentation product of Streptomyces avermitilis, a soil-dwelling actinomycete. It binds to glutamate-gated chloride channels in parasites such as lice, inducing paralysis and death. Ivermectin 0.5% lotion is not directly ovicidal, but lice that hatch from treated eggs die within 48 hours, so retreatment is usually not necessary.
CLINICAL STUDIES — Two double-blind trials compared a single application of ivermectin 0.5% lotion to its vehicle alone in a total of 765 patients ≥6 months old with head lice. In a combined analysis, the percentage of patients who were free of live lice after treatment (without manual removal of nits) was significantly higher with ivermectin than with its vehicle alone on day 2 (95% vs 31%), day 8 (85% vs 21%), and day 15 (74% vs 18%).5 Resistance of lice to ivermectin is rare.6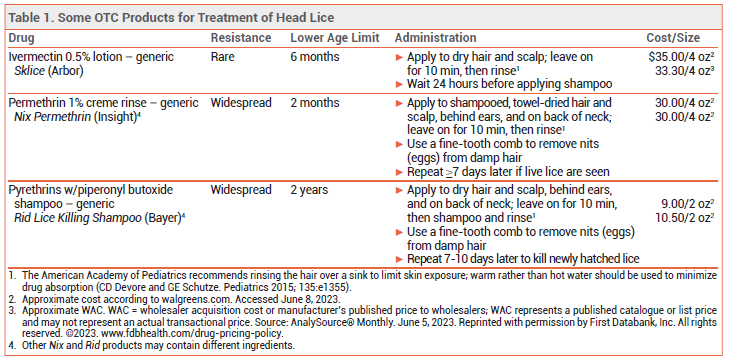 ADVERSE EFFECTS — Adverse reactions to ivermectin lotion, reported in <1% of patients in clinical trials, have included conjunctivitis, ocular hyperemia, eye irritation, dandruff, dry skin, and a burning sensation.
E Koch et al. Management of head louse infestations in the United States – a literature review. Pediatr Dermatol 2016; 33:466. doi:10.1111/pde.12982
WL Sanchezruiz et al. Oral ivermectin for the treatment of head lice infestation. Am J Health Syst Pharm 2018; 75:937. doi:10.2146/ajhp170464
DM Pariser et al. Topical 0.5% ivermectin lotion for treatment of head lice. N Engl J Med 2012; 367:1687. doi:10.1056/nejmoa1200107
AKC Leung et al. Paediatrics: how to manage pediculosis capitis. Drugs Contect 2022; 11:2021. doi:10.7573/dic.2021-11-3
© The Medical Letter, Inc. All Rights Reserved.
The Medical Letter, Inc. does not warrant that all the material in this publication is accurate and complete in every respect. The Medical Letter, Inc. and its editors shall not be held responsible for any damage resulting from any error, inaccuracy, or omission.