The Medical Letter on Drugs and Therapeutics
In Brief: Absorica for Acne
January 21, 2013 (Issue: 1408)
The oral retinoid isotretinoin (Accutane, and others) is the most effective drug available for treatment of acne.1 The FDA has recently approved a new oral isotretinoin product (Absorica – Cipher/Ranbaxy) for treatment of severe, recalcitrant nodular acne.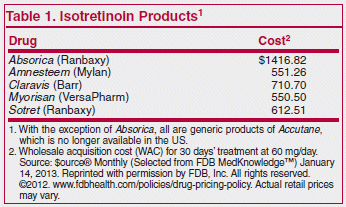 Isotretinoin can completely clear severe nodulocystic lesions, in some cases leading to remission that can persist for years after treatment is stopped. Mucocutaneous adverse effects include dry skin, dry eye, epistaxis, nasopharyngitis, cheilitis, alopecia, eczema, skin fragility and photosensitivity. Musculoskeletal symptoms, hypertriglyceridemia, hepatitis, pancreatitis, pseudotumor cerebri, depression and psychosis can occur.
The manufacturer's package insert states that isotretinoin has been associated with inflammatory bowel disease, but a recent population-based cohort study found no significant association.2 The drug is a potent human teratogen (pregnancy category X); the prescriber, the pharmacist, the distributors, and the patient must register with iPLEDGE, a computer-based risk management program (www.ipledgeprogram.com).
The recommended dosage is 0.5 to 1 mg/kg/day given in 2 divided doses for 15-20 weeks. Unlike other formulations of isotretinoin, which are highly lipophilic and must be taken with a high-fat meal to achieve therapeutic plasma levels, Absorica can be taken with or without food, but serum concentrations are higher when it is taken with food. It should be taken with a full glass of water to reduce the risk of esophageal irritation. Absorica has not been shown to be more effective or better tolerated than generic formulations of isotretinoin.
© The Medical Letter, Inc. All Rights Reserved.
This article has been freely provided.