The Medical Letter on Drugs and Therapeutics
In Brief: Topiramate Extended-Release Capsules (Qudexy XR) (online only)
December 8, 2014 (Issue: 1457)
The FDA has approved a new extended-release capsule formulation of topiramate (Qudexy XR – Upsher Smith), which can be opened and sprinkled on food for patients who have difficulty swallowing tablets or capsules, for treatment of epilepsy. Qudexy XR was marketed as a branded drug in March 2014 and as a generic drug four months later. An earlier extended-release formulation (Trokendi XR) must be swallowed whole.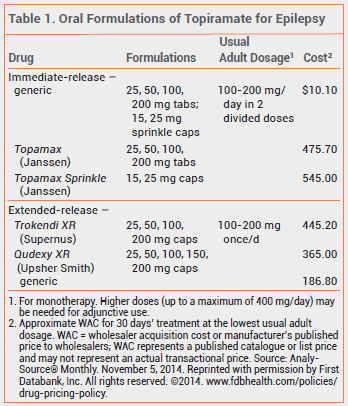 Trokendi XR is approved for initial monotherapy in patients ≥10 years old with partial-onset seizures or primary generalized tonic-clonic seizures and for adjunctive therapy in patients ≥6 years old with partial-onset seizures, primary generalized tonic-clonic seizures, or seizures associated with Lennox-Gastaut syndrome. Qudexy XR has been approved for the same indications, but the indication for adjunctive therapy has been extended to children ≥2 years old. Topiramate has been available for many years in immediate-release formulations (Topamax, and others) for the same indications for patients ≥2 years old. Trokendi XR and Qudexy XR both appear to be bioequivalent to immediate-release formulations of topiramate; whether they are bioequivalent to one another has not been established.
© The Medical Letter, Inc. All Rights Reserved.
This article has been freely provided.