The Medical Letter on Drugs and Therapeutics
Alternatives to Fluoroquinolones
June 6, 2016 (Issue: 1496)
The FDA has announced that it is requiring changes in the labeling of systemic fluoroquinolones to warn that the risk of serious adverse effects, including tendinitis, peripheral neuropathy and CNS effects, generally outweighs their benefit for the treatment of acute sinusitis, acute exacerbations of chronic bronchitis, and uncomplicated urinary tract infections. For these infections, the new labels will recommend reserving fluoroquinolones for patients with no other treatment options.1

SINUSITIS — Acute sinusitis in adults is often viral and symptoms can be managed with analgesics, a nasal corticosteroid, and/or nasal saline irrigation. When it is bacterial, it is generally caused by Streptococcus pneumoniae, Haemophilus influenzae, or Moraxella catarrhalis and can be treated with amoxicillin or amoxicillin/clavulanate.2 The addition of clavulanate improves coverage of beta-lactamase-producing strains of H. influenzae and M. catarrhalis. Doxycycline is an option for adults who are allergic to penicillin, but resistance to doxycycline has increased, particularly among isolates of S. pneumoniae with reduced susceptibility to penicillin.2-4 A respiratory fluoroquinolone (levofloxacin or moxifloxacin) is an alternative for penicillin-allergic patients. Monotherapy with a macrolide (erythromycin, clarithromycin, or azithromycin) or trimethoprim/sulfamethoxazole is generally not recommended because of increasing resistance among pneumococci.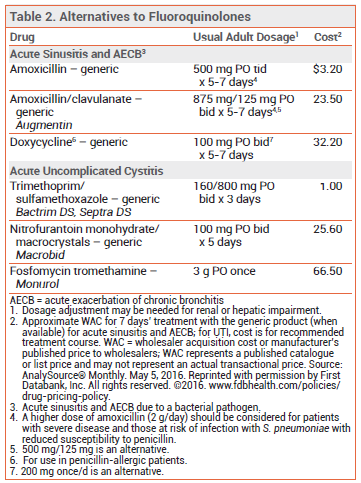 BRONCHITIS — Acute exacerbation of chronic bronchitis (AECB) is often viral. Bacterial AECB is generally caused by H. influenzae, S. pneumoniae, or M. catarrhalis and can be treated with the same antibacterial drugs used to treat acute bacterial sinusitis. In patients with severe COPD, Pseudomonas aeruginosa can be a cause of AECB and use of an intravenous antipseudomonal agent, such as cefepime or piperacillin/tazobactam, should be considered.5
URINARY TRACT INFECTION — Most episodes of uncomplicated cystitis are caused by Escherichia coli. The remaining cases are generally caused by Staphylococcus saprophyticus, Klebsiella pneumoniae, Proteus spp., other gram-negative rods, or enterococci. The drug of choice for empiric treatment of acute uncomplicated cystitis in non-pregnant women is trimethoprim/sulfamethoxazole, as long as the local rate of resistance to trimethoprim/sulfamethoxazole among urinary pathogens is <20%.6,7 An equally effective alternative with a low rate of resistance among E. coli is nitrofurantoin. A single dose of fosfomycin, which has a broad spectrum of activity against the usual uropathogens, is another alternative. Beta-lactams such as amoxicillin/clavulanate, cefdinir, cefpodoxime, or ceftibuten are second-line alternatives.8
In pregnant women, nitrofurantoin, amoxicillin, or a cephalosporin could be used to treat uncomplicated cystitis based on the results of susceptibility testing, but nitrofurantoin should not be given in the third trimester or during labor because it can cause hemolytic anemia in the newborn.
© The Medical Letter, Inc. All Rights Reserved.
This article has been freely provided.