The Medical Letter on Drugs and Therapeutics
Cannabis and Cannabinoids
August 1, 2016 (Issue: 1500)
8/17/16: Table 1 has been added.
In the US, 25 states and the District of Columbia now permit some medical use of botanical marijuana (Cannabis sativa).1 It has been used for centuries to treat various ailments, but non-standardization of dosage makes available data difficult to interpret. Cannabis contains >60 pharmacologically active cannabinoids.2
Two oral prescription cannabinoids are available in the US. Dronabinol (Marinol, and generics) is a synthetic form of delta-9 tetrahydrocannabinol (THC), the main psychoactive constituent of cannabis; it is classified by the DEA as a schedule III controlled substance (less potential for abuse or addiction than schedule I or II drugs; currently accepted medical use). A liquid formulation of dronabinol (Syndros) was recently approved by the FDA. Nabilone (Cesamet) is a synthetic analog of THC; it is a schedule II controlled substance (high abuse potential; currently accepted medical use). Both dronabinol and nabilone are approved for treatment of nausea and vomiting associated with cancer chemotherapy. Dronabinol is also approved for anorexia associated with weight loss in patients with AIDS.
Nabiximols, a standardized cannabis extract that contains a mixture of THC and cannabidiol (CBD), another major cannabinoid found in cannabis, is not available in the US, but it is widely available in Europe and in Canada in an oral mucosal spray formulation (Sativex) for treatment of cancer pain and multiple sclerosis (MS).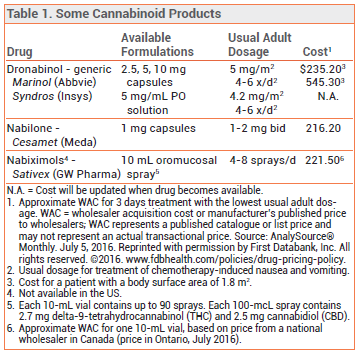 CHEMOTHERAPY-INDUCED NAUSEA AND VOMITING — Dronabinol and nabilone have both been FDA-approved since 1985 for treatment of chemotherapy-induced nausea and vomiting that has not responded to other antiemetic treatments. They are effective for prevention and treatment of nausea and vomiting due to mildly or moderately emetogenic anticancer drugs. With severely emetogenic drugs such as cisplatin, other drugs such as palonosetron (Aloxi) and aprepitant (Emend) appear to be more effective and better tolerated. No studies are available comparing cannabis to first-line drugs for treatment of chemotherapy-induced nausea and vomiting.3,4
INTRACTABLE CANCER PAIN — A randomized, double-blind, placebo-controlled, 5-week trial in 360 patients found that adjunctive use of low (1-4 sprays/day) and medium (6-10 sprays/day) doses of nabiximols oromucosal spray was significantly more effective than placebo in relieving intractable cancer pain and comparable to placebo in adverse effects. High doses were less effective and caused more adverse effects.5 There are no acceptable studies on the effectiveness of cannabis for this indication.
MULTIPLE SCLEROSIS — Several studies have found that cannabinoids are effective in treating some symptoms associated with MS.6 The American Academy of Neurology has recommended use of an oral cannabis extract containing a mixture of THC and CBD (not approved by the FDA) or dronabinol for treatment of spasticity and pain in patients with MS, and has recommended nabiximols for treatment of pain, spasticity, and urinary dysfunction associated with MS.7
EPILEPSY — Media reports of dramatic improvement after treatment with CBD in a few children with severe forms of epilepsy, particularly Dravet syndrome, have heightened interest in use of cannabinoids for these disorders. In an open-label, 12-week clinical trial in patients 1-30 years old with severe childhood-onset treatment-resistant epilepsy, addition of Epidiolex, an investigational purified cannabis extract containing 99% CBD, reduced the median monthly frequency of seizures by 36.5%.8 Randomized clinical trials of Epidiolex are in progress in the US in patients with these disorders. Data are not adequate to recommend use of cannabinoids for treatment of patients with more common types of epilepsy.9
ADVERSE EFFECTS — Dry mouth, sedation, orthostatic hypotension, ataxia, and dizziness occur frequently with medical use of both cannabis and synthetic cannabinoids. Anxiety, tachycardia, agitation, and confusion are also common, especially in older patients, and driving may be impaired. Cannabinoids can cause sedation, motor dysfunction, altered perception, cognitive dysfunction, and dose-related psychosis. Pure CBD, however, does not have psychoactive effects. Death from an acute overdose of cannabis used alone has not been reported.
PREGNANCY AND LACTATION — Well-controlled studies of cannabis or cannabinoid use during pregnancy are lacking, but animal studies and observational studies in children exposed to cannabis during pregnancy suggest that negative effects on neurodevelopment could occur. Teratogenic effects have not been reported. THC is secreted into breast milk; the effect on breastfed infants is unknown.10
DRUG INTERACTIONS — Cannabinoids cause drowsiness and additive effects can occur if alcohol or other CNS depressants are taken concomitantly. Low doses of alcohol can significantly increase blood concentrations of THC.11 Dronabinol is metabolized primarily by CYP2C9 and 3A4; administration with inhibitors of these enzymes may increase the risk of adverse effects and use with enzyme inducers could reduce its efficacy.12
CONCLUSION — The cannabinoids dronabinol (Marinol, and generics) and nabilone (Cesamet) are effective for treatment of chemotherapy-induced nausea and vomiting, for which they have been approved in the US. Cannabinoid products may also be effective for second-line treatment of cancer pain and the neuropathic pain and spasticity of multiple sclerosis, but none are currently approved for these indications. Cannabidiol (CBD) alone, which is not psychoactive, may be effective for treatment of epilepsy, but more documentation is required. No adequate studies of cannabis (botanical marijuana) are available for any of these indications.
© The Medical Letter, Inc. All Rights Reserved.
This article has been freely provided.