The Medical Letter on Drugs and Therapeutics
Lifitegrast (Xiidra) for Dry Eye Disease
August 29, 2016 (Issue: 1502)
The FDA has approved a 5% ophthalmic solution of lifitegrast (Xiidra – Shire), a lymphocyte function-associated antigen-1 (LFA-1) antagonist, for treatment of the signs and symptoms of dry eye disease. Lifitegrast is the first LFA-1 antagonist to be approved for any indication in the US.

DRY EYE DISEASE — Ocular surface inflammation leading to dry eyes can be caused by altered tear-film composition, reduced tear production, poor lid function, environmental conditions, or diseases such as Sjögren's syndrome. Anticholinergic drugs, estrogens, and selective serotonin reuptake inhibitors (SSRIs) can also cause dry eyes. Older age and female sex are risk factors.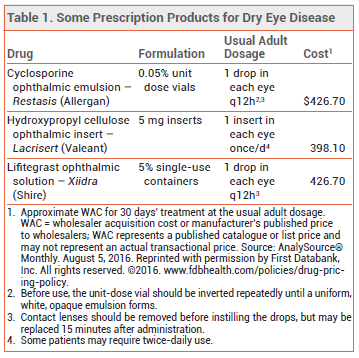 STANDARD TREATMENT — Treatments for dry eye disease include artificial tears, ocular insert devices such as Lacrisert, and ophthalmic anti-inflammatory drugs such as cyclosporine (Restasis), corticosteroids, and tetracyclines.1,2 Artificial tear preparations are usually administered every 4-6 hours, but can be used as often as hourly; some clinicians recommend preservative-free formulations for patients who need treatment ≥4 times daily, but they are relatively expensive. Lacrisert gradually releases hydroxypropyl cellulose into the inferior conjunctival sac; it can be used daily in patients with moderate to severe disease whose symptoms do not respond to artificial tears. Restasis has been safe and effective in treating the signs and symptoms of dry eye disease, but it may take up to 3 months to achieve its full effect, and it can cause ocular burning and stinging.3 In cases of severe tear deficiency, the tear ducts can be partially or completely occluded to increase tear volume.
MECHANISM OF ACTION — LFA-1 is a protein expressed on leukocyte surfaces that binds to intercellular adhesion molecule-1 (ICAM-1), which may be overexpressed in the corneal and conjunctival tissue of patients with dry eye disease. The resulting interaction is believed to stimulate T-cell activation and migration, leading to propagation of pro-inflammatory factors and inflammation of the ocular surface. Lifitegrast is thought to reduce ocular surface inflammation by binding to LFA-1, preventing its interaction with ICAM-1.4
CLINICAL STUDIES — Lifitegrast 5% ophthalmic solution was studied in four 12-week, randomized, double-blind, vehicle-controlled clinical trials (three published, one summarized in the package insert) in a total of 2133 adults with dry eye disease. Use of other ophthalmic medications, including artificial tears, was not permitted during the trials. The effects of the active drug compared to the vehicle alone on inferior corneal fluorescein staining score and patient-reported eye dryness are summarized in Table 2.5-8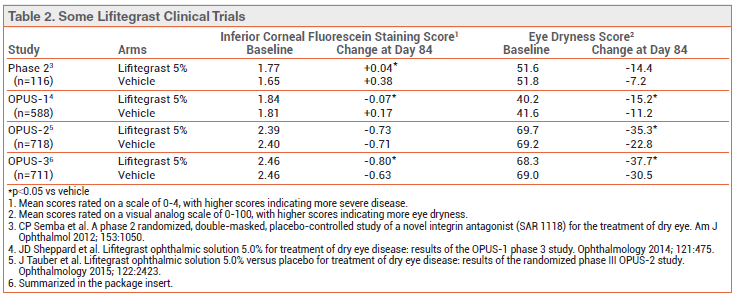 ADVERSE EFFECTS — The most common adverse effects associated with use of lifitegrast (reported in 5-25% of patients) were eye irritation, dysgeusia, and reduced visual acuity; most reactions were mild to moderate in severity. In a one-year safety study (SONATA), no serious treatment-related adverse events occurred among 220 patients who used lifitegrast.9
DOSAGE AND ADMINISTRATION — Lifitegrast 5% ophthalmic solution is supplied in cartons of 60 single-use containers. The recommended dosage is one drop of solution instilled in each eye twice daily. Contact lenses should be removed before instilling the drops, but may be replaced 15 minutes after administration.
CONCLUSION — Twice-daily lifitegrast ophthalmic solution (Xiidra) appears to be safe and at least modestly effective in treating the signs and symptoms of dry eye disease. How it compares to other ophthalmic products for this indication, such as cyclosporine (Restasis), remains to be determined.
© The Medical Letter, Inc. All Rights Reserved.
This article has been freely provided.