The Medical Letter on Drugs and Therapeutics
In Brief: Hepatitis B Reactivation with Direct-Acting Antiviral Drugs for Hepatitis C
October 24, 2016 (Issue: 1506)
The FDA recently announced that it will require the labeling of all direct-acting antiviral drugs used for treatment of hepatitis C virus (HCV) infection to include a boxed warning about a risk of hepatitis B virus (HBV) reactivation associated with their use.1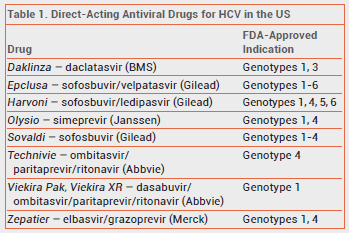 Twenty-four cases of HBV reactivation occurring during treatment with direct-acting antiviral drugs for HCV were identified from the FDA Adverse Event Reporting System and the medical literature.2-5 Before starting direct-acting antiviral treatment for HCV, some of these patients were hepatitis B surface antigen (HbsAG) positive and others showed evidence of resolved HBV infection. HBV reactivation generally occurred within 4-8 weeks of starting treatment. Reactivation of HBV can cause increases in bilirubin and aminotransferase levels, fulminant hepatitis, hepatic failure, and death. Of the 24 patients, two died and one required a liver transplant.
HBV reactivation was not identified before FDA approval of these drugs because the clinical trials used to support their approval excluded patients with HBV co-infection. The mechanism by which HBV reactivation occurs during treatment with direct-acting antiviral drugs for HCV is unknown. Patients should be screened for current or past HBV infection before starting treatment with a direct-acting antiviral and monitored for HBV reactivation during and following treatment with these drugs.
© The Medical Letter, Inc. All Rights Reserved.
This article has been freely provided.