The Medical Letter on Drugs and Therapeutics
Prasterone (Intrarosa) for Dyspareunia
September 11, 2017 (Issue: 1529)
The FDA has approved the steroid prasterone (Intrarosa – Endoceutics) for intravaginal treatment of postmenopausal women with moderate-to-severe dyspareunia due to vulvovaginal atrophy (VVA). Also called dehydroepiandrosterone (DHEA), prasterone is produced in the adrenal glands, gonads, and brain and converted intracellularly into active metabolites of estrogens and androgens. DHEA has been available over the counter for years as an oral dietary supplement claimed to benefit sexual, cardiovascular, and neuropsychiatric dysfunction.1-3
TREATMENT OF DYSPAREUNIA — VVA is caused by lack of estrogen and is common among postmenopausal women. It can cause irritation, vaginal dryness, and pain with intercourse.4
Over-the-counter, nonhormonal, vaginal moisturizers and lubricants (Replens, K-Y, and others) may provide adequate symptom relief for some women, but do not treat the underlying physiologic changes.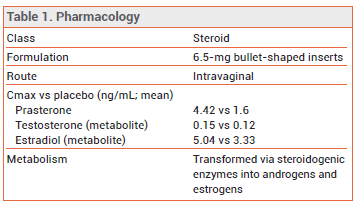 Systemic or topical vaginal estrogen can increase glandular secretions, thickness, and elasticity of the vagina, reversing symptoms caused by VVA. Many vaginal estrogen products (see Table 2) are approved for treatment of symptoms of VVA; all appear to be about equally effective.
Oral conjugated estrogen has been associated with increased risks of stroke, deep vein thrombosis, pulmonary embolism and, in women with an intact uterus who are not taking a progestin, endometrial hyperplasia and/or cancer. Systemic absorption of vaginal estrogens is low. A recent comparison of participants in the Women's Health Initiative found no significant difference in the risk of invasive breast cancer, endometrial cancer, colorectal cancer, stroke, or venous thromboembolism between users of vaginal estrogen and nonusers.5
The oral estrogen agonist/antagonist ospemifene (Osphena) can reduce the severity of dyspareunia in postmenopausal women and is approved for the same indication as prasterone.6 It acts as an estrogen agonist on vaginal epithelium, endometrial tissue, and bones, and has shown antiestrogenic activity in animal models of breast cancer. In six double-blind, placebo-controlled trials in 2166 postmenopausal women, one case of endometrial hyperplasia and no cases of endometrial cancer occurred among women who took ospemifene for up to 52 weeks; the participants did not use a progestin.7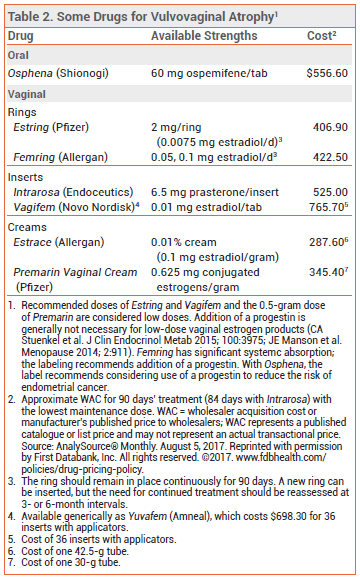 CLINICAL STUDIES — Two randomized, double-blind trials compared intravaginal prasterone to placebo in a total of 640 postmenopausal women with VVA who reported moderate-to-severe dyspareunia as their most bothersome symptom. After 12 weeks of daily intravaginal administration, women were asked to self-evaluate the severity of their symptoms using a 4-point scale corresponding to none (0), mild (1), moderate (2), or severe (3). Dyspareunia severity scores were significantly lower with prasterone (by 0.40 units in trial 1 and 0.36 in trial 2 over placebo). Vaginal cytology and pH tests performed to assess changes that are associated with atrophy also showed significant improvement.8,9
A manufacturer-conducted comparative review of 12-week clinical trial results concluded that once-daily prasterone was at least as effective in treating dyspareunia and vaginal dryness as 0.3-mg conjugated equine estrogens cream or 10-mcg estradiol vaginal tablets.10
No studies comparing intravaginal prasterone with oral ospemifene are available.
ADVERSE EFFECTS — Vaginal discharge was the most common adverse effect of intravaginal prasterone reported in the 12-week trials; it occurred in 5.7% of women. In one 52-week clinical trial, an abnormal Pap smear occurred in 2% of women.11
DOSAGE AND ADMINISTRATION — Intrarosa is available in packages containing 28 6.5-mg bullet-shaped vaginal inserts. The recommended dosage of prasterone is 6.5 mg daily. The drug is inserted intravaginally at bedtime.
Prasterone is contraindicated in postmenopausal women with abnormal genital bleeding of unknown cause. Use of exogenous estrogen is contraindicated in women with a known or suspected history of breast cancer.
CONCLUSION — Prasterone vaginal inserts (Intrarosa) administered once daily can improve dyspareunia in postmenopausal women and appears to be safe. Vaginal discharge is the most common adverse effect. How prasterone compares to other vaginal estrogen products or to oral ospemifene (Osphena) remains to be established.
© The Medical Letter, Inc. All Rights Reserved.
This article has been freely provided.