The Medical Letter on Drugs and Therapeutics
Imvexxy - Another Estradiol Vaginal Insert for Dyspareunia
September 10, 2018 (Issue: 1555)
The FDA has approved an estradiol softgel vaginal insert (Imvexxy – TherapeuticsMD) for treatment of postmenopausal women with moderate to severe dyspareunia due to vulvovaginal atrophy (VVA). Imvexxy is the second estradiol vaginal insert to be approved in the US; Vagifem, an intravaginal tablet formulation, was the first.1 Vagifem and Imvexxy are both available in inserts containing 10 mcg of estradiol; Imvexxy is also available in a 4-mcg strength.

TREATMENT OF DYSPAREUNIA — VVA is caused by a loss of estrogen in postmenopausal women.2 Symptoms of VVA include vaginal dryness, vaginal irritation, and dyspareunia.3 Over-the-counter vaginal moisturizers (Replens, and others) and lubricants (K-Y, and others) may provide adequate symptom relief in some women.
Systemic or topical estrogen can increase glandular secretions and the thickness and elasticity of the vagina. Many topical estrogen products are FDA-approved for treatment of VVA (see Table 1); they appear to be similarly effective and are less likely than systemic estrogen to cause thrombotic and other serious adverse effects. The intravaginal steroid prasterone (dehydroepiandrosterone; Intrarosa), which is converted intracellularly into active metabolites of estrogens and androgens, also appears to be effective in treating vaginal dryness (off-label) and dyspareunia.4
The oral estrogen agonist/antagonist ospemifene (Osphena) is FDA-approved for treatment of moderate to severe dyspareunia due to VVA.5 The drug acts as an estrogen agonist on vaginal epithelium and in bone.6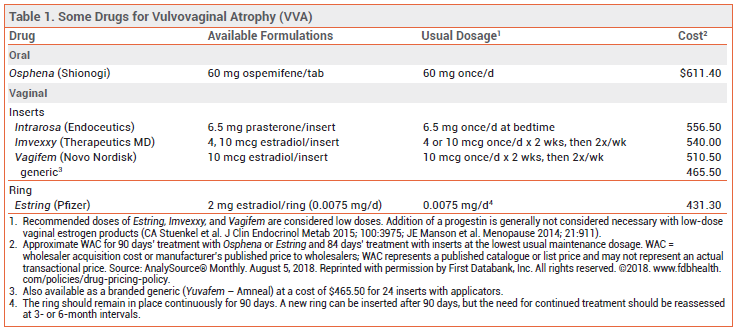 CLINICAL STUDIES – FDA-approval of Imvexxy was based on the results of a double-blind trial (REJOICE) in 764 postmenopausal women with moderate to severe dyspareunia who were randomized to receive intravaginal estradiol 4, 10, or 25 mcg inserts or placebo. After 12 weeks, women self-evaluated the severity of their dyspareunia using a 4-point scale (0=none, 1=mild, 2=moderate, 3=severe). Dyspareunia severity scores were lower with all three doses of intravaginal estradiol compared to placebo (1.1, 0.9, and 1.0 with 4, 10, and 25 mcg, respectively, vs 1.4 with placebo); these differences were statistically significant. Statistically significant changes in vaginal cytology and pH were also observed at 2, 6, 8, and 12 weeks with the estradiol inserts.7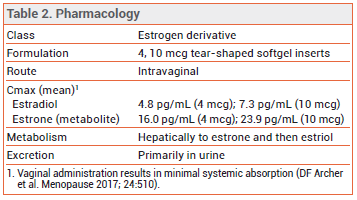 ADVERSE EFFECTS – In the REJOICE trial, headache was the only adverse effect that occurred more often with estradiol than with placebo.
Systemic absorption of low-dose vaginal estrogens is limited. An analysis of data from the Women's Health Initiative found no significant difference in the risk of invasive breast cancer, endometrial cancer, colorectal cancer, stroke, or venous thromboembolism (VTE) between users of vaginal estrogen and nonusers.8
DOSAGE AND ADMINISTRATION – Imvexxy is available in packages containing 8 or 18 4- or 10-mcg tear-shaped vaginal inserts. The recommended dosage is one insert intravaginally once daily for 2 weeks, then one insert twice weekly (every 3-4 days). The 4-mcg insert is generally recommended for initial treatment. The capsule should be inserted 2 inches into the vagina with the smaller end inserted first. Unlike other estradiol vaginal inserts (Vagifem, and generics), an applicator is not needed for insertion of Imvexxy.
Although long-term data are lacking, addition of a progestin for prevention of estrogen-induced endometrial cancer in women with an intact uterus is now generally considered unnecessary with use of a low-dose vaginal estrogen product.9,10
Estradiol vaginal inserts are contraindicated in patients with idiopathic genital bleeding, estrogen-dependent neoplasia, a history of VTE, active arterial thromboembolic disease, a thrombophilic disorder, or hepatic impairment. They are also contraindicated in women with a known or suspected history of breast cancer.
CONCLUSION – Estradiol vaginal softgel inserts (Imvexxy) can improve dyspareunia in postmenopausal women. How Imvexxy compares to other intravaginal products or to oral ospemifene (Osphena) remains to be established. Generic Vagifem inserts cost less than Imvexxy, but they are not available in a 4-mcg dose.
© The Medical Letter, Inc. All Rights Reserved.
This article has been freely provided.