The Medical Letter on Drugs and Therapeutics
Cardiovascular Benefits of SGLT2 Inhibitors and GLP-1 Receptor Agonists in Type 2 Diabetes
February 25, 2019 (Issue: 1566)
Since 2008, because of safety concerns, the FDA has mandated that long-term cardiovascular outcomes trials be conducted for all new drugs for type 2 diabetes.1 Reductions in the incidence of macrovascular complications in these trials with some sodium-glucose co-transporter 2 (SGLT2) inhibitors and glucagon-like peptide 1 (GLP-1) receptor agonists in patients at risk for cardiovascular disease (see Table 1) have led to new recommendations.2-4
STANDARD TREATMENT — Metformin (Glucophage, and others) is the drug of choice for initial treatment of type 2 diabetes.5 For patients who do not achieve their A1C goal with metformin, the choice of an additional drug varies with the comorbidities of the patient. For those with atherosclerotic cardiovascular disease (ASCVD), an SGLT2 inhibitor or a GLP-1 receptor agonist with proven cardiovascular benefits is now preferred.3 The SGLT2 inhibitors empagliflozin (Jardiance) and canagliflozin (Invokana) and the GLP-1 receptor agonist liraglutide (Victoza) are the only drugs to date with an FDA-approved indication for cardiovascular risk reduction in patients with type 2 diabetes and established cardiovascular disease.6
ADVERSE EFFECTS — SGLT2 inhibitors can cause genital mycotic and urinary tract infections, acute kidney injury, volume depletion, hypotension, and ketoacidosis. An increased risk of fractures and of lower limb amputation, primarily at the level of the toe or metatarsal, have been reported with canagliflozin.7
GLP-1 receptor agonists can cause injection-site reactions, nausea, vomiting, diarrhea, renal impairment, and acute renal failure, and they might increase the risk of pancreatitis and cholangiocarcinoma.8 Thyroid C-cell carcinoma has been reported in animals and thyroid C-cell hyperplasia in humans; these drugs are contraindicated for use in patients with a personal or family history of medullary thyroid carcinoma and in those with multiple endocrine neoplasia type 2.9 Semaglutide (Ozempic) has been associated with a significant increase in diabetic retinopathy complications.10,11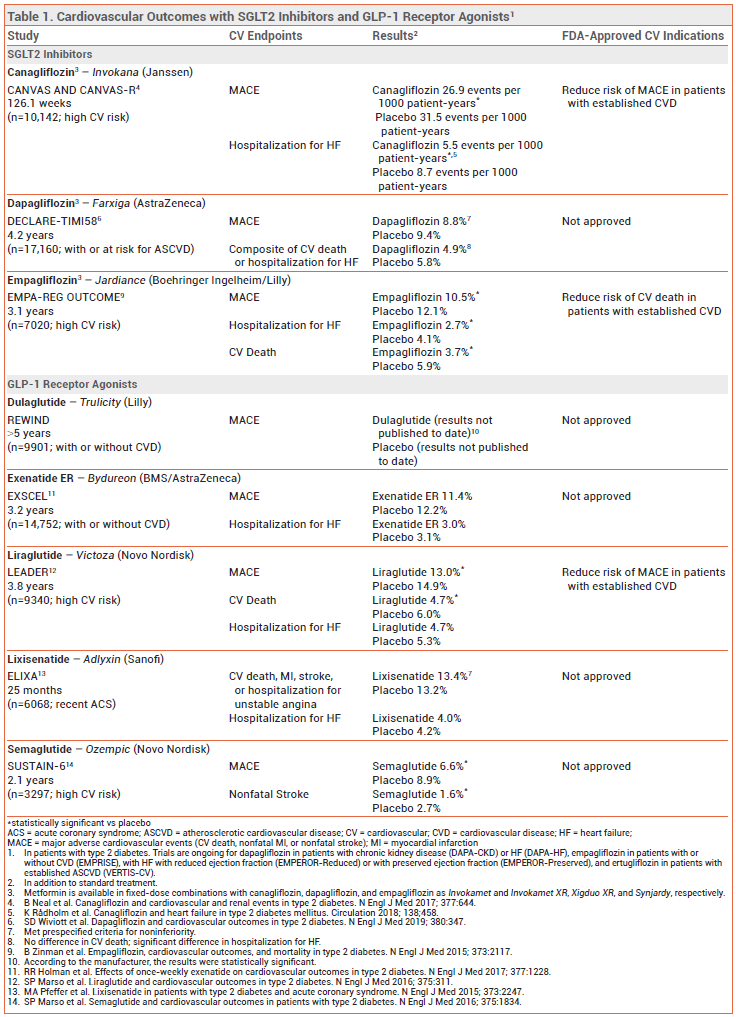 RECOMMENDATIONS — The American College of Cardiology preferentially recommends use of liraglutide, particularly for patients with osteoporosis, prior amputations, severe peripheral artery disease, peripheral neuropathy, or active lower extremity soft tissue ulcers or infections, or empagliflozin, especially for those at high risk for heart failure.2
RECENT DATA — Recent retrospective analyses have suggested that use of any SGLT2 inhibitor may reduce the risk of cardiovascular events12 and hospitalization for heart failure.13 In one meta-analysis that included 236 trials, SGLT2 inhibitors and GLP-1 receptor agonists were both associated with lower cardiovascular and all-cause mortality in patients with type 2 diabetes.14
CONCLUSION — In patients with type 2 diabetes and atherosclerotic cardiovascular disease (ASCVD) who have not achieved their A1C goal with metformin, addition of the SGLT2 inhibitor empagliflozin (Jardiance) or the GLP-1 receptor agonist liraglutide (Victoza) is recommended to improve cardiovascular outcomes. Results to date suggest that all SGLT2 inhibitors may reduce the risk of hospitalization for heart failure.
© The Medical Letter, Inc. All Rights Reserved.
This article has been freely provided.