The Medical Letter on Drugs and Therapeutics
An EUA for Casirivimab and Imdevimab for COVID-19
December 28, 2020 (Issue: 1614)
The FDA has issued an Emergency Use Authorization (EUA) for Regeneron's investigational monoclonal antibodies casirivimab (REGN10933) and imdevimab (REGN10987) to be administered together by IV infusion for treatment of mild to moderate COVID-19 in adults and pediatric patients (≥12 years old and weigh ≥40 kg) who are at high risk of progressing to severe COVID-19 and/or hospitalization (see Table 1).1 Bamlanivimab (LY-CoV555; Lilly), another monoclonal antibody, received an EUA for the same indication on November 9, 2020.2

Monoclonal antibodies may be associated with worse clinical outcomes when administered to hospitalized patients with COVID-19 who require high-flow oxygen or mechanical ventilation. Casirivimab and imdevimab are not authorized for use in patients who are hospitalized for COVID-19 or require oxygen therapy because of COVID-19.
MECHANISM OF ACTION — Casirivimab and imdevimab bind to different sites on the receptor binding domain of the spike protein of SARS-CoV-2, blocking its attachment to the human ACE2 receptor.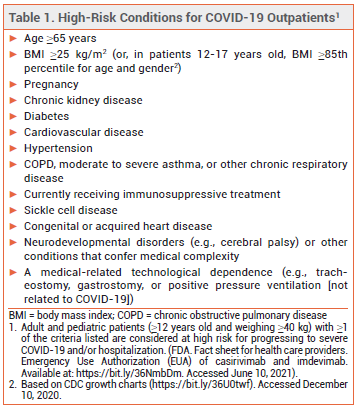 CLINICAL STUDY — Issuance of the EUA was based on the interim results of an ongoing phase 1/2 double-blind trial after 799 outpatients with mild to moderate COVID-19 had completed at least 28 days of study duration.3 The patients had been randomized to receive a single IV infusion of 2400 mg of casirivimab and imdevimab (1200 mg each), 8000 mg of casirivimab and imdevimab (4000 mg each), or placebo within 3 days of a positive SARS-CoV-2 test result. The time-weighted average reduction from baseline in viral load at day 7, the primary endpoint, was significantly larger with the pooled doses of the antibodies than with placebo. The predefined secondary endpoint of medically attended visits related to COVID-19 (def ned as hospitalization, emergency department visit, urgent care visit, or physician office/telemedicine visit) within 28 days occurred in 2.8% of patients who received casirivimab and imdevimab and in 6.5% of those who received placebo, a statistically significant difference. Results with the two doses of casirivimab and imdevimab were similar for all endpoints.
A post-hoc analysis found that 2% of casirivimab- and imdevimab-treated patients and 4% of placebo-treated patients were hospitalized or visited the emergency department for COVID-19 within 28 days after treatment; among patients at high risk for disease progression, the rates were 3% with casirivimab and imdevimab and 9% with placebo. The median time to symptom improvement was 5 days with casirivimab and imdevimab and 6 days with placebo.
No studies directly comparing casirivimab and imdevimab with bamlanivimab are available.
ADVERSE EFFECTS — Infusion-related reactions and one case of anaphylaxis were reported with use of casirivimab and imdevimab in clinical trials.3
DOSAGE AND ADMINISTRATION — Casirivimab and imdevimab are packaged separately, but are only authorized for administration together as a single IV infusion; the authorized dosage is 1200 mg of casirivimab and 1200 mg of imdevimab infused over at least 60 minutes. The antibodies should be administered as soon as possible after a positive SARS-CoV-2 test result and within 10 days of COVID-19 symptom onset. Patients should be treated in a facility staffed and equipped to manage anaphylaxis and they should be monitored for hypersensitivity reactions during administration of the drug and for at least 1 hour after completion of the infusion. The diluted solution for infusion should be used immediately after it is prepared. If immediate use is not possible, it can be stored in the refrigerator for up to 36 hours and at room temperature for up to 4 hours, including infusion time.
AVAILABILITY — Casirivimab and imdevimab will be allocated to state health departments by the US Department of Health and Human Services (HHS) based on case counts and severity of outbreaks. These state health departments will be responsible for allocating the antibodies to local health facilities.
CONCLUSION — The FDA has issued an Emergency Use Authorization (EUA) for the monoclonal antibodies casirivimab (REGN10933) and imdevimab (REGN10987) to be administered together by IV infusion for treatment of COVID-19. Administration of the antibodies to high-risk outpatients recently diagnosed with mild to moderate COVID-19 reduced viral load and decreased the risk of hospitalization and emergency department visits. How casirivimab and imdevimab compare with bamlanivimab, another monoclonal antibody that is also available through an FDA EUA, remains to be determined.
© The Medical Letter, Inc. All Rights Reserved.
This article has been freely provided.