The Medical Letter on Drugs and Therapeutics
ONLINE
ONLY
ARTICLE
In Brief: Cabozantinib (Cabometyx) for Advanced Renal Cell Carcinoma (online only)
Med Lett Drugs Ther. 2016 Jul 18;58(1499):e97
The FDA has approved the oral tyrosine kinase inhibitor cabozantinib (Cabometyx – Exelixis) for treatment of patients with advanced renal cell carcinoma previously treated with antiangiogenic therapy. Cabozantinib was first approved in 2012 as Cometriq for treatment of progressive, metastatic medullary thyroid cancer.
Anti-VEGF antibodies, tyrosine kinase inhibitors, and mTOR kinase inhibitors have become the standard of care for treatment of unresectable or metastatic renal cell cancer.1
FDA approval was based on the results of a randomized open-label trial (METEOR) comparing cabozantinib to everolimus in 658 patients with advanced or metastatic renal cell carcinoma that had progressed on antivascular endothelial growth factor receptor (VEGFR) therapy. In patients treated with cabozantinib, median progression-free survival was significantly longer (7.4 vs 3.8 months with everolimus) and the objective response rate was significantly higher (21% vs 5% with everolimus).2Median overall survival was 21.4 months with cabozantinib and 16.5 months with everolimus.3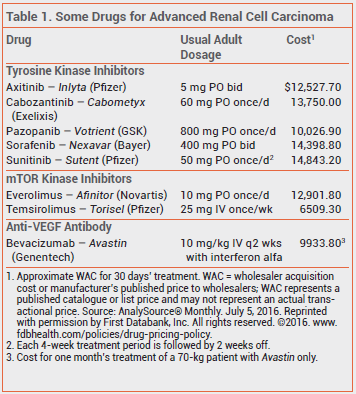 Common adverse effects of cabozantinib include diarrhea, fatigue, nausea, vomiting, weight loss, palmar-plantar erythrodysesthesia, and hypertension. Serious adverse effects, including GI perforation, hemorrhage, and arterial thromboembolic events, occurred in >60% of patients treated with cabozantinib in the clinical trial.
The recommended dosage of cabozantinib is 60 mg taken once daily without food. Dosage adjustments are required for patients taking strong CYP3A4 inhibitors or inducers concomitantly.4 In patients who experience severe or intolerable adverse effects, reducing the dosage or withholding the drug until improvement occurs is recommended.
© The Medical Letter, Inc. All Rights Reserved.
The Medical Letter, Inc. does not warrant that all the material in this publication is accurate and complete in every respect. The Medical Letter, Inc. and its editors shall not be held responsible for any damage resulting from any error, inaccuracy, or omission.