The Medical Letter on Drugs and Therapeutics
In Brief: Pitavastatin Magnesium (Zypitamag) for Hyperlipidemia
Med Lett Drugs Ther. 2018 Jun 18;60(1549):106
The FDA has approved the HMG-CoA reductase inhibitor (statin) pitavastatin magnesium (Zypitamag – Zydus) for use in adults with primary hyperlipidemia or mixed dyslipidemia. The FDA considers pitavastatin magnesium bioequivalent to pitavastatin calcium (Livalo), which was approved in 2009.1

Statins remain the treatment of choice for most patients who require lipid-lowering therapy. Taken as an adjunct to diet modification, increased exercise, and smoking cessation, statins can reduce the risk of primary and secondary cardiovascular events and death in patients with or at high risk for atherosclerotic cardiovascular disease.2 Even in patients at low risk for cardiovascular disease, treatment with a statin can significantly reduce the incidence of cardiovascular events.3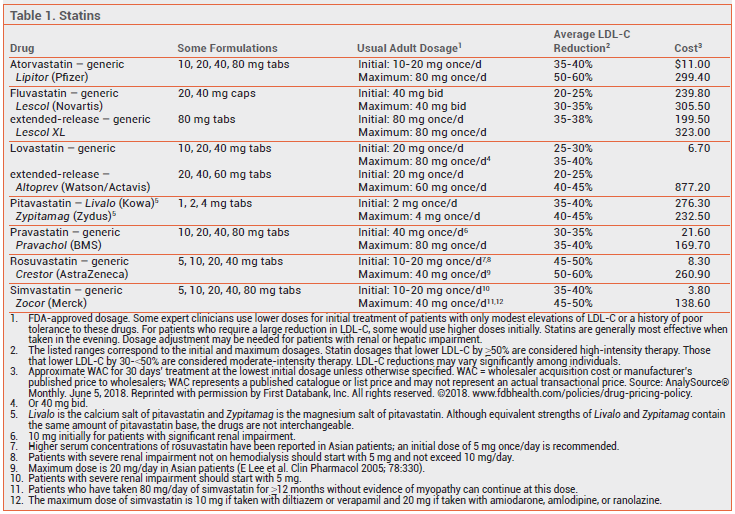 Controlled trials in patients with cardiovascular disease have shown that high-intensity statin therapy (defined as reducing LDL-cholesterol [LDL-C] by ≥50% on average) reduces the incidence of cardiac events, stroke, and coronary death significantly more than less intensive regimens. In one meta-analysis, each additional 1 mmol/L (39 mg/dL) reduction in LDL-C was associated with a 20% reduction in major vascular events and a 10% reduction in all-cause mortality.4 In a randomized trial in 13,054 Japanese patients with stable coronary artery disease, over a median follow-up of 3.9 years, patients taking pitavastatin calcium 4 mg daily were significantly less likely than those taking 1 mg daily to have a cardiovascular event (4.3% vs 5.4%).5
Approval of pitavastatin magnesium was based on the results of trials with pitavastatin calcium; no new efficacy trials were required. The Medical Letter's review of pitavastatin calcium concluded that recommended doses of the drug had not been shown to decrease LDL-C more than other statins with longer safety records and there was no good reason to use it. That conclusion applies to pitavastatin magnesium as well.
© The Medical Letter, Inc. All Rights Reserved.
The Medical Letter, Inc. does not warrant that all the material in this publication is accurate and complete in every respect. The Medical Letter, Inc. and its editors shall not be held responsible for any damage resulting from any error, inaccuracy, or omission.