The Medical Letter on Drugs and Therapeutics
Zimhi - A Higher-Dose Injectable Naloxone for Opioid Overdose
Med Lett Drugs Ther. 2022 Apr 18;64(1648):61-2
Disclosures
Principal Faculty
Mark Abramowicz, M.D., President: no disclosure or potential conflict of interest to report
Jean-Marie Pflomm, Pharm.D., Editor in Chief: no disclosure or potential conflict of interest to report
Brinda M. Shah, Pharm.D., Consulting Editor: no disclosure or potential conflict of interest to report
Objective(s)
Upon completion of this activity, the participant will be able to:
Discuss the use of Zimhi, a higher-dose injectable formulation of naloxone, for reversal of opioid overdose.
HIGH-DOSE NALOXONE — The rationale for the new 5-mg IM/SC formulation of naloxone is that higher doses of injectable naloxone may be needed to reverse opioid overdoses due to potent synthetic opioids such as fentanyl; whether higher doses of the drug are more effective than lower doses in such cases remains to be established. Higher doses can increase the risk of naloxone-induced opioid withdrawal and acute respiratory distress syndrome.
CLINICAL STUDIES — No new clinical trials were required for FDA approval of Zimhi. Approval was based on the results of pharmacokinetic studies in healthy adults showing that systemic exposure was significantly higher with a single 5-mg IM dose of the new formulation than with a single 2-mg IM dose of naloxone.3,4
ADVERSE EFFECTS — Use of Zimhi in healthy subjects was associated with nausea, dizziness, lightheadedness, and increases in serum bilirubin levels.
Naloxone can precipitate acute withdrawal in opioid-dependent patients; the risk is greater with higher doses. Symptoms of acute opioid withdrawal include anxiety, agitation, piloerection, yawning, sneezing, rhinorrhea, nausea, vomiting (which can lead to aspiration), diarrhea, abdominal and muscle cramps, tachycardia, and hypertension. Serious effects of acute opioid withdrawal, including pulmonary edema, cardiac arrhythmia, and cardiac arrest, occur rarely. Naloxone-induced noncardiogenic pulmonary edema has been reported rarely and may be more common when higher doses are used.5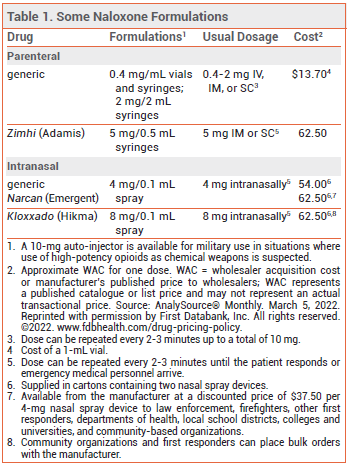 DOSAGE AND ADMINISTRATION — The recommended dosage of Zimhi is 5 mg administered IM or SC; additional doses can be given every 2 to 3 minutes until the patient responds or emergency medical personnel arrive.
AVAILABILITY — Every state in the US now has a naloxone access law that allows an individual to obtain naloxone without a personal prescription. These laws may also grant civil and criminal immunity to laypersons who administer naloxone and to healthcare professionals who prescribe or dispense the drug to laypersons.
CONCLUSION — Zimhi, a 5-mg injectable formulation of the opioid antagonist naloxone, has been approved by the FDA for treatment of opioid overdose. No clinical data are available on when to use this higher dose of the drug. Higher doses can increase the risk of acute opioid withdrawal in opioid-dependent patients.
© The Medical Letter, Inc. All Rights Reserved.
The Medical Letter, Inc. does not warrant that all the material in this publication is accurate and complete in every respect. The Medical Letter, Inc. and its editors shall not be held responsible for any damage resulting from any error, inaccuracy, or omission.