The Medical Letter on Drugs and Therapeutics
In Brief: OTC Azelastine Nasal Spray 0.15% (Astepro Allergy) for Allergic Rhinitis
Med Lett Drugs Ther. 2022 Oct 31;64(1662):175-6
Disclosures
Principal Faculty
Mark Abramowicz, M.D., President has disclosed no relevant financial relationships.
Jean-Marie Pflomm, Pharm.D., Editor in Chief has disclosed no relevant financial relationships.
Brinda M. Shah, Pharm.D., Consulting Editor has disclosed no relevant financial relationships.
Additional Contributor(s)
Amy Faucard, MLS, Associate Editor has disclosed no relevant financial relationships.
Objective(s)
Upon completion of this activity, the participant will be able to:
Discuss the efficacy and safety of OTC azelastine nasal spray for allergic rhinitis.
The 0.15% nasal spray formulation of the H1- antihistamine azelastine hydrochloride (Astepro Allergy; Children's Astepro Allergy – Bayer) is now available over the counter (OTC) for temporary relief of nasal congestion, runny nose, sneezing, and itchy nose due to allergic rhinitis in adults and children ≥6 years old. It is the first intranasal antihistamine to be approved by the FDA for OTC use. Other drugs that are available OTC for treatment of allergic rhinitis symptoms include oral antihistamines, intranasal corticosteroids, and mast cell stabilizers.1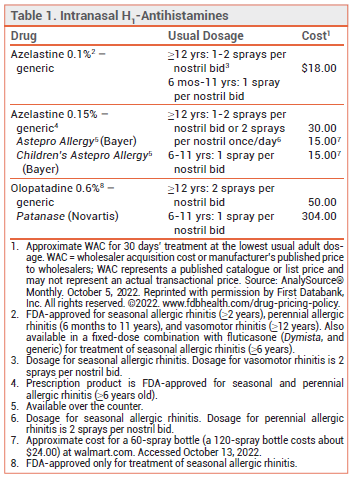 EFFICACY — Intranasal antihistamines are recommended for initial treatment of intermittent allergic rhinitis symptoms.2 They have an onset of action of ~15-30 minutes, which is more rapid than that of oral antihistamines (60 minutes) or intranasal corticosteroids (~12 hours). They are at least as effective as oral H1-antihistamines in relieving nasal itching, sneezing, and rhinorrhea, and they are more effective in relieving nasal congestion. In patients with moderate to severe symptoms, the combination of an intranasal antihistamine and an intranasal corticosteroid has been shown to be more effective than either drug alone.3
ADVERSE EFFECTS — Intranasal H1-antihistamines can cause dysgeusia, nasal discomfort, epistaxis, and headache. Somnolence has occurred in some patients.
DOSAGE AND ADMINISTRATION — Astepro Allergy and Children's Astepro Allergy are supplied in bottles containing 60 or 120 metered-dose pump sprays. Each spray delivers 205.5 mcg of azelastine hydrochloride. The spray bottle must be primed before first use and if not used for ≥3 days. The recommended dosages for adults and children are listed in Table 1.
© The Medical Letter, Inc. All Rights Reserved.
The Medical Letter, Inc. does not warrant that all the material in this publication is accurate and complete in every respect. The Medical Letter, Inc. and its editors shall not be held responsible for any damage resulting from any error, inaccuracy, or omission.