The Medical Letter on Drugs and Therapeutics
In Brief: Another Three-Drug Combination for Hypertension
April 4, 2011 (Issue: 1361)
The FDA has approved aliskiren/amlodipine/hydrochlorothiazide (Amturnide) for treatment of hypertension, with no restrictions except that it should not be used for initial therapy. A combination of the direct renin inhibitor aliskiren and the calcium channel blocker amlodipine (Tekamlo) was approved earlier for initial treatment.1
Use of combination tablets is, of course, more convenient than taking the components separately, and as long as all the same doses are available and the cost is no greater, there is no reason not to use them.
Aliskiren alone or in combination has not been shown to improve clinical outcomes.2 Whether it offers any advantage over the angiotensin receptor blockers (ARBs), which are also available in various antihypertensive combinations, remains to be determined.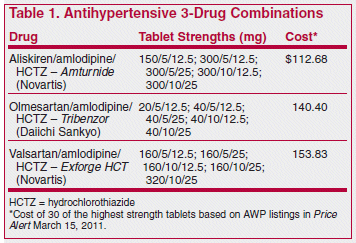 © The Medical Letter, Inc. All Rights Reserved.
This article has been freely provided.