The Medical Letter on Drugs and Therapeutics
In Brief: Phentermine (Lomaira) for Weight Loss
December 5, 2016 (Issue: 1509)
The FDA has approved Lomaira (KVK Tech), an 8-mg tablet formulation of phentermine that can be taken up to three times daily before meals, as an adjunct to lifestyle modifications for weight loss. It is only approved for short-term use (a few weeks) in adults with a body mass index (BMI) ≥30 kg/m2, or with a BMI ≥27 kg/m2 in addition to a weight-related comorbidity such as hypertension, dyslipidemia, or diabetes. Phentermine has been available alone and in combination with topiramate for years.1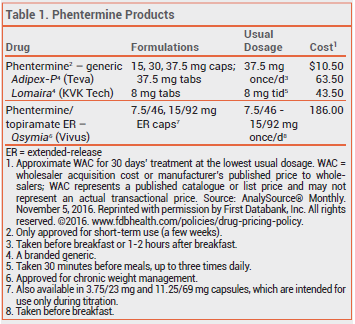 Lomaira was approved by the FDA under an abbreviated new drug application (ANDA) and is considered a generic drug. Its approval was based on the results of earlier phentermine trials. No studies are available comparing the efficacy and safety of Lomaira to standard doses of phentermine or to any other drug approved for weight loss.
Like other sympathomimetic amines approved for weight loss, Lomaira is classified as a schedule IV controlled substance. All sympathomimetics can increase heart rate, raise blood pressure, and cause nervousness and insomnia.2 Phentermine is contraindicated for use in patients with cardiovascular disease, hyperthyroidism, glaucoma, or a history of drug abuse, and in pregnant women. It should not be used while taking, and for 14 days after stopping, a monoamine oxidase (MAO) inhibitor because of the risk of hypertensive crisis.
© The Medical Letter, Inc. All Rights Reserved.
This article has been freely provided.