The Medical Letter on Drugs and Therapeutics
In Brief: Ezallor Sprinkle - A New Formulation of Rosuvastatin
September 23, 2019 (Issue: 1581)
The lipid-lowering drug rosuvastatin is now available in a sprinkle capsule formulation (Ezallor Sprinkle – Sun Pharma). Rosuvastatin tablets (Crestor, and generics) have been available since 2003.1,2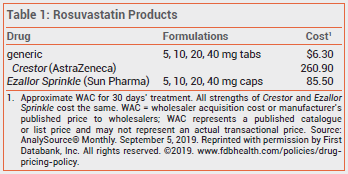 The new formulation is being marketed specifically for residents of long-term care facilities who have difficulty swallowing. Ezallor Sprinkle capsules can be swallowed whole or opened and their contents sprinkled over applesauce or mixed with water for administration via nasogastric tube.
For those long-term care residents who still have a reasonable indication for a statin but have difficulty swallowing whole tablets, crushing generic rosuvastatin tablets would be a much less expensive option.
© The Medical Letter, Inc. All Rights Reserved.
This article has been freely provided.