The Medical Letter on Drugs and Therapeutics
In Brief: Only The Name Remains The Same
Med Lett Drugs Ther. 2010 Jun 28;52(1341):49
A Medical Letter subscriber was surprised to discover that a new Citracal product contained not only calcium citrate, but also calcium carbonate. Citracal Plus Bone Density Builder actually contains more calcium carbonate per tablet than calcium citrate (240 mg vs. 60 mg). Another Citracal product, Citracal Plus Heart Health, also contains more calcium carbonate than calcium citrate. Many clinicians prefer calcium citrate because it can be taken with or without food, while calcium carbonate must be taken with food for optimal absorption. Other familiar over-the-counter (OTC) names also contain some surprises among their ingredients, as shown in the table below.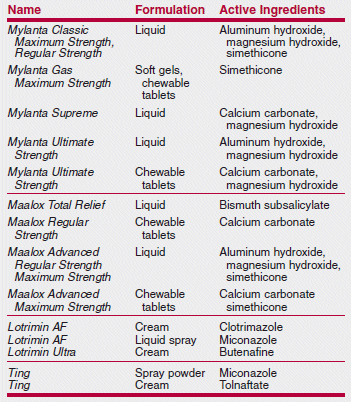 Many well-known brand-name OTC products no longer contain only or necessarily any of their original ingredients.
© The Medical Letter, Inc. All Rights Reserved.
The Medical Letter, Inc. does not warrant that all the material in this publication is accurate and complete in every respect. The Medical Letter, Inc. and its editors shall not be held responsible for any damage resulting from any error, inaccuracy, or omission.