The Medical Letter on Drugs and Therapeutics
In Brief: Esomeprazole Strontium
Med Lett Drugs Ther. 2014 Jul 21;56(1447):64
The FDA has approved the proton pump inhibitor (PPI) esomeprazole strontium for use in adults for the same indications as esomeprazole magnesium (Nexium): treatment of gastroesophageal reflux disease (GERD), prevention of NSAID-induced gastric ulcers, eradication of Helicobacter pylori, and treatment of pathological hypersecretory conditions. It was first marketed in December 2013 as a branded drug (Esomeprazole Strontium) and a month later as a generic drug.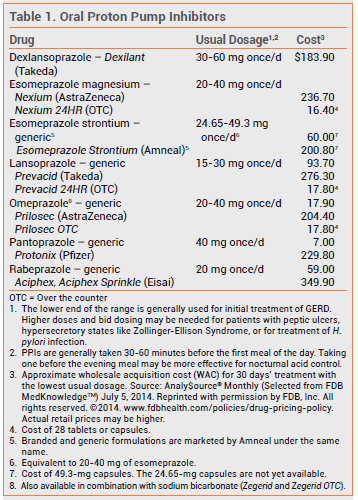 Strontium is incorporated into bone. It is not recommended for use in children or during pregnancy because of the absence of safety data in those populations. Use of esomeprazole strontium is not recommended for patients with severe renal impairment.
Esomeprazole strontium is the seventh PPI to become available as a single agent in the US. No new clinical trials were required for its approval, which was based on earlier clinical trials with esomeprazole magnesium. All of the PPIs appear to be equally effective.1
© The Medical Letter, Inc. All Rights Reserved.
The Medical Letter, Inc. does not warrant that all the material in this publication is accurate and complete in every respect. The Medical Letter, Inc. and its editors shall not be held responsible for any damage resulting from any error, inaccuracy, or omission.