The Medical Letter on Drugs and Therapeutics
FDA Authorizes Moderna COVID-19 Vaccine
January 25, 2021 (Issue: 1616)
On December 18, 2020, the FDA issued an Emergency Use Authorization (EUA) for the Moderna mRNA-based vaccine for prevention of COVID-19 in persons ≥18 years old. The Pfizer-BioNTech mRNA-based vaccine received an FDA EUA for the same indication in persons ≥16 years old on December 11, 2020.1
CLINICAL STUDY — Issuance of the EUA was based primarily on the results of an observer-blind trial in which 30,420 subjects ≥18 years old were randomized 1:1 to receive the Moderna vaccine or placebo at 0 and 4 weeks. Immunocompromised persons and those with a history of SARSCoV-2 infection were excluded. There were 11 cases of COVID-19 among subjects who received the vaccine and 185 cases among those who received placebo; the vaccine efficacy rate was 94.1%. In adults ≥65 years old, the vaccine efficacy rate was 86.4%. Severe COVID-19 occurred in 0 subjects who received the vaccine and in 30 of those who received placebo.2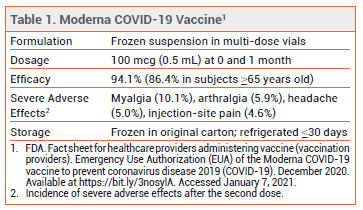 ADVERSE EFFECTS — Fatigue, chills, headache, muscle and joint pain, fever, nausea/vomiting, axillary swelling/tenderness, and injection-site pain, erythema and swelling were reported following administration of the vaccine. Adverse effects were more frequent and severe following the second dose.2
Cases of anaphylaxis and anaphylactoid reactions to the Moderna and Pfizer-BioNTech COVID-19 vaccines have been reported; a CDC analysis of adverse effects following administration of ~1.9 million first doses of the Pfizer-BioNTech vaccine found the rate of anaphylaxis to be 11.1 per million doses.3 Experts have theorized that polyethylene glycol (PEG), which is present in both vaccines, may be the cause of these reactions. Both vaccines are contraindicated for use in persons with a history of an immediate or severe allergic reaction to a previous dose of an mRNA vaccine or any of its components, including PEG, or a history of an immediate allergic reaction to polysorbate, which is structurally related to PEG. Appropriate medical treatment used to manage allergic reactions must be available for use following administration of an mRNA COVID-19 vaccine. Persons with any history of immediate allergic reaction to a vaccine or injectable therapy or any history of anaphylaxis should be observed for 30 minutes after vaccination; other persons should be observed for 15 minutes after vaccination.4
PREGNANCY AND LACTATION — Pregnant women with COVID-19 are at increased risk for morbidity and mortality. According to the FDA, data on the Moderna vaccine are insufficient to inform vaccine-associated risk in pregnancy. Data on the effects of the vaccine on the breastfed infant or on milk production are not available.5 The American College of Obstetricians and Gynecologists (ACOG) recommends that the vaccine not be withheld from pregnant or lactating women who are otherwise eligible for vaccination.6
STORAGE AND ADMINISTRATION — The Moderna vaccine is supplied in frozen multi-dose vials that contain ten 0.5-mL doses. The vials should be stored in the original carton at -25°C to -15°C. They should not be kept on dry ice. The vials can be stored in a standard refrigerator for ≤30 days prior to first use; doses cannot be refrozen once thawed. Prior to administration, frozen vaccine should be thawed in a refrigerator at 2-8°C for 2.5 hours or at room temperature (15°-25°C) for 1 hour. If refrigerated, vials should stand at room temperature for 15 minutes before vaccine administration.
Unpunctured vials can be stored at 8-25°C for up to 12 hours. After the first dose has been withdrawn, the vial should be kept at 2-25°C and discarded after 6 hours. The vaccine should be swirled gently after thawing and before each withdrawal, but should not be diluted or shaken.5
IMMUNIZATION PRIORITY — The CDC Advisory Committee on Immunization Practices (ACIP) recommends that healthcare personnel and long-term care facility residents be immunized first. Frontline essential workers and adults ≥75 years old are in the second priority group.7
The CDC has required state and local jurisdictions to develop vaccination plans for various phases of supply availability. Vaccines will generally be allocated to states and other jurisdictions based on population. State executives and health departments will be responsible for interpreting ACIP guidance and determining where the vaccine should be shipped and who should receive it.8
© The Medical Letter, Inc. All Rights Reserved.
This article has been freely provided.