The Medical Letter on Drugs and Therapeutics
Prescription Drug Prices in the US
Med Lett Drugs Ther. 2017 May 22;59(1521):81-3
Revised 2/13/18: In Table 2, footnote 11 has been added, and is related to the Canadian cost of Advair HFA.
Per capita spending on prescription drugs in the US is higher than in other industrialized nations, including Canada.1
OTHER COUNTRIES — In most industrialized countries, unlike the US, drug prices are regulated by the government. Centralized advisory boards determine the clinical efficacy and cost-effectiveness of a drug. Prices are based in part on external price referencing (comparison of drug prices in several countries to determine a reference price) and are often transparent and capped.2 Fewer payers are involved, and in some countries, there is only a single public payer.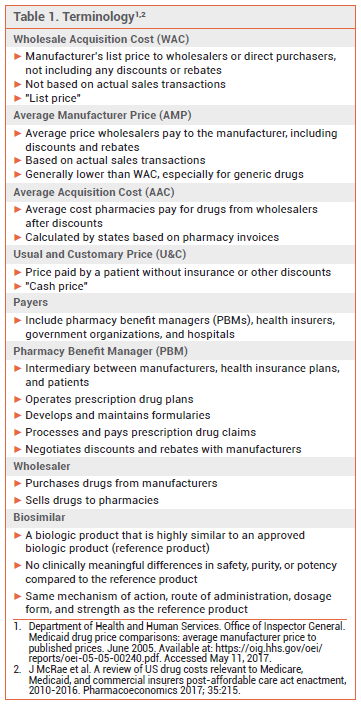 LIST PRICE vs NEGOTIATED PRICE — Drug pricing in the US is complicated by multiple factors, including list prices that do not reflect what is actually paid for a drug, the number of middlemen involved in getting a drug from the manufacturer to the consumer, and the negotiation of discounts and rebates that are not transparent.3 The list price of a prescription drug in the US is set by the manufacturer and is generally higher than the actual price for payers such as pharmacy benefit managers (PBMs), health insurers, hospitals, and government organizations. The actual price is negotiated between manufacturers and payers; the payers receive rebates or discounts from the manufacturers in exchange for advantages such as more favorable formulary placements.4
OUT-OF-POCKET COST — Most health insurance companies offer plans that charge patients copays for prescription drugs; the copay varies depending on the insurance plan and which "tier" the drug occupies.
Many plans have high deductibles that must be met before coverage begins or coinsurances that require the patient to pay a percentage of the drug cost. Uninsured patients and those with high deductibles generally pay the most for prescription drugs.
GENERIC DRUGS AND BIOSIMILARS — Choosing generic drugs instead of costlier brand-name products can reduce out-of-pocket costs for both insured and uninsured patients. Some pharmacies offer a 30-day supply of certain generic drugs for only $4. Use of biosimilars is also potentially cost-saving, but switching from original brand-name biologics to biosimilars may be complicated because pharmacists cannot substitute a biosimilar without contacting the prescriber, and rebates paid by manufacturers often keep brand-name products in preferred positions on formularies.5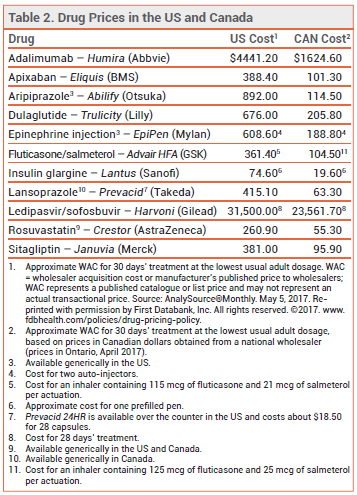 DISCOUNTS — To help patients find the lowest price for a particular drug, some websites compare prices at local pharmacies, list available coupons, offer discount prices, or search for patient assistance programs.6-8 Patients should be cautioned, however, that using different pharmacies to fill their prescriptions could increase the risk of drug interactions because prescription information is not shared between pharmacies.
Manufacturer-sponsored drug coupons for insured patients and assistance programs for uninsured and underinsured patients can lower the out-of-pocket costs of some drugs, sometimes significantly. Manufacturers often offer coupons to help patients cover the higher copays of brand-name drugs, but the coupons are generally time-limited and insurers must still pay the higher cost to the manufacturer. The end result is likely to be an increase in insurance premiums.9
INTERNET PHARMACIES — Patients who use online pharmacies to save money should look for those that are Verified Internet Pharmacy Practice Sites (VIPPS); these are US-based pharmacies that are accredited by the National Association of Boards of Pharmacy and are considered safe.10 Purchasing drugs from unreliable foreign or internet pharmacies can put patients at risk of receiving counterfeit, contaminated, or unapproved products.
CANADIAN DRUGS — Drug prices are generally substantially lower in Canada than in the US (see Table 2), but importation of drugs from Canada that are available in the US is illegal.11,12 Moreover, many internet pharmacies that claim to sell Canadian drugs actually sell drugs produced in other countries.
CONCLUSION — The US spends more on prescription drugs than other industrialized countries. Uninsured patients and those with high deductibles generally pay the highest prices. Lower-cost generics, patient assistance programs, and comparison shopping can reduce out-of-pocket drug costs. Drug prices are lower at some internet pharmacies, and pharmacies accredited by the National Association of Boards of Pharmacy are considered safe. Drug prices are generally lower in Canada, but importation from Canada of drugs that are available in the US (or any other country) is illegal.
© The Medical Letter, Inc. All Rights Reserved.
The Medical Letter, Inc. does not warrant that all the material in this publication is accurate and complete in every respect. The Medical Letter, Inc. and its editors shall not be held responsible for any damage resulting from any error, inaccuracy, or omission.